University of Connecticut Selected by New York-based Wallace Foundation to Participate in $47 Million Initiative to Improve How Aspiring Principals Are Trained and to Be Part of a National Effort to Share Lessons with the Broader Field
UConn to redesign program in collaboration with state and local school districts  
The Wallace Foundation has selected the University of Connecticut to participate in a $47 million national initiative to develop models over the next four years for improving university principal preparation programs and to examine state policy to see if it could be strengthened to encourage higher-quality training statewide. An independent study will capture lessons from the participating universities and their partners, to be shared with policymakers and practitioners across the country.
UConn, one of seven universities selected by the foundation, will get guidance on redesigning its UConn Administrator Preparation Program, known for high-quality training and offered through the University's Neag School of Education. In addition, UConn's Neag School will form partnerships with Hartford, Meriden, and New Haven Public Schools, which hire the program's graduates. The idea is not only to ensure that the training is revamped with local school needs in mind, but also to develop research-based training elements, such as providing candidates with rigorous internships in schools, which require close cooperation with school districts.
"We're thrilled to be in such great company as a part of this nationwide effort and are ready to work together in taking these types of programs to a new level."  Richard Gonzales, assistant professor-in-residence and director of the Neag School's Educational Leadership Preparation Programs
UConn's Neag School, along with district partners and the Connecticut State Department of Education, will receive in the first year $1.25 million to take on this work, with $5.45 million projected in total over the life of the project.
The UConn Administrators Preparation Program (UCAPP) offers aspiring school administrators an opportunity to earn a sixth-year diploma in educational administration through UConn's Neag School of Education. Graduates may also be eligible for certification endorsement as an intermediate administrator in the state of Connecticut.
Four distinct preparation experiences are available through UCAPP — Traditional; Preparing Leaders for Urban Schools (PLUS); Residency; and Law — with each track based on a cohort model. The UConn program enrolls about 100 students, with eight full-time and 12 adjunct faculty members. Redesign partners include the Connecticut State Department of Education, University of Illinois at Chicago, and NYC Leadership Academy. More information about UCAPP is available at ucapp.education.uconn.edu.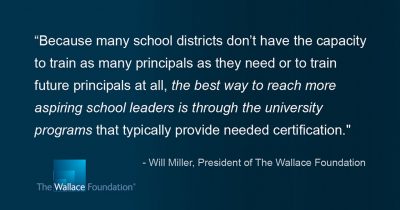 "The Wallace Foundation's selection of UConn to be a part of this new initiative exemplifies the incredible teamwork and deep commitment of our faculty here at UConn's Neag School, along with our partner school districts and the Connecticut State Department of Education," says Assistant Professor-in-Residence Richard Gonzales, director the Neag School's Educational Leadership Preparation Programs. "Our principal preparation program, UCAPP, has long been dedicated to advancing the leadership skills of our public school principals — ultimately, so that schools across our communities can support all students in fulfilling their highest potential. We're thrilled to be in such great company as a part of this nationwide effort and are ready to work together in taking these types of programs to a new level."
"We know from research that school principals require excellent training with high-quality, practical experiences to become effective leaders — but most are simply not getting this," says Will Miller, president of The Wallace Foundation. "Because many school districts don't have the capacity to train as many principals as they need or to train future principals at all, the best way to reach more aspiring school leaders is through the university programs that typically provide needed certification. We are confident that the selected universities want to raise the bar for their programs, work in partnership with their local school districts, and serve as models for other universities."
The Wallace Foundation was interested in finding university programs that serve districts with large numbers of disadvantaged students, whose schools could particularly benefit from effective school leadership. After a selection process that included site visits and assistance from experts in state policy and education, the foundation selected these six other universities: Albany State University (Georgia), Florida Atlantic University, North Carolina State University, San Diego State University (California), Virginia State University, and Western Kentucky University.
The seven states in which the universities are located will receive funding to review their policies pertaining to university-based principal training and determine if changes — such as program accreditation and principal licensure or certification requirements — would encourage the development of more effective preparation programs statewide.
"We, as well as our partners, are looking forward to sharing in this collaborative effort and are certainly gratified to have been chosen by the Wallace Foundation to take part," says Neag School Dean Gladis Kersaint. "We want to do all we can to ensure that aspiring principals continue to be fully prepared for the ever-evolving challenges of the job."
The University Principal Preparation Initiative (UPPI) builds on 15 years of Wallace-supported research and experience about what makes for effective principals and their "pre-service" training at universities. The initiative seeks to explore how university programs can improve their training so it reflects the evidence on how best to prepare effective principals, and then to share these insights to benefit the broader field.
The foundation hopes the initiative can contribute over the long term to the development of a new national approach to preparing effective principals, one focusing on evidence-based policies and practices in three areas:
Developing and implementing high-quality courses of study with practical, on-the-job experiences
Putting in place strong university-district partnerships
Developing state policies about program accreditation, principal licensure or certification, and other matters (funded internships, for example) to promote more effective training statewide
The initiative aims to address a longstanding concern that many university programs haven't kept pace with the growing demands of the principalship, especially as the job moves increasingly from a focus on building management to a focus on improving instruction. According to a recent Wallace-commissioned study, Improving University Principal Preparation Programs: Five Themes From the Field, 80 percent of district superintendents are dissatisfied with the quality of principal preparation programs, and many universities also believe their programs have room for improvement.
"The more we talk with education leaders, no matter at what level of the education system, from state to university to district, the more we hear it is the right time to conduct a university-focused initiative like this," says Jody Spiro, director of education leadership at Wallace. "We are seeking to learn how these seven universities accomplish their program redesign as an important first step in improving how principals are prepared for the demanding job of leading school improvement across the country."
RAND Corporation will conduct an independent evaluation of the initiative over four years, with a final report in year five. The study will assess how the participating universities go about trying to implement high-quality courses of study and to form strong partnerships with local, high-needs school districts. A series of public reports will share lessons and insights and describe whatever credible models emerge so that other universities, districts and states can adopt or adapt the initiative work.
About the Wallace Foundation
The Wallace Foundation seeks to improve education and enrichment for disadvantaged children and foster the vitality of arts for everyone. The foundation has an unusual approach: funding efforts to test innovative ideas for solving important public problems, conducting research to find out what works and what doesn't and to fill key knowledge gaps – and then communicating the results to help others. Wallace, which works nationally, has five major initiatives under way:
School leadership: Strengthening education leadership to improve student achievement.

Afterschool: Helping selected cities make good afterschool programs available to many more children.

Building audiences for the arts: Enabling arts organizations to bring the arts to a broader and more diverse group of people.

Arts education: Expanding arts learning opportunities for children and teens.

Summer and expanded learning: Better understanding the impact of high-quality summer learning programs on disadvantaged children, and enriching and expanding the school day in ways that benefit students.
Read the national news release here.