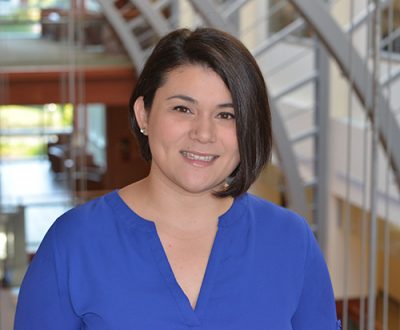 Editor's Note: Portions of this story first appeared on UConn Today, the University of Connecticut's news website. Shawn Kornegay contributed to this updated version.
Working alongside fellow UConn faculty and administrators, Neag School assistant professor Blanca Rincón will serve as co-principal investigator and researcher on a new five-year, $3.5 million National Science Foundation (NSF) grant dedicated to expanding diversity in the science, technology, engineering and mathematics (STEM) fields.
Rincón joins UConn provost and principal investigator Mun Choi, along with co-principal investigator Maria D. Martinez, UConn's assistant vice provost for student success, on the research project, which will engage researchers and practitioners in examining whether students seeking STEM undergraduate degrees enter the STEM workforce or STEM graduate programs after receiving their undergraduate degrees.
The grant is associated with the Northeast Louis Stokes Alliance for Minority Participation (NELSAMP), which is made up of a half-dozen New England institutions working to increase the number of historically underrepresented minority students (URM) in STEM. This fall, UConn assumed the lead role for the alliance, which includes Northeastern University, Tufts University, University of Massachusetts at Amherst, University of Rhode Island, and Worcester Polytechnic Institute.
NELSAMP has been active for the past 15 years; this NSF grant will fund the NELSAMP Alliance for an additional five years with UConn as the lead institution. Through the LSAMP program, the number of URM undergraduate students in STEM at UConn increased from 473 in 2008 to 1,189 in 2015 (a 150 percent increase). The LSAMP team has also submitted a proposal to support the third phase of the NSF Bridge to the Doctorate program for outstanding Ph.D. students.
'What We Can Do Better'
NELSAMP has consistently raised recruitment, retention, and graduation rates for students from racial and ethnic minority groups who are pursuing undergraduate degrees in engineering and the sciences. As a result, regional enrollment in the alliance has increased from 1,000 to 3,800.
"Since NELSAMP's inception, we have witnessed a three-fold increase in underrepresented minority baccalaureate enrollment and graduation rates at member institutions." Assistant Professor Blanca Rincón
"The LSAMP program supports the successful completion of STEM bachelor's degrees for racial and ethnic minority students. Since NELSAMP's inception, we have witnessed a three-fold increase in underrepresented minority baccalaureate enrollment and graduation rates at member institutions," says Rincón.
The LSAMP and related programs support students through advising, personal, and professional development, and by providing a community of scholars on campus.
Specifically, the NSF-funded research, Rincón says, will help to "inform the improvement of LSAMP intervention activities, provide evidence for best practices, and establish a literature base on post-college STEM pathways for underrepresented minority students."
"For the next five years, NELSAMP expects to continue developing a pipeline to increase the number of underrepresented students in the STEM fields," says Martinez, who also serves as director of UConn's Center for Academic Programs.
The ultimate goal, Rincón adds, is "to better understand how STEM students' educational and career aspirations change and develop over time, and what informs those changes" as well as to "have a feedback loop so that LSAMP program sites can get a sense of how students are doing and how we can better support them.
"Through the Tech Park Program and Next Generation Connecticut, UConn is positioning itself as a leader in driving innovation and change in STEM," she adds. "Part of UConn's responsibility is to make sure we are making STEM accessible to all of our students. LSAMP is a central strategy for recruitment and retention to ensure access for racial and ethnic minorities in STEM. This research study is important for helping us learn what we are doing right — and what we can do better."