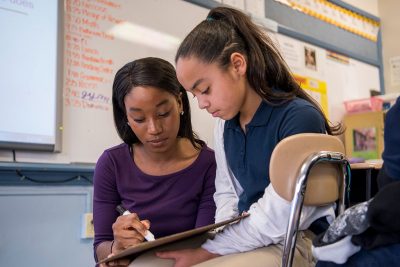 The Neag School of Education has long dedicated itself to providing aspiring educators with in-depth, firsthand experience in the classroom as part of its rigorous teacher education program. Its partners include numerous schools across the state of Connecticut at the elementary, middle, and high school levels.
For the past 10 years, E.B. Kennelly, a public neighborhood elementary school in Hartford, Conn., has been one of those school partners — and an exemplary one at that, having been recognized this past year with the National Network for Educational Renewal (NNER) Richard W. Clark Exemplary Partner School Award for 2016. The award recognizes a partner school collaboration that is advancing the complex work of developing, sustaining, and renewing partner schools.
At Kennelly, students enrolled in the Neag School's Integrated Bachelor's/Master's (IB/M) teacher education program get hands-on experience teaching in Kennelly's classrooms during all three years of the program. Kennelly is one of the partner schools in which Neag School students who have an interest specifically in elementary education are placed.
"We renew the school, and the school renews us. We're teaching them, and they're teaching us."
— René Roselle, Neag School's
associate director of teacher education
During their second year in the IB/M program, Neag School students are gradually integrated into student teaching in the classroom. During their final year, those students then work as interns in a school, focusing on a specific area related to curriculum and instruction.
"The [IB/M] program is about finding ways to best support the good work that's going on and make improvements for ongoing work," says Neag School alumna Michelle Bashaw '12 (ED), '13 MA, currently a sixth-grade teacher at Windermere Intermediate School in Ellington, Conn., who served as a master's intern at Kennelly School when she was in the IB/M program.
A Win-Win Collaboration
Connecting the Neag School's aspiring educators with real-world experience in Connecticut's classrooms benefits not only the students enrolled in the IB/M program, but also the partner school's own students and teachers.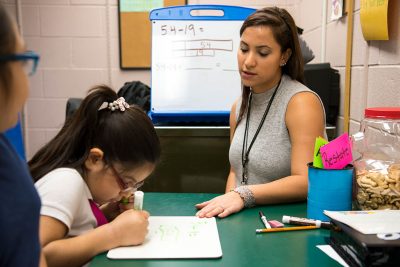 "There's a special energy when candidates are learning to be teachers alongside teachers who are already practicing," says René Roselle, associate director of teacher education at the Neag School. "Our students are learning to be great education professionals."
Practicing teachers at partner schools like Kennelly find value in it, too. "As I watch and listen to my student teachers, I use their ideas in my own lessons," says Neag School alum and Kennelly third-grade teacher Donna Heikkinen '91 (ED). "I am impressed by their ease with the use of technology. I love the young energy they bring to the school."
"We renew the school, and the school renews us. We're teaching them, and they're teaching us," Roselle says. "They're helping us prepare new teachers, and we are utilizing their expertise as seasoned and tenured professionals."
With specialized training from Neag School professors, students enter Kennelly with a head start in classroom preparation.
"Students from the Neag School entering Kennelly are not only learning fundamental teaching methods from veteran teachers, but are also relaying new ideas and fresh teaching methods," says current Neag School IB/M student Kara Patterson. "This is all due to the progressive and responsive methods taught by Neag School professors."
"The UConn students are well-prepared, focused, and willing to work," adds UConn alumni Brenda Bellucci '87 (CLAS), a reading teacher at Kennelly. "The benefits are passed directly to my students through more individual attention and fresh ideas."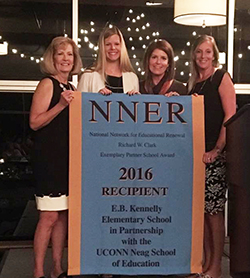 "It benefits Kennelly students by having another educator in the room with them, and it benefits the student teachers because they come into an authentic classroom, and experience the day-to-day comings and are fully immersed in all things you need to be a teacher," says Mary Lou Duffy, now retired from her position as Kennelly's principal.
These are some of the defining aspects of a strong school partnership, according to Roselle.
Another aspect of a strong school partnership is dedication, says Robin Hands, director of school-university partnerships at the Neag School.
"We're very invested in our current partnerships," Hands says, pointing to the decade-long collaboration between the Neag School and Kennelly. "The concept of partnerships is that we have an understanding and commitment to academic integrity on the national, state, and local levels."
Lowering the Student-to-Teacher Ratio
Hartford's proximity to many colleges and universities gives it the advantage of having education majors come in as student teachers and to help out in other aspects. The Neag School partnership with Kennelly, however, is also unique in the sheer number of its education students who are placed there.
"Kennelly hosts a critical mass of Neag [School] students," says June Cahill '93 (ED), '94 MA, interim principal at Kennelly. "There can be a total of 20 University [of Connecticut] students in any given day."
Having nearly two dozen Neag School students at Kennelly on any given day means having two to three teachers in a classroom at one time, says Roselle.
"We're placing as many students there as we do in order to effect a positive change," Roselle says. "One student can have an impact, but when you put 17 or 18 students from UConn there, it's really transformative."
Having Neag School interns present in partner schools effectively lowers the student-to-teacher ratio, allowing students to receive more individualized instruction, says IB/M student Emily Baseler, currently serving as a student teacher at Kennelly.
"It's a unique opportunity to have so many teaching professionals in one place," she says. "We can all bounce ideas off of each other, and students gain many different perspectives."
'Infusing Them in the Culture'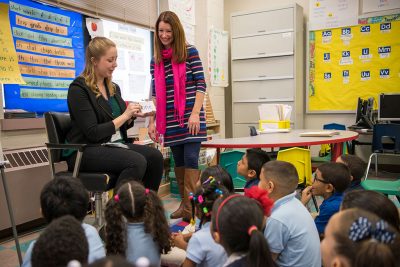 In addition to receiving the Richard W. Clark Exemplary Partner School Award this past year, the Kennelly School was recently recognized by the district for progress made on the Northwest Evaluation Association Measures of Academic Progress (NEAP), which assessed the Kennelly School as having the highest-ranked overall school improvement in the area of mathematics for its entire district during the 2014-15 academic year. The assessment found that Kennelly students reported a 19.8 percent improvement in math, which was first in the district, and a 16.6 percent increase in reading, placing it fourth in the district. The Kennelly School attributes a large part of these increases to its partnership with UConn's Neag School.
Yet the success of the partnership owes much to the collaborative efforts of the administrators and instructors at Kennelly — and their belief in inclusivity — as well.
"From the first day Neag School students start, they are treated as staff members, taking part in professional book groups and data teaming processes on a weekly basis," Cahill says. "We infuse them in the culture of the building. There is ongoing communication and collaboration with Neag students and faculty. We are continuously learning from each other."
"It's a unique opportunity to have so many teaching professionals in one place. We can all bounce ideas off of each other, and students gain many different perspectives." — Emily Baseler, current IB/M student
"Kennelly has made me feel completely welcome," says Aryliz Crespo, a current IB/M student. "They're very excited to hear my ideas and grateful for my help and contributions."
"Students coming out of the Neag School have really up-to-date knowledge, so [Kennelly's administrators] didn't think of us as just student teachers; they wanted to hear from us," Bashaw says.
Not only are Neag School students shadowing the teachers, but they are also actively providing feedback to enhance the curriculum. Kennelly students, former principal Duffy says, "reap the benefits of that."
Cahill adds that having Neag School students in Kennelly classrooms has had an impact for its own students beyond academics.
"Our Neag School students have a direct impact on social and academic aspects for Kennelly students. Many students need a positive interaction while they are at school, and they are often given this from the Neag students," she says.
The Kennelly School has nearly 600 students from ages 4 to 14. This school is diverse in its students' wide range of ages and developmental levels, and because the students here come from more than 10 different countries and speak five different languages.
The varied age range and skill level at Kennelly gives Neag School students the ability to work with different grade levels both in the classroom and for small-group work. The level of diversity also creates a need to find more than one way to teach and interact with the students, adds Bashaw.
"Working at Kennelly taught me about putting things in perspective," she says. "You can't just think about them as students; you really need to think of them as people as well. You have to think about all the facets of their life, because they're all coming from very different backgrounds. They're not going to get the most out of their education if there are overarching problems going on."
The amount of on- and off-campus collaboration and professional development shared with the Neag School is unusual in school partnership programs, Duffy says, but the positive impacts are evident, and the efforts to improve are always ongoing.
"We've had Neag School professors come out to do professional learning, and I've come to Storrs to talk about curriculum and district decision making," she says. "We talk about how we can make a great program better."
Learn more about the Neag School's Teacher Education program at teachered.education.uconn.edu.