Congratulations to our Neag School alumni, faculty, staff, and students on their continued accomplishments inside and outside the classroom. If you have an accolade to share, we want to hear from you! Please send any news items and story ideas to neag-communications@uconn.edu.
In addition to the Dean's Office accolades, explore this edition's list of achievements for the following: the Department of Curriculum and Instruction; the Department of Educational Leadership; the Department of Educational Psychology; Faculty/Staff; Alumni; Students, as well as In Memoriam.
Dean's Office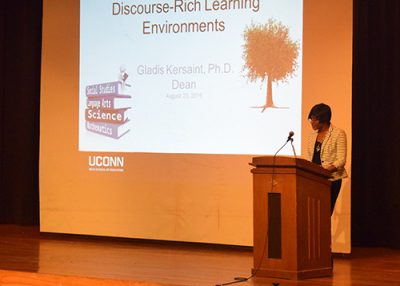 Dean Gladis Kersaint gave a convocation speech for teachers, principals, and school board members of Windham Public Schools in August.
UConn hosted a Science Salon in June titled "Rigid Standards, Forward Thinkers: Business Best Practices Igniting Classroom Creativity" in Stamford, Conn. Moderated by Neag School Professor Ronald Beghetto, the panel included Lucy Gilson, professor of management at UConn's School of Business; Justin Carbonella '07 (BUS), vice president, Kantar Millward Brown; Matthew Worwood, associate director of the digital media and design department at UConn; and Neag School alum Bridget Heston Carnemolla '13 Ed.D. '14 ELP, superintendent of Watertown Public Schools.
Department of Curriculum and Instruction (EDCI) and Teacher Education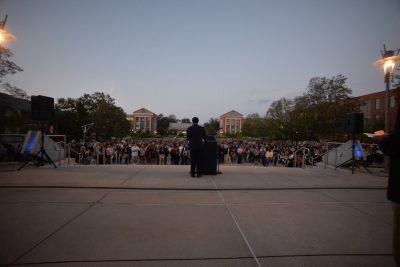 Stemming from the Thomas J. Dodd Research Center's human rights education initiative and led by Glenn Mitoma, a new partnership was established between the Neag School of Education, the Upstander Project, and the Mashantucket Pequot Museum. The partnership, called the Upstander Academy, came together last year as a way to practice outreach and human rights education with the community. The Academy, which was held in July, featured topics such as the Rwandan genocide and the experiences of the indigenous peoples; speakers from the Mashpee Wampanoag tribe and Rwanda; and various workshops centered on creating ways to talk about genocide and reconciliation in the classroom. Read more about the partnership.
Joseph Cooper and Glenn Mitoma organized a candlelight vigil in response to the racism and violence in Charlottesville, Va. The vigil was held on the steps of the UConn Student Union in August. In addition, Neag School graduate student Josué Lopez spoke at the event.
Department of Educational Leadership (EDLR)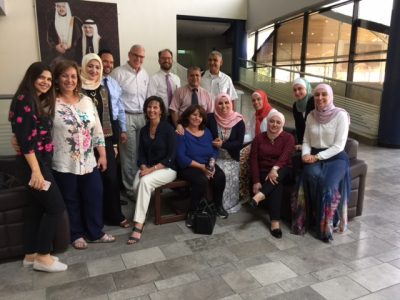 The Neag School Department of Educational Leadership's partnership with Queen Rania Teacher Academy (QRTA) has finished its second year of the three-year partnership.
The Executive Leadership Program (ELP) hosted an early-career superintendent panel titled "Entry and Transition into the Position of Superintendent" in July in Farmington, Conn. ELP recently accepted 20 aspiring superintendents into its 2017-18 cohort. The event included the new ELP cohort members completing their first class and the 25 members of the "graduating" ELP.
The Connecticut State Department of Education convened a group in June to discuss early outcomes of the Wallace Foundation University Principal Preparation Initiative (UPPI) grant, which was announced in Fall 2016. It was the first time principal preparation programs in Connecticut came together in the spirit of continuous improvement collaboration. Deans and directors of Connecticut schools of education and principal preparation program faculty members were in attendance.
Department of Educational Psychology (EPSY)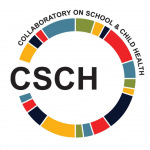 The UConn Collaboratory on School and Child Health (CSCH) awarded two individuals, Amy Mobley and Marlene Schwartz, $10,000 grants as part of its 2017 seed grant competition. These grants provide funds to investigators to support projects that align with CSCH's vision to promote an integrated approach to health and learning. Mobley is an assistant professor in nutritional sciences at UConn; Schwartz is director of the UConn Rudd Center for Food Policy and Obesity and a professor of human development and family studies.
The Neag School's special education program has been awarded a $1.3 million leadership grant from the U.S. Dept. of Education that will fully support five Ph.D. students in the areas of literacy, positive behavioral supports, and transition. Michael Coyne, Allison Lombardi, and Brandi Simonsen are co-principal investigators. Read more.
Melissa Bray, Sandra Chafouleas, Thomas Kehle, and Lisa Sanetti have been listed among the top 20 most productive intervention researchers in school psychology, according to a newly published study in Psychology in the Schools identifying authors and training programs that have made the most frequent contributions to intervention research in six school psychology journals between 2005 and 2014. In addition, the Neag School's school psychology program is ranked the second-most productive based on number of total publications from 2005 to 2014.
Faculty/Staff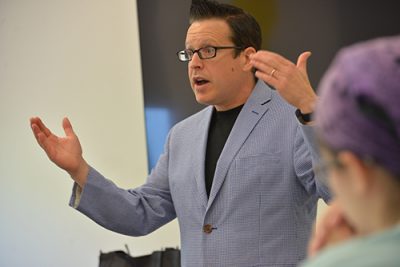 Ronald Beghetto gave a TedxUConn presentation at the Storrs campus in June on how teachers and schools can view uncertainty as an opportunity to promote creativity and innovation through education. He also has been named faculty director of UConn's Innovation House beginning this fall.
Cara Bernard was recognized by the Council for Research in Music Education with an Outstanding Dissertation Award.
Melissa Bray is president-elect of American Psychological Association Division of School Psychology (Division 16). Her term is for three years, one as president-elect, one as president, and one as past president, and will begin in January 2018.
Scott Brown and Neag School alumna Kimberly Lawless '94 MA, '96 Ph.D. co-wrote Promoting Students' Science Literacy Skills Through a Simulation of International Negotiations: The GlobalEd 2 Program for the August issue of Computers in Human Behavior. They also recently received a $1.2 million IES grant in support of a project titled "Refinement of GlobalEd2 and Testing New Intervention Impact." Read more about the grant.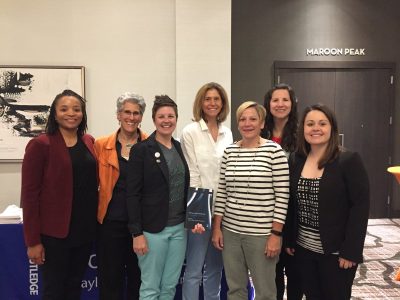 Laura Burton co-authored a new book titled Women in Sport Leadership (Routledge, 2017).
Rebecca Campbell issued a report based on a yearlong school ethnography study she conducted on two elementary schools in a rural county of Florida. Campbell found that one school did a better job with language accommodation and helping students perform academically than the other. Recommendations are offered that the district can use to improve learning outcomes. She discussed her research on the Anthro Alert Radio Show in July.
Michael Coyne, Betsy McCoach, along with other colleagues, co-wrote "Promoting Word Consciousness to Close the Vocabulary Gap in Young Word Learners" for the August issue of The Elementary School Journal.
Shaun M. Dougherty has been awarded $3.1 million IES grant as a co-principal investigator on a project titled "Assessing the Implementation, Impact, and Variation of CTE Innovation: NYC as a Lab for Rigorous CTE Research." Read more about the grant.
Shaun M. Dougherty and Jennie Weiner co-published "The Rhode to Turnaround: The Impact of Waivers to No Child Left Behind on School Performance" for the August issue of Educational Policy.
Hannah Dostal has been awarded $3.3 million IES grant as a co-principal investigator on a project titled "An Efficacy Study of Strategic and Interactive Writing Instruction (SIWI): Teacher Development and Student Outcomes." Read more about the grant.
Hannah Dostal and Rachael Gabriel, along with another colleague, co-wrote "Supporting the Literacy Development of Students Who Are Deaf/Hard of Hearing in Inclusive Classrooms" for the July issue of The Reading Teacher.
Erica Fernández co-published "Organizational Politics of Parental Engagement: The Intersections of School Reform, Anti-Immigration Policies, and Latinx Parent Organizing" in the July issue of Educational Policy.
Rachael Gabriel is co-editor of Discursive Perspectives on Education Policy and Implementation (Palgrave Macmillan, 2017), which includes peer-reviewed chapters by each of the co-editors as well as one chapter co-authored by Gabriel and Sarah Woulfin. In July, Gabriel also presented at the International Literacy Association's 2017 Conference in Orlando.
Robin Grenier was featured this summer in a Human Resource Development Review blog, where she discussed her 2005 article "Autoethnography as a Legitimate Approach to HRD Research: A Methodologial Conversation at 30,000 Feet."
James Kaufman is a member-at-large of the Society for Media Psychology and Technology. He is also president-elect of the American Creativity Association.
Donald Leu has been awarded a $600,000 IES grant for a project titled "Factors Affecting Comprehension by Teens During Online Reading in Science: The FACTORS Project." He is principal investigator, and Christopher Rhoads and D. Betsy McCoach are co-principal investigators. Read more about the grant.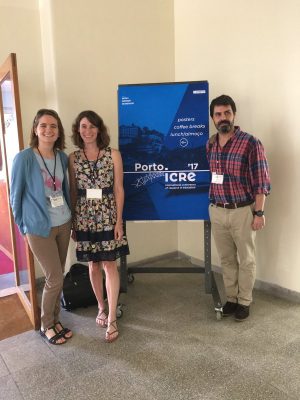 Allison Lombardi, Neag School doctoral student Laura Kern '11 MA, along with other colleagues, published "Is College and Career Readiness Adequately Addressed in Annual and Postsecondary Goals?" for the June issue of Journal of Disability Policy Studies.
Allison Lombardi co-published with Neag School alumni Nicholas Gelbar '06 (CLAS), '07 MA, '11 MA, '12 6th Year, '13 Ph.D. and Yan Wei '11 MA, '15 Ph.D., along with graduate student Jennifer Kowitt and other colleagues, "Leveraging Information Technology Literacy to Enhance College and Career Readiness for Secondary Students With Disabilities" in the Journal of Vocational Rehabilitation. She also co-presented in July on inclusive higher education at the Porto International Conference on Research in Education, held in Portugal.
Joseph Madaus, Allison Lombardi, Neag School alumnus Nicholas Gelbar '06 (CLAS), '07 MA, '11 MA, '12 6th Year, '13 Ph.D., former Neag School faculty member Michael Fagella-Luby, along with another colleague, co-wrote "PASSing College: A Taxonomy for Students With Disabilities in Postsecondary Education" for the June issue of Journal of Postsecondary Education and Disability.
D. Betsy McCoach and Scott Brown are members of an interdisciplinary UConn-based team recently awarded a $3 million grant through the National Science Foundation (NSF) Research Traineeship program to prepare the next generation of Ph.D. students. Read more about the grant.

Bianca Montrosse-Moorehead has been elected board member-at-large for the American Evaluation Association (AEA). In this role, she will help to lead AEA and represent its more than 7,000 members. She also joined the editorial board of New Directions for Evaluation (NDE) for a three-year term. In this role, she will review manuscripts submitted to NDE, help generate topics for special issues, and provide period insights and advice to the editors on future directions for NDE.
Lisa Sanetti was named a fellow for the American Psychological Association, Division 16 (school psychology).
Del Siegle has been awarded a $2 million IES grant that will fund the continuation of research work by the National Center for Research on Gifted Education. In addition to Siegle, other key Neag School faculty researchers involved in the Center's work include D. Betsy McCoach, E. Jean Gubbins, and Christopher Rhoads. Read more about the grant.
Sarah Woulfin co-published "Coaching for Coherence: How Instructional Coaches Lead Change in the Evaluation Era" for the August issue of Educational Researcher. She also published "Coach Professional Development in the Urban Emergent Context" in the June issues of Urban Education.
Sarah Woulfin and Jennie Weiner co-published "Triggering Change: An Investigation of the Logics of Turnaround Leadership" in the June issues of Education and Urban Society.
Mike Young and Neag School alumnus Stephen Slota '07 (CLAS), '08 MA, '14 Ph.D co-edited a book titled Exploding the Castle: Rethinking How Video Games & Game Mechanics Can Shape the Future of Education (Information Age, 2017).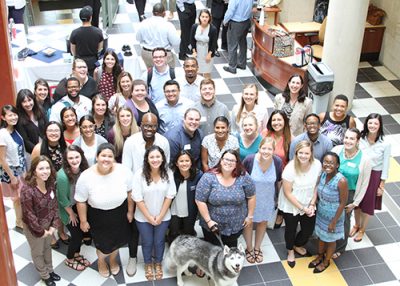 Students
The current first- and second-year cohorts of the higher education and student affairs (HESA) program gathered for a daylong orientation in the Gentry Building in August.
The sport management program hosted an orientation for its graduate students in the Gentry Building in August.
Students from the Teacher Certification Program for College Graduates (TCPCG) participated in a summer STEM Academy at Norwich Free Academy (NFA in July. The one-week program, a partnership between NFA and the Neag School, challenged students to solve complex problems using science, technology, engineering, and mathematics skills. Todd Campbell served as the faculty instructor.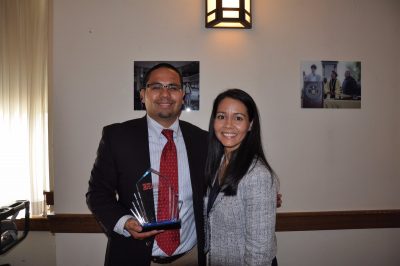 Robert Cotto Jr., a doctoral student, concludes his two years of service as one of four elected Hartford, Conn., school board members. During that time, he worked with parents, educators, and community members to improve public education and Hartford's schools. For his efforts, he was recognized in June by the Center for Latino Progress (CPRF) with the Center Latino Champion Award.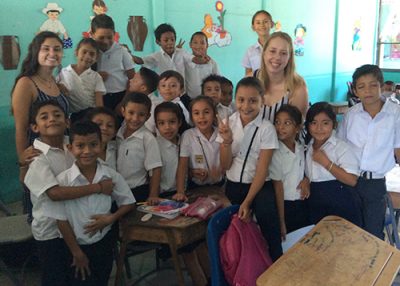 Neag School students Kelsey Iwanicki '17 (ED), '18 MA and Emily Baseler '17 (ED), '18 MA recently served as judges for a spelling bee as part of their Costa Rica study abroad program in August.
Alumni
Alumni and friends from the sport management program gathered for networking events over the summer in New York City and in Hartford, Conn.
Dan Agins '11 MA, who teaches social studies at Pawcatuck (Conn.) Middle School, was recognized as Stonington's Teacher of the Year.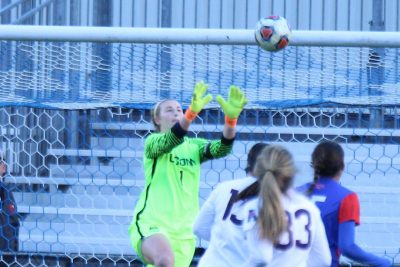 Emily Armstrong '16 (ED), '17 MA, a former UConn women's soccer goalkeeper, will continue her professional career overseas in Norway. The Collegeville, Penn., native signed with the Medkila IL club in the Toppserien, the top tier of Norwegian women's soccer.
William Conroy '06 (ED), '07 MA, was a finalist for Connecticut's Teacher of the Year for 2017. Conroy has been teaching in Harford for 10 years. Currently, he is the English learner coach at McDonough Middle School in Hartford, Conn.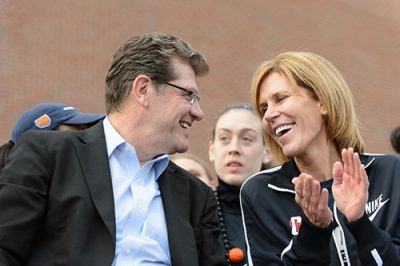 Chris Dailey '99 MA, a past Neag School of Education Outstanding Alumna award recipient and assistant coach for UConn women's basketball for the past 32 years, was recognized by the Connecticut Sun with the Margo Dydek Award as its 2017 Woman of Inspiration.
Jennifer Delaney '06 (CLAS), '13 MA was hired as the assistant principal for Schaghticoke Middle School in New Milford, Conn. Delaney previously worked as an instructional coach at Danbury High School with a focus on literacy and support for English language learners. Prior to that, she spent seven years as an eighth-grade reading and language arts teacher in Waterbury.
Daniel Dias '09 6th Year was named principal of John Wallace Middle School in Newington, Conn.
Amber Dickey '17 MA was recently awarded one of 10 national honoraria to attend the Center for Open Educational Resources and Language Learning's summer conference on heritage language learning at the University of Texas, Austin.
Donna Dynes '82 (ED) was appointed director of information services for Polk County Schools, in Polk County, Fla. She was previously the assistant principal of curriculum at Auburndale High and has worked with the district since 1997.
David Erwin '75 (ED), the school superintendent for Berlin (Conn.) Public Schools, retired after eight years in that role, closing a 42-year education career. Erwin, a Waterbury native, began his education career in his hometown as a teacher, became assistant superintendent in the Clinton school district in 1991, and was promoted to that district's superintendent post in 1995. He then became Canton school superintendent in 1998, Montville superintendent in 1999, Avon superintendent in 2009, and Berlin's superintendent in 2010.
Lindsay Fallon '09 MA, '11 6th Year, '13 Ph.D., an assistant professor of counseling and school psychology at UMass Boston, has been awarded an IES early career development and mentoring grant. Read more about the grant.
Kathleen Freimuth '17 6th Year was hired as the assistant principal at Chatfield-LoPresti School in Seymour, Conn. Freimuth spent the last 10 years as an elementary teacher at Braeburn School in West Hartford, where she taught first, third and fifth grades. She served in various leadership roles there, including as coach of the school's Positive Behavior Team and was one of 12 staff members district-wide to serve in a Leadership Academy.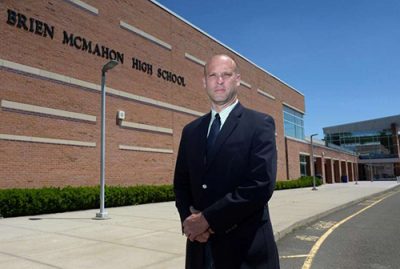 Scott Hurwitz '93 (CLAS), '08 6th Year was named principal at Brien McMahon High School by Norwalk (Conn.) Public Schools. Hurwitz has extensive experience at the school, where he has worked for more than 20 years. He taught English at the school for 12 years, in addition to teaching journalism and overseeing graduation preparation. Hurwitz has also functioned as a Connecticut Academic Performance Test coordinator, site council member, class advisor, and freshman baseball coach. Hurwitz worked his way up from a teacher to housemaster, a position he held for the past nine years.
Yvette Jacaruso '77 MA, '83 6th Year was this year's recipient of the United Community and Family Services Palmer Davies Leadership Award. Jacaruso is a member of the Norwich (Conn.) Board of Education and Italian Women's Social Club of Norwich, as well as the Women's City Club of Norwich, State Central Committee for the 19th Senatorial District, Democratic Town Committee, Education Mass Committee, and the Board of Trustees of the Otis Library, serving as liaison between the Board of Education and Otis Library and as chairman of the Evaluation Committee of the Otis Library.
Danielle Knobloch, '11 (CLAS), '11 (ED), '12 MA, an English teacher at Bulkeley Teacher Preparation and Humanities School, was nominated for Hartford's Teacher of the Year for 2017.
Gary Lotreck '86 (CLAS), '90 MA, '83 6th Year was a semifinalist for Hartford the 2017 CT Teachers of the Year. He has taught in the Hartford school system for 28 years, including at Hartford Public High School and Pathways to Technology, where he started a community service club. In recent years he served as a teacher-in-residence for English language arts and writing.
Sabin Loveland '99 (CLAS), '00 MA, '12 6th Year, principal at Global Experience Magnet School in Bloomfield, Conn., for the past six years, has accepted the principal's position at Wamogo Regional High School in Litchfield County. Loveland has 17 years experience in education.
Jack Nguyen '15 MA, was named director of Asian Pacific Islander American Affairs by University of Florida's department of multicultural and diversity affairs. Nguyen previously served at The Ohio State University as an intercultural specialist in the Student Life Multicultural Center.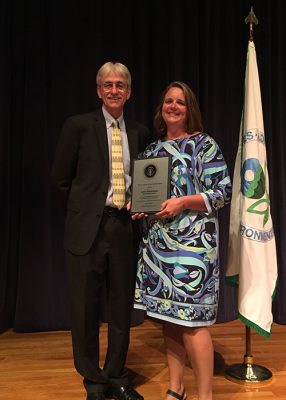 Laura J. Yarish Poidomani '98 (ED), '99 MA won the Presidential Environmental Education Award, which she received from the U.S. Environmental Protection Agency in Washington, D.C. in August. A teacher with 18 years of experience, she currently teaches sixth-grade at Saxe Middle School in New Canaan, Conn.
Kristin O'Reilly '08 6th Year has been appointed special education department chairperson for Darien (Conn.) High School. Most recently, she was a special education teacher at Staples High School in Westport. As part of her educational leadership graduate experience, she served her internship at Darien High School.
Shamim S. Patwa '97 MA,'00 6th Year, '03 Ph.D was selected as director of special education and student support services for Mansfield (Conn.) Public Schools. Most recently, she was the Goodwin Elementary School psychologist and is an adjunct faculty member for the Neag School. This past spring, she was a recipient of the Neag School's Outstanding School Educator Award.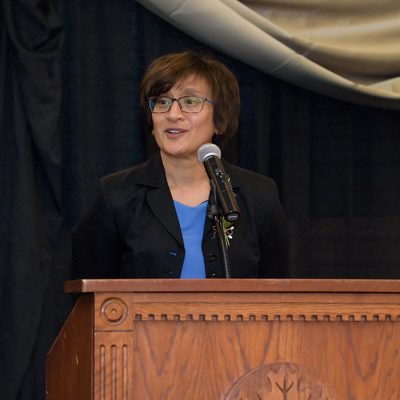 William (Billy) Johnson '99 (CLAS), '00 MA has been appointed assistant superintendent for operations and strategic for Windham Public Schools in Windham, Conn. He was previously the director of instruction for New Haven Public Schools.
Gwendolyn Jones '77 MA has been appointed assistant professor of Bridgewater College's teacher education program in Bridgewater, Va.
Alexandra Mililli '08 (ED), '09 MA was recognized in June with a "40 Under Forty" award by Fairfield County in Fairfield, Conn. She is a financial advisor for UBS. 
Kevin M. Reich '08 6th Year, retired assistant superintendent of East Hampton (Conn.) Public Schools, was selected as the 2017-18 Middlesex United Way campaign chairperson.
Timothy P. Shriver, '97 Ph.D., chairman of the Special Olympics, gave the 2017 commencement address for Saint Peter's University in May in Jersey City, N.J.
Corey J. Thomas '15 (CLAS), '17 MA has been appointed director of Wakeman town Farm in Westport, Conn. Previously he was the education director at Massaro Community Farm in Woodbridge.
Christopher Walsh '11 6th Year has been appointed math and science academic chair at Pomperaug High School in Southbury, Conn. Walsh most recently served as science department chairperson at Ridgefield (Conn.) High School, a position he has held for the past five years while concurrently serving as an earth science and biology teacher. Prior to working at the high school level, he was a middle school science teacher in the Ridgefield public school system for 10 years.
Robert J. Wargo Jr.  '02 (CLAS), '03 MA has been sworn in as a firefighter for Westport, Conn. He will begin working at the Westport Fire Department in December after going through the academy this fall. He previously worked as the director of volunteer services at Sterling House Community Center, located in Stratford.
Carter Welch '99 (ED), '11 Ed.D. has been appointed principal of Totoket Valley Elementary School (TVES) in Northford, Conn. Welch joins TVES after completing his third year as principal of Jerome Harrison Elementary School (JHS). Prior to heading up JHS, Welch was assistant principal for North Branford High School and served the district in several program and department leadership roles. He was named UConn Neag School of Education's 2017 Outstanding School Administrator this past spring.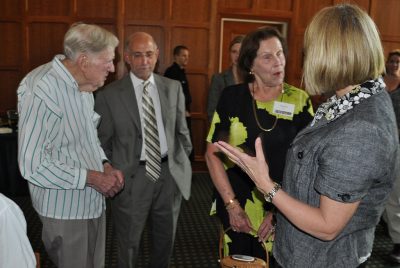 In Memoriam
Thomas A. Aquila '60
William E. Asal '88
Vincent A. Baiocchetti '64
Nathan Beardsley '51
Martha M. Bruce '61
Mitchell D. Chester '82
Guy A. Ciccone '80
Nellie V. Crowston '91
Robert E. Dunn '51 '55
Mary M. Farnan '63
John H. Fidler, Jr. '80
Anastacia R. Forsley '56
Santo F. Fragilio '55
Roy C. Grabowski '73
Diane E. Guthart '66
Charles M. Haney '64
Mary B. Kalinoski '57
Derek R. Little '69
John H. McAdams '51
Nancy E. McNeil '68
Elaine D. Neiswanger '73
Laurel A. Nyerick '52
Martin E. O'Mealey '67
David H. Parker '73
Paul J. Plumer '74
Patricia Ryan '87
Nina M. Savitch '63
Francis P. Shea '60
Robert E. Sloat '75
Francis M. Stoughton '64
Henry T. Taylor '73
Sally Platt Wallace '54
Bruce H. Wood '64