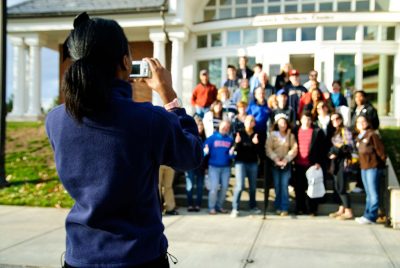 For families looking to assist their high school grads in finding the best path for a fulfilling future, there are not only many resources available, but also many choices available when it comes to a postsecondary education — from universities or trade schools to technical or art schools. It can be a complex and stressful time for caregivers and their children. This might be especially challenging for first-generation students who are the first in their families to attend some type of postsecondary institution. It's never too early to start thinking about that transition, as there is so much to consider in making this very important decision.
To start, school counselors at your child's school can help make the journey less stressful and have many resources at their disposal to provide assistance to students as early as kindergarten. Research shows that the earlier students, especially first-generation students, start to think about pursuing education at a postsecondary institution, the more likely they are to attend one — or two, or three. Let's not forget about graduate school!
Research shows that the earlier students, especially first-generation students, start to think about pursuing education at a postsecondary institution, the more likely they are to attend one.
It is never too soon to start thinking and preparing for the day when your little pumpkin turns into a college kid. Here are some suggestions for adults and their aspiring postsecondary students:
Start early. Junior year is not early! Let's start in kindergarten and the question "What do you want be when you grow up?" It doesn't matter what the answer is, by the way; it just matters that little kids think about their future in a fun, magical way and possibly refine it as they get older. Who cares if they want to be the tooth fairy? She has a bundle of money!
Statistics show that the earlier a child sets foot on a college campus, the better. No, I am not suggesting that you send your kindergartner to college next year. Just a visit to the campus will suffice. Field trips to colleges and universities help students envision themselves on a college campus. They see other students who look like them and realize that they can belong there, too.
Encourage your child's school to incorporate college-going themes into the school system. Perhaps Fridays can be a "wear your college sweatshirt to school day," or teachers could hang pennants from the school they attended in the cafeteria or classroom. One of the funniest things that happened in our past research when we asked high school students how many adults they knew who had a college degree, more than half of them couldn't think of anyone. HELLO! How about the 50 teachers in the building?

A prospective student and her parents listen to advisors during UConn's Open House event at the Neag School.

I know, you can't concentrate because all you are seeing are tuition number signs floating through your head! Don't judge a school by its tuition price tag. A postsecondary education can be expensive. But before you knock off a prestigious university from your list, make sure you look into the financial aid packages that they offer. Fill out the FAFSA. Don't just assume you can't afford it. There are financial aid packages that can drastically lower the cost of attending not just in-state schools, but out-of-state ones as well. And don't rule out getting lucky. I remember hearing of a very prestigious school that needed a trombone player. They searched through their applications and found one. He received a full four-year scholarship to the school.
Make lists. Make lots of lists. Family members could make separate lists of colleges that they think are a good fit for their potential college-going student. School counselors usually recommend looking at three different types of schools: "safety schools," where their student is likely to get admitted; "reach schools," where the student might not get accepted; and "match schools," where the decision could go either way. If your student has a disability, make sure you consider the services the college provides. And don't forget about that trombone player; maybe your little pumpkin has a special talent that can be rewarded in the right school!
Looking at a college or university online is a great place to start before heading out the door for a college visit. If your student would prefer a bustling, big-city atmosphere, he or she might be turned off seeing a college surrounded by cows — or vice-versa.
Visit the schools — maybe even years before your student applies there. Think about the kid who really wants to go to (insert dream school here), but then gets to the campus tour and says, "Oh, never mind." How does your student feel on this campus? Can they picture themselves living here for four years? There's something to be said for "having a good feeling about it."
If your student knows what they want to major in, make an appointment with one of the professors in that field. Don't be frightened; most professors don't bite. However, if the professor's name is Dr. Acula, go ahead and run!
Don't pick a school because all your child's friends are going there. Invite your aspiring college-goer to think about who they are and what they want to be. They will always be able to visit friends at their colleges and hang out with them in the summer. Good friends remain good friends forever.
Remain a dependable source of positivity and encouragement. These can be some of the most challenging moments of your child's life, and some of the most fulfilling. The days might sometimes feel long, but the years will fly by.
Good luck on your journey!
Rachelle Pérusse, an associate professor of counseling at the University of Connecticut's Neag School of Education, specializes in school counseling, the achievement gap, and postsecondary transition.