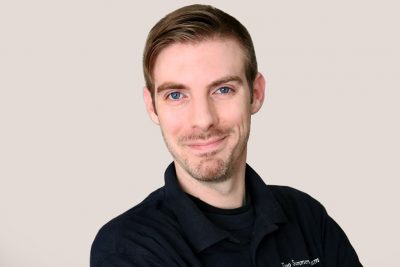 The Neag School of Education this week welcomes Stephen Slota as an assistant professor-in-residence of educational technology, with a joint appointment in the School of Fine Arts Department of Digital Media and Design.
Slota '07 (CLAS), '08 MA, '14 Ph.D. most recently served as an instructional design specialist and game design scientist at UConn Health's Faculty Instructional Technology Services. He has worked on a variety of game and instructional design projects with such organizations as Arizona State University's Center for Games and Impact, Intel Corporation, Pfizer, and InSync Training, LLC. A certified biology teacher, he also has experience teaching in Manchester and Coventry (Conn.) high schools.
Slota's research interests include instructional game design, technology, and education, and he is the co-owner of the Pericles Group, a game development company. He is the co-author of Exploding the Castle: Rethinking How Video Games and Game Mechanics Can Shape the Future of Education (Information Age, 2017), released this fall. He holds a bachelor of science degree in molecular and cellular biology, a master's degree in curriculum and instruction, and a Ph.D. in educational psychology from the University of Connecticut.