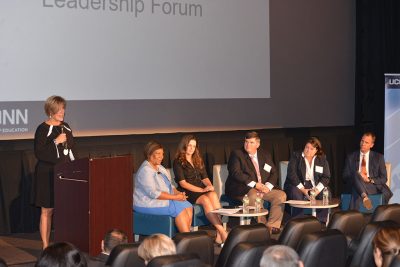 Alumni, students, faculty, and administrators from the Neag School of Education joined education professionals from across Connecticut last week for an evening of networking, followed by a panel discussion, at Hartford's Spotlight Theatre.
The fourth annual Educational Leadership Forum, created by Richard Gonzales, the director of the Neag School's educational leadership preparation programs, and Robert Villanova, program director for its Executive Leadership Program (ELP), highlighted the theme of leadership for equity.
"No topic is more timely or relevant to school leadership and leadership preparation today," said Gonzales, who established the event to commend the work of graduates from the Neag School superintendent/district leader and principal preparation programs.
ELP is Connecticut's first program designed specifically to prepare future superintendents to face the challenges and ever-increasing demands necessary to lead rural, suburban, and urban school districts. The UConn Administrator Preparation Program (UCAPP) has also helped shape education in Connecticut by ensuring aspiring principals are ready to handle student and school needs from the start of the academic year.
"Equity is not about the same treatment for all students. Equity is a process that ensures every student [is] guaranteed the same result and the same outcomes."

— Patricia Garcia,
Superintendent, Windham Public Schools
Defining Equity
Sarah Barzee, an ELP alumna and chief talent officer at the Connecticut State Department of Education, moderated the panel discussion featuring Patricia Garcia, the superintendent of Windham (Conn.) Public Schools; UCAPP student and Connecticut State Department of Education Turnaround Bureau Chief Lisa Lamenzo; literacy specialist at Clinton Public (Conn.) Schools and UCAPP student Jim Messina; UCAPP alumna and clinical instructor at the Neag School Jennifer Michno; and superintendent of East Hartford (Conn.) Public Schools and IB/M alumnus Nathan D. Quesnel '01 (ED), '02 MA.
"We have increasingly realized that the value proposition in education is people … namely, our educators," said Barzee during her opening remarks. Barzee spoke about working to erase barriers in education by addressing four facets of school readiness — talent management; instructional leadership; culture and climate; and organizational effectiveness.
"I was awakened to the inequities that exist in educational systems … Once awakened, I could not un-see the issues and challenges facing many of our students," she said. "If we all work together, our individual efforts will expand exponentially, resulting in deep and meaningful change in our schools."
She led the panelists through a range of questions touching on topics such as how equity manifests in education, what tangible goals would allow programs to provide equitable outcomes for students, and what challenges exist that disrupt student learning. To start, Barzee asked panelists to define equity, focusing on how teacher and principal inexperience, low retention rates, and even ZIP codes can oftentimes be barriers for students, particularly minority students and English-language learners.
"Equity is not about the same treatment for all students. Equity is a process that ensures every student [is] guaranteed the same result and the same outcomes," said Windham Superintendent Garcia. In her school district, Garcia added, where 75 percent of students are Latinx and 30 percent are second-language learners, equity means eliminating inequitable processes and policies in order to ensure similar outcomes among all graduates.
Lamenzo, turnaround bureau chief in Clinton, pointed out that educators must recognize when certain processes and policies are no longer effective and when to initiate change. Because equity intersects with other aspects of education, she said, it must serve as the foundation for change.
Another facet of an equitable education, said Superintendent Quesnel, is ensuring educators have high expectations not only for students, but also for themselves, in order to push students to use higher-order thinking skills and give them the tools they need to successfully complete rigorous coursework.
"We need to talk about what we expect from ourselves as the deliverers, as the providers, as the coaches, as the leaders in our (education) systems, and what we expect to give," he said. "We are all so aware how ZIP codes, neighborhoods, and cultural barriers define outcomes for kids, and how unequivocally wrong that is and how painful that is to look at."
Messina and Michno described equity of education as a matter of social justice; not providing students with appropriate work for their grade level, they said, is a disservice that widens achievement gaps, and the space between students' realities and their dreams.
"We need to talk about what we expect from ourselves as the deliverers, as the providers, as the coaches, as the leaders in our (education) systems — and what we expect to give."

— Nathan D. Quesnel '01 (ED), '02 MA,
Superintendent, East Hartford Public Schools
The Opportunity Myth
Barzee went on to discuss the Opportunity Myth, a report recently released by The New Teacher Project, which surveyed 4,000 students across five school districts to analyze how the education system is failing students, particularly students of color, students from low-income families, those with mild or moderate disabilities, and English language learners.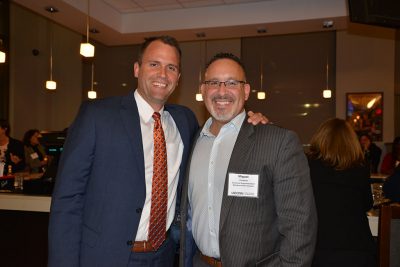 Researchers identified four pertinent areas of student success — grade-appropriate assignments, strong instruction, deep engagement, and teachers with high expectations — and found students spent 500 hours per academic year (the equivalent of six months of wasted class time in each core subject) on assignments that were below grade level.
"It found that students have big, clear goals and plans," Barzee said. "The researchers found, however, in classroom after classroom filled with 'A' and 'B' students … [the] big goals for their lives were slipping further and further away each day, unbeknownst to them and their families, not because they couldn't learn what they needed to reach them, but because they were rarely given the chance to do so." She challenged the panelists to identify one tangible action to address equity and issues outlined by the Opportunity Myth.
The panel of educators discussed the impact of low expectations at low-resource schools, and how achievement gaps widen due to a lack of understanding of what students' needs are.
"In the report, it says that students with access to these four resources close gaps. That gap … starts early, and it widens over time, so being proactive is important. A big part of this work is understanding and truly knowing, and not assuming (what students need)," said Lamenzo.
Knowing these needs starts with knowing the students themselves and what they hope to get out of their education, added Messina, who has focused on improving instruction and resources for English-language learners.
Michno, who has worked with the Hartford Foundation for Public Giving to conduct research related to family, school, and community partnerships as well as a multi-million Wallace Foundation initiative to improve principal preparation programs, highlighted the importance of "understanding the power of family-school community engagement and partnership" and said that thriving school districts have typically made connections with families and other community stakeholders.
Barzee's final question for the panel requested them to analyze the processes and policies promoting inequities in their own districts and schools, and asked them to identify one challenge or barrier they could disrupt and attempt to reverse to provide an equitable education for students.
"The recruitment and retention of teachers that believe in every student, that are committed to every student, and demonstrate that commitment to students, is one of the things I would disrupt," said Garcia.
"What matters is where our kids are coming from, and how we can lift our kids up," said Quesnel. "What we can do today and tomorrow is work to close that gap that exists by getting us, as adults, to look inside and try to understand and deal with our own biases, as uncomfortable as it may be."
View photos from the event. Learn more about UCAPP at ucapp.education.uconn.edu and about ELP at executive.education.uconn.edu.