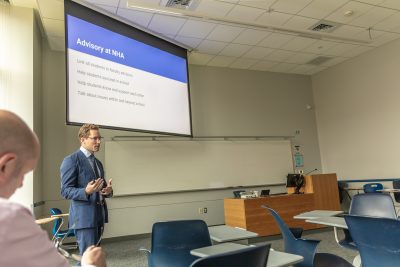 Over the past academic year, Neag School graduate student and high school English teacher Leszek Ward studied the effectiveness of regularly bringing small groups of students together with faculty advisors during homeroom at New Haven Academy, to determine whether implementing a structured protocol across certain groups would increase students' sense of belonging.
Ward's project won second place for the Lynn Hall Teacher Action Research Prize, an award which led him to discuss his work during the networking expo at the Yale School of Management Education Leadership Conference held in New Haven, Conn., in April.
Ward is a student in the University of Connecticut Administrator Preparation Program (UCAPP), a program within the Neag School that aims to prepare highly qualified school leaders to serve school communities across the state of Connecticut. UCAPP culminates in a capstone project, referred to as the change project, that allows students to take what they have learned through coursework to identify a need for change in schools and lead real-world improvement work.
UCAPP culminates in a capstone project, referred to as the change project, that allows students to take what they have learned through coursework to identify a need for change in schools and lead real-world improvement work.
Taking Steps to Foster Connectedness
Ward is in his 11th year of teaching at New Haven Academy, an interdistrict magnet school that serves 300 students from grades 9 through 12. New Haven Academy prides itself on being a school learning community where all members, including staff, students, and parents, know each other well, but Ward wanted to take this idea to the next level.
Ward focused his UCAPP change project on what are known as "advisory groups" — small groups of students, each led by a faculty advisor, which meet for 10 minutes in homeroom at the start of each school day and for 30-minute advisory sessions twice a week.
"These groups are meant to be a student's 'school family,' a place where they are known and supported by at least one adult in the building, as well as a group of peers," states Ward in his change project report.
Through an initial round of surveys, however, Ward and a group of seven fellow teachers found that these advisory groups were not doing enough to foster a sense of connectedness between students and their faculty advisors.
Ward says he chose advisory groups as the focus of his project because these groups already met consistently and because implementing a common homeroom protocol among certain groups was a small, manageable change that could potentially have a greater outside impact. 
"We came up with the protocol by sharing our own experiences in advisory," Ward says. "We also tried to look at a few other schools, read a chapter of The Culture Code by Daniel Coyle, and put all those different learning experiences together."
The homeroom protocol, which was implemented across eight advisory groups, included the following steps:
Greet advisees at the door (to personally welcome them to school)
Ask students to put away their phones/headphones (to encourage conversation)
Control seating so that students were in closer physical proximity (to build intimacy)
Play music as students enter the room (to set a positive, cheerful tone)
Facilitate a structured check-in (to ensure that each student was seen and heard)
While there were some limitations to implementing the protocol, including issues with students' homeroom attendance and inconsistency in administrating each element of the protocol, the project ultimately showed an increase in the sense of belonging among students in the advisory groups that used the new, structured protocol.
Students' sense of belonging was measured through an eight-question, schoolwide survey that was developed by Ward and administered three times over the course of the academic year: in September, November, and February. With the survey, Ward calculated an average "connected score" for each advisory group, comparing this score among the eight groups that underwent the protocol with the 11 groups that did not use the protocol. He found that the structured homeroom protocol had a positive effect, one that proved to be statistically significant, on students' sense of belonging.
Ward's interest in developing a sense of belonging at New Haven Academy stems from a body of existing research on the topic, including a 2007 study by Laura D. Pittman and Adeya Richmond that showed a sense of belonging is powerful enough to affect students even after they leave high school.
Celebrating the UCAPP Journey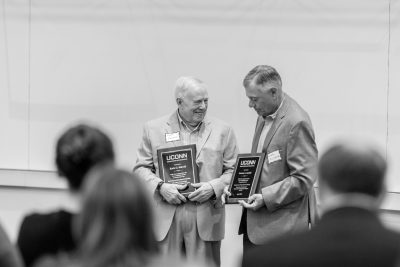 Director of the Educational Leadership Preparation Programs at UConn's Neag School, Richard Gonzales, says students administering their change projects often find additional organizational issues in the school community that they have to tackle.
"There's always the original topic and original issue of improvement, but one of the things that most students learn is there is always a lot more that comes from just getting started, rolling up your sleeves, and taking on improvement work," says Gonzales. "There are other things that surface that are also important and that people also work on."
UCAPP students presented their change projects at the UConn Storrs campus on April 27 during the program's 5th Annual Change Project Day.
"Change Project Day is the celebration of their journey, where they come together as a community of school leader practitioners," says Gonzales. "They present to one another and talk about not only what improvement work that they led, but most importantly the things that they learned about leadership, about leading change, about facilitating work with others, and what they learned about themselves as leaders."
For Ward, the UCAPP change project meshed well with his day-to-day work at New Haven Academy. "My experience with the change project fits in really nicely with the work I was doing at my school," he says. "It provided me with an opportunity to tackle an issue that I care about and that is important to my school."
Check out photos from the Change Project Day. Learn more about the UConn Administrator Preparation Program (UCAPP) at ucapp.education.uconn.edu.