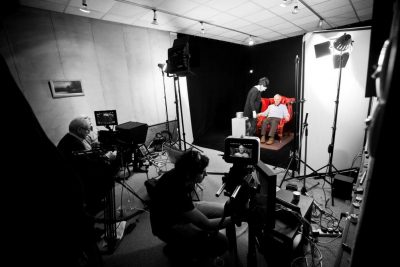 As the number of Holocaust survivors worldwide continues to dwindle each year, the question of how to preserve the stories of survivors as a means of remembrance and education becomes ever more relevant. Alan Marcus, associate professor in curriculum and instruction, is working to answer that question through research on three-dimensional, interactive technology. Along with a team of researchers, Marcus has embarked on "The Forever Project: The Benefits and Dilemmas of Using Virtual Interactive Survivor Testimony."
Ian McGregor, a Ph.D. student in curriculum and instruction at the Neag School, and Rotem Maor, a former curriculum and instruction postdoctoral student, along with faculty from the University of Wisconsin-Madison, Virginia Tech, and the University of Nottingham, join Marcus on the project.
This year, The Forever Project received a $50,000 grant from The Spencer Foundation that will allow it to continue its work with The National Holocaust Centre and Museum in England. The research team has taken several trips to the U.K. over the past year and a half to see how Virtual Interactive Holocaust Survivor Testimony (VIHST) is being implemented and understand how museum staff, educators, and participating students are reacting to it. VIHST uses 3D technology to present a digital representation of the survivor, allowing students to see and hear the survivor tell their story and then ask him or her questions with the help of museum staff and the latest technology.
"We are looking at how we can think as a field, both historians and educators, about using virtual technology as a tool in the future, not just with the Holocaust, but with any kind of survivor of an atrocity," says Marcus. "We are looking to see what the ethical issues are and how to potentially use survivor testimony effectively in terms of education."
Virtual Interactive Holocaust Survivor Testimony uses 3D technology to present a digital representation of the survivor, allowing students to see and hear the survivor tell their story and then ask him or her questions with the help of museum staff and the latest technology.
More Than a Video Recording
The virtual technology has presented several ethical questions for the Forever Project team, such as whether or not it is acceptable to edit survivor testimony or if the nature of how students ask the survivor questions takes away from some of their inquiry. The Spencer Foundation grant has given the team the opportunity to explore those questions further.
According to Marcus, the University of Southern California Shoah Foundation was the first to experiment with virtual survivor technology in their project, "New Dimensions in Testimony." The National Holocaust Centre later tried the new form of survivor testimony, while using different technology and a different approach. Both institutions aimed to preserve survivors' stories in 3D, rather than simple video recordings.
"They wanted a way to preserve their testimony that wasn't just staring at a screen and being talked at," says Marcus. "It developed in these two places, but no one really knew if it was effective or how to use it with students or at a museum or anywhere. That's where our research team comes in."
In the U.K., the Holocaust Centre filmed 10 survivors in anticipation of launching VIHST technology in its museum.
"I was already doing a lot of work at the Holocaust Centre in England as this project was being developed, and I asked, 'Well, how does it work? What are the ethical issues? How are you going to do this with students?'" says Marcus. 
From an Initial Curiosity to a Global Project
Marcus says he had to begin The Forever Project through small, working stages.
It was January 2018 when The Forever Project team set out for the U.K. Holocaust Centre to become familiar with VIHST. Marcus credits the Neag School Dean's Office with providing the initial financial support needed to launch the project, via a $10,000 Dean's Research Incentive Award.
"The dean's money allowed me and other members of our research team to go to England and have everyone see the virtual workings, both for ourselves and with students," says Marcus. "It helped us do the first round of data collection with all the museum staff who put this project together and with the survivors who participated."
UConn's Office of Global Affairs also provided $4,000 in funding that assisted with the initial 2018 trip.
So far, the team has undergone two rounds of data collection, one with museum staff and survivors and one with students.
Round 1 (June 2018): The initial round was geared toward understanding the perspectives of the 10 survivors filmed by the Holocaust Centre staff. The Forever Project team was able to interview six of them to find out why they participated and what they expected the results to be. The museum staff was asked questions about why they developed VIHST and how were they making decisions on how to use it.
Round 2 (June 2019): The second round, funded by the Spencer Foundation grant, aimed at comparing the impacts of virtual survivor testimony with live survivor testimony. The team collected data on 400 middle- and high school-aged students who were split into groups, some of which were presented with the virtual survivor testimony and some of which were presented with the live survivor. Through short pre-and post-surveys and focus groups, Marcus says the team was looking to understand what students think of the technology, whether they are able to develop the same level of empathy with the virtual survivor as they would with the live survivor, and whether they questioned the trustworthiness of the virtual source, among other questions.
Marcus says once the team has analyzed results from the second round of data collection, they may return to the U.K. to have the museum staff make some adjustments and conduct additional research.
Beyond the U.K., The Forever Project team has established a second research site at the Illinois Holocaust Museum Education Center, whey they have begun filming virtual survivors, and also a third site in Munich, Germany.
Creating Good Global Citizens
While the project's focus is on effective Holocaust education, Marcus emphasizes the impact of history education on developing students into "participatory global citizens." Historical events such as the Holocaust lead students to question how they treat other people and how they will live their lives as adults, he says.
"The Holocaust gives us examples of a lot of really bad in the world but also a lot of really good. There were a lot of people who rescued people, hid people, and risked their lives to save people," says Marcus. "I think it's a good model for students that really gets them thinking."
Marcus said Holocaust education must be reinforced throughout students' history education to allow them to reflect on their individual actions and question what is currently happening in society.
"Students don't become good citizens in democracy from one Holocaust [educational] unit. It's got to be part of everything they do," says Marcus.
Learn more about the Forever Project.
Related Stories: