This past academic year, UConn's Neag School of Education, along with UndocuScholars at the University of California Los Angeles and the Association for the Study of Higher Education (ASHE) Presidential Commission on Undocumented Immigrants, co-sponsored a research brief dissemination series highlighting issues related to the undocu/DACAmented community.
The goal of the series was to make research in this area accessible beyond traditional academic spaces, according to H. Kenny Nienhusser, Neag School assistant professor of higher education and student affairs.
The Neag School, ASHE's Presidential Commission on Undocumented Immigrants, and UndocuScholars teamed up in 2018-19 to disseminate research on the undocu/DACAmented community.
"Examining issues that affect the undocu/DACAmented community is urgent, given the pervasive discriminatory postsecondary education policy landscape and xenophobic climate that has besieged our nation."

— H. Kenny Nienhusser,
Assistant Professor
"Examining issues that affect the undocu/DACAmented community is urgent, given the pervasive discriminatory postsecondary education policy landscape and xenophobic climate that has besieged our nation," says Nienhusser, who as co-chair of the ASHE Presidential Commission on Undocumented Immigrants, helped coordinate the series.
The dissemination series, which featured four research briefs, each with a corresponding webinar or Twitter chat, "offered a fantastic opportunity for UndocuScholars to partner with leading scholars to shed light on critical topics affecting the undocumented immigrant community," says Robert Teranishi, UndocuScholars co-principal investigator and professor of education at UCLA.
Nationwide Engagement
The series kicked off last October with a Twitter chat,facilitated by Nienhusser, focusing on his research brief titled "Implementation of Public and Institutional Policies for Undocu and DACAmented Students at Higher Education Institutions."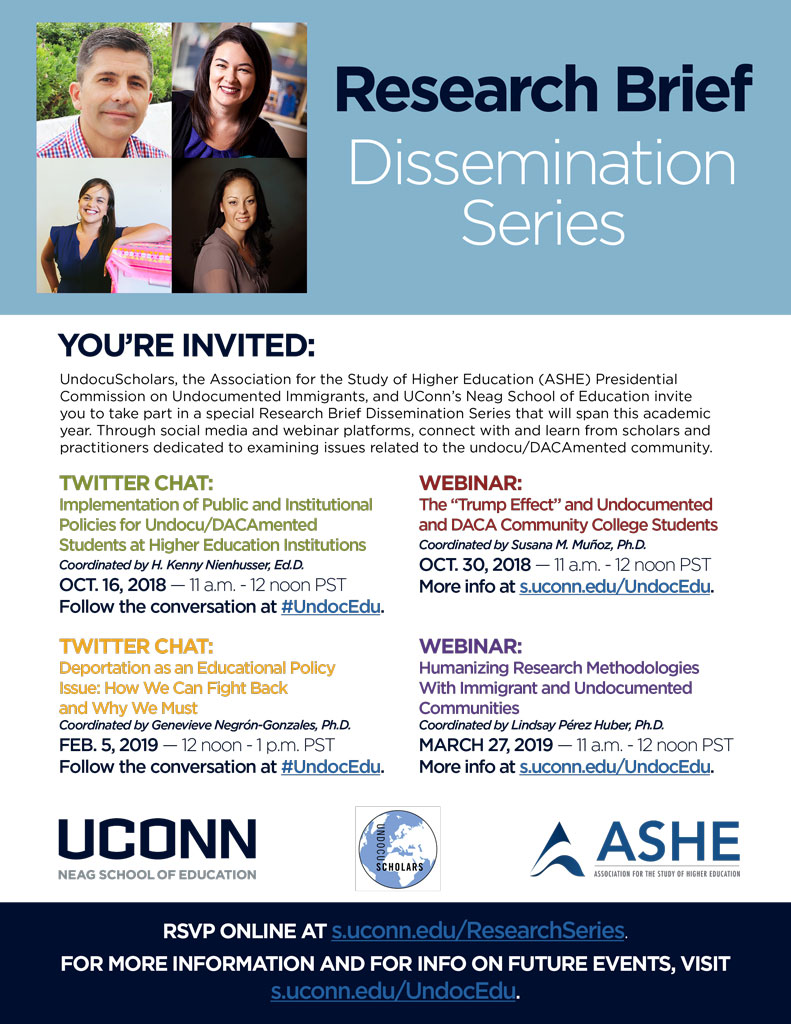 Nienhusser, along with discussant Isabel Martinez from John Jay College of Criminal Justice, City University of New York, led a conversation about the impact of different federal and state policies on undocu/DACAmented students, as well as how these policies are implemented at the institutional level by administrators at colleges and universities. During the chat, Martinez discussed the initial "lack of awareness and knowledge about undoc/DACA students on campus" at her institution and shared some of the ways she and her colleagues have worked to change the campus culture.
Hosting a Twitter chat on the topic, Nienhusser says, "was a different way to infuse valuable information into educational professionals' understanding of issues that affect the [undoc/DACAmented] community."
The second Twitter chat, which took place this past February, was hosted by Genevieve Negrón-Gonzales from the University of San Francisco and fellow discussants Leisette Rodriguez from California State University, Dominguez Hills, and Carolina Valdivia, a doctoral candidate at Harvard University. The chat, which unpacked Negrón-Gonzales' brief titled "Deportation as an Educational Policy Issue: How We Can Fight Back and Why We Must," dissected how deportation affects students and their families, and what can be and is being done on the individual and systemic levels to support and protect undocu/DACAmented students from unjust separation, detention, and deportation.
The series' two webinars, which together hosted well over 100 participants, kicked off in October 2018 with Susana M. Muñoz from Colorado State University exploring her research brief, "The 'Trump Effect' and Undocumented and DACA Community College Students." The webinar focused on the experiences of undocu/DACAmented community college students in the era of the Trump administration's anti-immigrant policies and highlighted issues such as heightened white supremacy and uncertain academic trajectories, as well as how to create supportive spaces at community colleges.
The final event in the series, a March 2019 webinar, was facilitated by Lindsay Pérez Huber from Colorado State University, Long Beach, who discussed her brief "Moving Beyond Ethicality: Humanizing Research Methodologies with Immigrant and Undocumented Communities." This webinar focused on the heightened responsibility that researchers have when working with historically marginalized populations such as the undocu/DACAmented community, and how to uphold and promote humanizing methods instead of those which could be destructive or exploitative. 
"Both the webinars and Twitter chats provided practitioners and researchers an opportunity to 'talk back' to the research briefs as they provided strategies for implications and applications for undocumented and DACA college students," says Muñoz. "It was great to see nationwide engagement among hundreds of people who are invested in making higher education and research more humane for this population."
'Shedding Light on Education Policy'
"The series did a terrific job of shedding light on education policy in the current climate, as it relates to such timely issues as immigration, deportation, and the experience of undocumented students in the higher education space," says Neag School Dean Gladis Kersaint. "In particular, we were delighted to see web conferencing and social media serving as effective channels in engaging practitioners and students from far and wide in this meaningful, ongoing discussion. Our thanks go to each of the Neag School's co-sponsors and participants for making this thoughtful academic series come together over the past year."
"The Association for the Study of Higher Education is proud to have supported this series and the ongoing dissemination of these research briefs," adds Kristen Renn, ASHE executive director. "The briefs and series illustrate ASHE's commitment to bringing our members' expertise to bear on critical social issues and to amplifying the impact of higher education researchers. We are proud of the work of the Commission and of the leadership provided by Drs. Nienhusser and Muñoz to this exemplary effort."
Missed out on these events? Check out the Twitter chat summaries and webinar transcripts online.