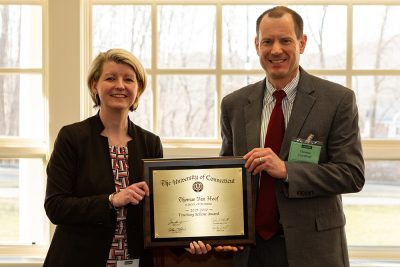 Neag School alumnus Thomas J. Van Hoof  '92 MD, '96 MA associate professor at UConn's schools of nursing and medicine, has been recognized by the Center for Excellence in Teaching and Learning (CETL) as one of two 2019-20 University Teaching Fellows.
The award, which honors full-time faculty who show a commitment to teaching, demonstrated knowledge of pedagogy, and an interest in fostering innovative teaching practices at the University, provides recipients with a stipend of $5,000. Awardees are nominated by deans and department heads, and a committee of former CETL teaching fellows determine the winners.
Van Hoof, who received his medical and psychiatric training from the University of Connecticut School of Medicine before earning a master's degree in education from the Neag School in 1996 and completing an Ed.D. at Teachers College Columbia University in 2008, has served as a faculty member for 24 years in numerous educational roles at the schools of medicine and nursing.
Throughout his lengthy career in education, Van Hoof has worked to create a classroom that promotes effective student learning.
"It's nice to receive recognition for something that you really enjoy doing," says Van Hoof. "I feel inspired by it, and I think it has increased my enthusiasm for my role as an educator at UConn."
"The educational system is an influential force that we should leverage for good purposes and outcomes."

— Thomas J. Van Hoof '92 MD, '96 MA
Learning Science
Van Hoof's fellowship work is centered around learning science, an emerging disciplinary field concerned with how the brain retrieves and retains information. He says the field offers educators and students a set of evidence-based strategies to enhance mastery and long-term memory.
As part of his fellowship, Van Hoof hosted two learning science workshops this past fall semester, one of which was an eight-week student workshop, involving mostly nursing and engineering students. Participants discussed how learning science can influence study and practice habits and adjusted their own study techniques to be consistent with the evidence of effectiveness. For example, Van Hoof says students practiced distributed study several days prior to an exam, allowing the brain multiple opportunities to process information in short, regular study periods.
The second workshop was for faculty and staff interested in discussing how teaching and advising practices can be altered to align with learning science evidence. Van Hoof says pre-tests, mock exams, and cumulative exams, rather than passive review, are effective practices for long-term memory retrieval.
"The hope was that if we are helping students to be more aware of ways that they can improve their study in practice, and we are helping faculty and staff become more aware of how to improve their teaching and advising, then that would be a powerful combination," says Van Hoof.
Van Hoof plans to hold at least one workshop this spring, along with additional presentations around the science of learning in other schools.
From Physician to Educator
Although his parents both pursued careers in education, Van Hoof initially practiced psychiatry and was set on being a full-time physician until his passion for education surfaced. He worked directly in-patient care for six years and indirectly in the field for 18 years, primarily in Medicaid and Medicare quality improvement. When he enrolled in the master's program at the Neag School, he hoped to gain an understanding about school systems in order to be better informed in the school mental health work he was involved in at the time.
Van Hoof says two former school of education faculty members, Mark Shibles and Patrick Mullarney, inspired him to consider a career in education rather than as a practicing physician.
"Both of these professors were clearly content experts, but more importantly, they were kind and encouraging," says Van Hoof. "They understood the importance of process and context, in addition to content."
Van Hoof has taken key lessons from his psychiatric background into his career as an educator, including the importance of relationships. He says education is a social process in which working with others is essential to many of the ways in which we learn, such as listening, speaking, and applying and reflecting on information. His psychiatry career also taught him how important context is for learning. 
"We need to be sensitive to contextual variables, such as what and how we grade in our courses, or what incentives exist in the workplace, as these variables influence outcomes," says Van Hoof. "The educational system is an influential force that we should leverage for good purposes and outcomes."
Altering the Classroom
In his teaching philosophy statement to the CETL Teaching Fellow Awards Committee, Van Hoof noted the changes he has made to his teaching strategy over the past five years, which he drew from discussions with colleagues and interprofessional research. The changes include the use of pre-tests, which prepare the brain to learn; mock exams, which give students feedback on what they know; and phased assignments, which offers students a series of incremental and complementary steps to learning. He says the results from these assessments allow him to track student improvement and make adjustments to his teaching practices based on feedback. Van Hoof also began implementing interactive classroom activities and team-based projects to enhance student interest in the course material.
"We need to provide students with sensitive, but timely feedback to help them improve and encourage them to overcome barriers that we all face."
"My hope is for people leaving any course or activity that I am involved in is that they will feel better about themselves as a learner and that they will be more proficient in learning and more receptive to opportunities for future learning," he says.
"He is without a doubt one of the best instructors I have ever been fortunate enough to work with," says Elizabeth Mayerson '17 DNP, '18 HPE Certificate, one of Van Hoof's former students. "He has also been extremely supportive as I attempt to become an educator myself."
Undergraduate nursing student Colleen Bradley took Van Hoof's "Health Care and Delivery System" course in Fall 2017, followed by his one-credit university course on learning science strategies in Fall 2018. She praises Van Hoof for his commitment to improving students' performance in his courses, as well as their other courses.
"It was clear that Professor Van Hoof was not simply drilling material into us with the hopes that we would remember and/or use it, nor teaching us something that he himself would never utilize," says Bradley. "He was putting into practice the very same tools and methods for learning that he was encouraging us to use."
A Look Ahead: Improving the Education System
Van Hoof says his impact on those in the early stages of their educational careers has been the most gratifying aspect of his work so far, and he hopes to continue to make improvements in the education system as he moves forward in his own role as an educator.
"Educators need feedback, and we need help in developing solutions to complex problems," says Van Hoof. "We need to provide students with sensitive, but timely feedback to help them improve and encourage them to overcome barriers that we all face."
When asked what advice he would give to future educators, Van Hoof says it is important to consider everything from the perspective of the learner. He makes real-time improvements in his classroom by having regular conversations with students to negotiate the curriculum.
"We can benefit by making adjustments, because every group is different," says Van Hoof. "Each time we teach, even the same course, we should really be making changes in how we are interacting with a group to respond to how that group is unique."