The postponed 2020 Neag School of Education Alumni Awards will be held in a virtual format to be launched on Saturday, Oct. 24. Get more details!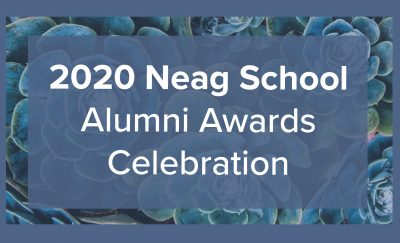 The Neag School of Education and its Alumni Board are proud to announce the 2020 Neag School Alumni Awards honorees. Seven outstanding graduates will be formally recognized at the School's 22nd annual Alumni Awards Celebration on Saturday, March 14, 2020:
Outstanding Early Career Professional — Jessica Stargardter '16 (ED), '17 MA
Jessica Stargardter serves as a gifted and talented educator for Norwalk (Conn.) Public Schools, where she has implemented numerous educational and professional development programs. She also has been an avid speaker on various gifted and talented topics at state- and national-level professional conferences. In 2019, Stargardter was named the Neag School's Rogers Educational Innovation Award recipient for her project on real-world investigations through photojournalism. She also has volunteered her time at several organizations, including serving as a resident tutor for "A Better Chance" program in New Canaan, Conn., mentoring high school students from diverse backgrounds.
Outstanding School Educator — Jeffrey Corbishley '07 (ED), '08 MA
Jeffrey Corbishley, a mathematics teacher at Ridgefield (Conn.) High School since graduating from the Neag School in 2008, was named Ridgefield High's 2019-20 Teacher of the Year. He also serves as department chair, responsible for lesson planning, assessment, curriculum design, evaluating lessons for 19 staff members, maintaining the department budget, and planning subject-specific professional development. An active member of the National Council of Teachers of Mathematics, Corbishley also has returned numerous times to UConn during the summertime to serve as a staff counselor and residence director for the UConn Mentor Connection program and the Young Scholars Senior Summit.
Outstanding School Administrator — Daniel J. Crispino '15 6th Year
Daniel J. Crispino, who began his career in education as a first-grade teacher, today serves as director of school leadership for Meriden Public (Conn.) Schools, where he coaches and supports elementary administrators in goal setting, planning, development, implementation, and monitoring of action plans. Prior to that, he held several administrative positions, including that of principal, at John Barry Elementary School. In 2019, he was recognized with several awards, among them the Terrel H. Bell Award for Outstanding School Leadership, presented by the U.S. Department of Education. Under Crispino's leadership, Barry Elementary also was recognized as a 2019 National Blue Ribbon School and named by the Connecticut State Department of Education as a School of Distinction for its high academic growth.
Outstanding School Superintendent - Christine L. Carver '91 (ED), '97 MA, '09 Ed.D. 
For the past five years, Christine L. Carver has served as superintendent of Bethel (Conn.) Public Schools, where she led a diverse stakeholder committee in developing a five-year strategic plan; implemented school improvement plans; overseen building infrastructure, security, and budgets; and facilitated parent, board, legislative, and community engagement. Previously, Carver was the associate superintendent of human capital development for Newington (Conn.) Public Schools and also held various district-level administrative positions for New London (Conn.) Public Schools. In addition, Carver has been active with the Connecticut Association of Public School Superintendents and various legislative task forces for the Connecticut General Assembly.
Outstanding Professional – Robin M. Schader '01 Ph.D.
An independent educational consultant in locations across Connecticut, Massachusetts, New York, and New Jersey for the past 10 years, Robin M. Schader has also been active as a board member, trustee, and organizer of events and initiatives for various educational institutions, research centers, and professional associations. In addition to having previously served as an assistant research professor at the Neag School, Schader has published widely on such topics as giftedness, perfectionism, bullying, and motivation, while also giving presentations on twice-exceptionality worldwide. The National Association for Gifted Children (NAGC) named Schader a parent resource specialist, a role in which she supported parents and advocates in matching high-potential youth with appropriate educational opportunities, and in 2018, NAGC honored her with a Book of the Year Award for a volume she co-authored. Schader also was the founder and trustee of Music House, a nonprofit for highly gifted young musicians from around the world.
Outstanding Higher Education Professional - Marcia A. B. Delcourt '80 MA, '88 Ph.D.
Marcia A. B. Delcourt has been the coordinator of the Ed.D. program in instructional leadership at Western Connecticut State University (WCSU) in Danbury, Conn., for the past 15 years. The program, for which she teaches courses in leadership, measurement, research, cognition, and curriculum and instruction, has become a model for similar programs in the U.S., Canada, and India. A professor in the education and educational psychology department for the past two decades at WCSU, Delcourt has also held a part-time professorship position at McGill University in Montreal since 2005. The author of more than 70 publications, she has presented at national and international conferences; secured several million dollars in research grants; and been awarded with commendations from WCSU, numerous national and regional educational research associations, and other entities.
Distinguished Alumna Award - Roberta "Bert" Wachtelhausen '81 (ED)
A recognized expert in health care and wellness, Roberta "Bert" Wachtelhausen is president of WellSpark Health, a health and wellness company and a subsidiary of ConnectiCare, and former senior vice president, chief sales and marketing officer at ConnectiCare, one of the largest HMOs in the state. Wachtelhausen, who has more than 30 years of experience shaping products and programs at national and regional health plans, was appointed to the Connecticut Women's Hall of Fame Board of Trustees and named 2019 chief marketing officer of the year by the Hartford Business Journal. A former UConn women's basketball player, she is a featured speaker on wellness at regional and national conferences.
The 22nd Annual Neag School Alumni Awards Celebration begins at 5 p.m. on March 14, 2020. Attire is business formal. The cost, which includes dinner, is $50 per person. No-host bar. Join us for the celebration by registering online at s.uconn.edu/NeagAlumni2020. Questions? Contact neag-communications@uconn.edu.