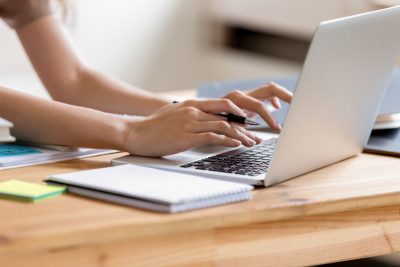 As school closures are announced across the state and country, the Neag School looked to its resident experts to provide guidance and insights for students, parents, educators, and administrators.
Here's what they had to say:
1. What are some helpful tips for educators in managing their lessons during the school closures?
​Morgaen Donaldson, associate professor of educational leadership and director of the Center for Education Policy Analysis: This is a good opportunity to follow the adage of "less is more." What is most essential that students [need to] learn? What can show you (and them) that they've learned this skill
Michael Young, associate professor of educational psychology and coordinator of the Educational Technology program: Be thoughtful and don't just put classroom lessons online. Consider the advantages of online learning (personalized, adaptive, nonlinear) and revise your classroom lesson for online interactions. Former Neag School professor Don Leu's research found that there are new reading and writing literacies associated with online learning. We don't write the five-paragraph essay as a response to a teacher blog, and we don't read from page one through page 10 on the internet. These new literacies can be nurtured with online learning, but must be supported and understood by teachers.
"Follow your child's interests and energy levels. Reading, talking, and writing about their interests is invaluable."

— Sarah Woulfin, associate professor
2. How can educators keep their connections going with the students?
MD: This is a great question that I know is on the minds of many, many educators. I have seen educators use technology to connect with students, but it's important to remember that not all students have access to the internet or computers. Apps can help in this regard, since many parents (and some children) have phones. A letter in the mail is also a good option. A connection makes a huge difference to students of all ages, and to educators as well.
Sarah Woulfin, associate professor of educational leadership: Educators could write/email letters and updates related to students and families.
3. If educators are unfamiliar with teaching online, how can they get up to speed and become more comfortable in making the most of this space for their students?
MY: Online teaching and learning are different from classroom whole-class and group instruction. Optimally, online learning requires greater prep time and less teacher interaction at the time of instruction delivery. Those with experiences with Flipped classroom, screencasting, or use of tools like Zoom, Webex, or Blackboard Collaborate will be able to be in touch with whole groups for live, synchronous interactions. But teachers must also be ready to create something more than worksheets for students to explore and interrogate content on their own.
Realize the following:
Much online learning relies on students to organize their own learning time, learning spaces, and work routines (this is called self-regulation in the research literature). These are things teachers can teach and scaffold for students.
Teaching online is different from teaching face-to-face. Online teaching relies heavily on the analytics collected by the learning management system (including when students log in, how long they stay on particular pages, and the contributions they make in various course areas). This is roughly the substitute for watching student behaviors in class.
Students will need help differentiating how to use the computer for entertainment and how it should be used for learning as part of school. Often, the rules for how students treat each other online and how they interact may need to be modified from the entertainment realm to the in-school realm.
Online (web-based), Digital (such as voice over IP or video conferencing like Skype, Facetime, Webex, Zoom, or Collaborate) and Virtual (such as meeting students in Mindscape or other avatar-based virtual worlds) are all possibilities for connecting with students away from classrooms.
Beyond devices and data plans, students may also need to organize their actual home spaces for learning, including headsets and closed areas that do not interfere with parents trying to work at home, or other children also trying to learn.
Teacher preparation is key to success. Teachers who are already using tools like SeeSaw to communicate, or are fluent with video production, can leverage those skills to create meaningful learning experiences for their students.
4. For educators, what are some useful tools for online student learning?
MD: For K-12 educators in upper elementary through high school, Khan Academy is an excellent resource. There are numerous other websites that are great — BrainPop and Epic! are two that come to mind. Most libraries also provide online access to books and audiobooks and other resources that people can download. I read that New York City Public Library is allowing free access to all of its titles through Simply E. This will help kids (and adults) keep their minds engaged while out of school.
5. With parents in many cases now overseeing their children's education at home, what is one piece of advice you can share with them?
SW: Follow your child's interests and energy levels. Reading, talking, and writing about their interests is invaluable. Family conversations and reflections also play a role in teaching social emotional skills. School entails more than math, reading, and writing, so consider activities related to art, music, physical education, and science (nature and weather).
6. If students have limited or no access to the internet for online learning, what are some alternatives?
MY: Typically, this would include public libraries and other after-school learning places (like YMCA, boys clubs, etc.) It remains to be seen how restricted these activities may be for a while. Working with one other student who does have access may be an alternative to consider.
"It's important to remember that everyone is dealing with significant stress and uncertainty at home. Teachers and staff are likely worried about their own families and loved ones."

— Michael Young, associate professor
7. How can parents best organize the day with students at home?
MD: Try to make the day as "normal" as possible by keeping up routines like getting up and going to bed at regular times, having meals together, doing regular things like brushing teeth, making beds, and doing daily chores. Then have a structure for their learning activities — whether it's a certain amount of work or a certain amount of time on each activity, and giving them choices about what to learn, how to learn, and when. Get them outside to burn off steam! Exercise — whether dancing, running, playing basketball, doing yoga, doing sit-ups and push-ups — is essential.
8. What are some possible impacts if schools do not reopen this spring?
MD: Nothing like this has happened in the modern era, so it's hard to tell what the impact will be. I expect the impact will vary by the length of time lost. It may also vary by the age of the child. Unfortunately, it may also vary by the resources of the family.
9. If a school/district isn't online, how can they accommodate the current situation?
MD: Teachers and administrators are working really hard to make resources available to all families, on- and off-line.
10. For lab courses, what can educators do to keep their students learning?
MY: For activities that have virtual lab equivalents (like the Virtual Frog), substitutions may be easy. For others, videotaped demonstration may have to substitute in the short run for actual hands-on experiences.
11. How can school administrators keep their staff motivated during this time?
​MD: This is a great question. It's important to remember that everyone is dealing with significant stress and uncertainty at home. Teachers and staff are likely worried about their own families and loved ones. They are also distraught by their inability to care for and work with the students with whom they have developed a bond over the past year (or more).
Administrators should stay in contact with their staff and check in on their well-being first and foremost. If staff and their families are well, administrators could encourage them to work together virtually to plan how to support their students' learning. This is an opportunity for grade-level teams and subject-area teacher teams to work with their teammates to develop common goals and activities. They can also support each other through this trying time.
SW: Leaders can offer support and care during this period, encouraging wellness and encouraging others to maintain balance and to navigate this period with grace.