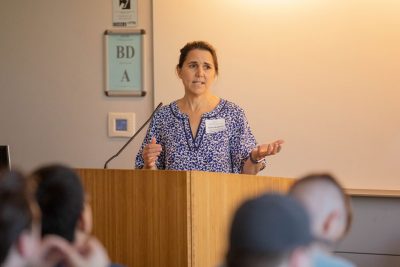 A typical workweek for Neag School alumna Karen Skudlarek '88 (BUS), '16 MA involves a handful of workshops and one-on-one technology trainings with UConn faculty. Skudlarek works as an educational technologist at the University's Center for Excellence in Teaching and Learning (CETL). She and her colleague, Daniel Facchinetti, usually see about 10 faculty members in attendance at their workshops — but in recent weeks, that number has increased eightfold due to the situation surrounding COVID-19.
The University had originally planned to conduct remote learning for two weeks following spring break, but growing health concerns led to a fully online transition for the Spring 2020 semester. UConn faculty members, some of whom had never administered remote courses before, had to transition their coursework quickly to align with the new remote teaching style. Skudlarek and her colleagues at CETL have been instrumental in the process.
"Going from face-to-face to remote is not a switch that you turn on and it works," says Skudlarek. "It takes a lot of thought and a lot of intention behind it to make sure that it's done well."
Skudlarek leads workshops on video conferencing software such as WebEx and Blackboard Collaborate, which allow professors to create synchronous learning experiences for their students, such as real-time group discussions. She also instructs faculty on how to use Kaltura for professors to create asynchronous learning experiences (recorded short lectures with quizzes that are accessible at any time) for their students at home. An important aspect of the online transition is ensuring that all students are given an equal opportunity to engage with the coursework regardless of where they are in the world or what their circumstances are. Skudlarek and her colleagues at CETL encourage professors to record video lectures for their students and offer the live session as a time to ask questions or engage in a group discussion.
"Going from face-to-face to remote is not a switch that you turn on and it works. It takes a lot of thought and a lot of intention behind it to make sure that it's done well."

— Karen Skudlarek '88 (BUS), '16 MA
"We did not want to put a burden on students, and we wanted to make sure they were able to get this [remote learning experience] as equitably as possible," says Skudlarek.
Before UConn made the switch to remote learning, CETL had already been considering this possibility. Through an ongoing partnership with Schwarzman College in Beijing, China, CETL had been assisting the college with improving instruction methods; COVID-19 brought on new challenges. The faculty at Schwarzman had no experience with remote learning, so CETL assisted them in converting their classes to the virtual space.
Skudlarek says they encouraged instructors at Schwarzman College to focus first on the learning outcomes they wanted for their students, and then on varying their instructional techniques to keep students engaged. CETL was able to incorporate those guidelines into UConn's transition months later.
From Reactive to Proactive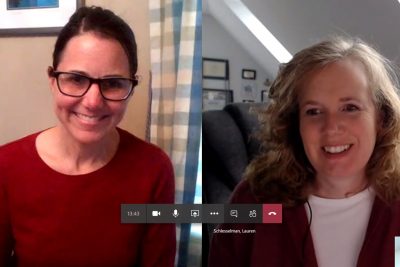 Following an intense rollout at UConn, CETL is now moving from a reactive to a proactive approach in implementing remote learning. The director of CETL's educational technologies team, Lauren Schlesselman '12 MA, also a Neag School alumna, says faculty are deciding how they are going to administer final exams and, for some, prepare their summer courses to be taught remotely.  
"We need to do a better job of planning for these types of possibilities so that everyone is comfortable making a transition online," says Schlesselman. "There's a lot more training that we as a University and at CETL need to make sure that everyone is ready."
Expanding the Support Team
UConn's educational technology team also hired two Neag School graduate students in March to assist faculty through one-on-one training sessions. Andrew Cochran and Lauren Dougher, students in the Neag School's educational psychology program, help familiarize professors with different forms of remote learning technology, allowing them the freedom to experiment and decide which they feel most confident using for their classes. The two agree that, for the most part, faculty have been learning quickly and responding well to the new technology.
"They come with their questions, and they are open and honest and want to know which platform is best for them to use," says Dougher. "I have met with some faculty multiple times because I'll teach them how to use it and then prior to their class they like to do a run-through." 
UConn's Center for Excellence in Teaching and Learning has reached more than 1,000 UConn faculty members through workshops and one-on-one sessions.
During the week of spring break, Cochran and Dougher each led nearly 50 one-on-one sessions with faculty. The two are now working with CETL's instructional design team to develop modules for the University's online COVID-19 course. The one-credit class launched on April 6 for all UConn students interested in learning more about the global implications of the pandemic.
"Due to how soon we got the go-ahead for the course, we are going to have to build it up as we go," says Cochran.
Finding Ways to Support Faculty
Between the ed tech team and the additional help of the Neag School graduate students, CETL has reached more than 1,000 UConn faculty members through workshops and one-on-one sessions.
"Given the nature of what is happening, the anxiety for everyone has been up," says Skudlarek. "There are some faculty that are struggling for a variety of reasons, but many of them have stepped up, and it's been amazing to see how quickly they have been able to learn."
Danielle DeRosa, a clinical instructor in the Neag School's sport management program, was among the faculty members who has utilized the resources offered by CETL. She participated in Skudlarek's Blackboard Collaborate workshop prior to spring break, hoping to improve her remote teaching abilities and make her course content accessible to students regardless of their personal circumstances. She said it was clear that CETL was working hard to anticipate the needs of faculty and find ways to support them, while also reminding faculty of the many stressors students are facing. 
"Karen did a great job of easing the anxieties of faculty and signaling to us that we are all learning about this at the same time and doing the best we can," says DeRosa.
DeRosa and her colleagues in the sport management program chose to complement asynchronous learning for their students with optional synchronous content, such as live online discussions, so that students who are able to engage in a weekly discussion can do so, but those who lack access to the necessary technology or a quiet workspace will not be penalized.
"A lot of what we do in my classes is having really substantive conversations about career development and different perceptions, and some of that is really hard to translate online, especially when given a short window of time," says DeRosa.
The ed-tech team encourages professors to find which online platforms work best for them and their class structure.  
"We are not expecting them to become experts in online pedagogy overnight," says Cochran. "Whatever they can do to keep their students learning is all we can expect."
Technology can be intimidating and frustrating for some, especially in these times of heightened anxiety due to the pandemic. The team at CETL has worked to reassure faculty that they will figure this out in time and if they ever have trouble, there is a team of people that will be there for them.
"We have been very lucky because we have a really great support team with our students and the rest of CETL who has been really instrumental in making this happen," says Skudlarek. "The faculty have been extremely supportive of us and gracious for the work that we do."