With the recent transition from educating in the classroom to the virtual realm due to the pandemic, the teaching world has changed drastically. We wanted to hear from Neag School alumni now serving as teachers about how they are managing the online teaching and learning environment.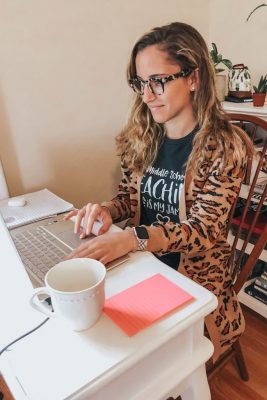 Teaching From Home
Whether it's at the kitchen counter, the home office, or the dining room table, some educators have been setting up their at-home teaching spaces in ways that feel similar to their traditional classrooms.
It was important for Emily Anna Cipriano '17 (ED), '18 MA, a seventh-grade reader's and writer's workshop teacher at Sunset Ridge Middle School in East Hartford, Conn., to make her at-home teaching space resemble her classroom space so that she and her students could feel a sense of normalcy and comfort.
"I knew I would be speaking with students over video conferences via Zoom or Google Hangout, and I wanted the atmosphere to seem familiar to them, so I positioned my bookshelf behind my desk, just like I have behind my desk at school," says Cipriano.
Meanwhile, for others, being active during the school day, just as they would be in their traditional classrooms, remains key. Sean Palzere '18 (ED), '19 MA, a fifth-grade teacher at Kennelly Elementary School in Hartford, and Tracey Lafayette '15 (ED), '16 MA, a third-grade teacher at O'Brien STEM Academy in East Hartford, are varying their teaching space throughout the day. Palzere says he moves around his house, even venturing outside when the weather allows for it. Lafayette always has her iPad, school tablet, clipboard, and erasable pens, no matter where she is working.
"They go wherever I go, and I love that flexibility," says Lafayette.
Where They Connect: Google, Zoom, and Social Media
Aside from establishing an at-home workspace, alumni teachers also have had to decide how to hold class sessions, often over video conference platforms, and how to structure their day to maximize communication not only with students and families, but also school staff members.
Google Classroom seems to be one of the platforms of choice for conducting online lessons; others are using Zoom to connect students directly with experts, or Quizizz to create live, interactive games.
Many of the Neag School alumni we spoke to each start their day by looking through their email inbox and making sure their lesson plans for the day are clear and accessible. Google Classroom seems to be one of the platforms of choice for conducting online lessons and allowing students to view their assignments, connect with one another, and submit work; others are using Zoom to connect students directly with experts, including professional writers and actors, or Quizizz to create live, interactive games.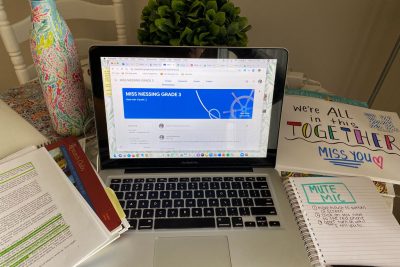 "I am able to post daily lessons, activities, videos, and more," says Lauren Niessing  '13 (ED), '14 MA , a third-grade teacher at Hindley Elementary School in Darien, Conn. "My students and I chat on Google Hangout all day, and we have been using Google Meet, which is super fun to actually see each other's faces."
Some teachers choose to post a recording of their lessons for their students to watch and then complete complementary assignments, while also making themselves accessible to their students throughout the day in case they have any questions. Asfia Qutub '18 (ED), '19 MA, who teaches teaching eighth-grade English language arts in East Hartford Middle School, says she has found it helpful to hold "virtual office hours" twice a day, during which students can contact her and receive immediate feedback.
Niessing dedicates her afternoons to checking in with her students individually on Google Meet to monitor their progress.
To comfort her students, third-grade teacher Tracey Lafayette records herself reading a story every day and shares the link with families.
"I am always checking and resubmitting work back to kids as they submit, just like they would get their instant, daily feedback from me in person," says Niessing.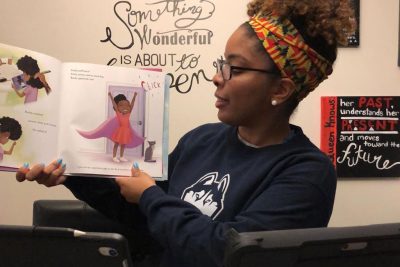 Teachers like Lafayette and Cipriano are making themselves accessible to students and parents even beyond the school day hours by offering their phone numbers in case students are struggling with anything. To comfort her students, Lafayette records herself reading a story every day and shares the link with families. Alumni at other schools are similarly posting bedtime story read-alouds or brief poetry readings on social media platforms such as Twitter or Facebook Live to stay connected with students. Alumni teachers have even made a lighthearted appearance on short-form video app TikTok.
"Our routine has changed so much in the last few weeks, so I am trying my best to keep this one thing constant for them," says Lafayette.
For alumni serving as educators in grades K-5, students can vary greatly by grade in terms of their level of independence, and so creating a structured and productive learning environment has posed its challenges. Palzere says he tries to make sure his students always know what to expect by creating clear and concise assignments that promote productivity. For third-grade teachers, Lafayette and Niessing, matching the daily schedule to a typical school day is essential for helping students stay focused.
"Structure is important and setting up a place at home, where there are minimal distractions is necessary," says Niessing. "Time management is tricky, and parents are still trying to work, too, so I suggested using a visual timer; that way, kids know how long they should work."
Beyond Academics
Many obstacles are encountered in the online learning environment as students are feeling restless and longing to be back at school with their peers. When we asked teachers what their students need most at this time, they say stability and support are vital — that it is up to the teacher and the parents to establish a structured day for children, similar to the one they experienced at school.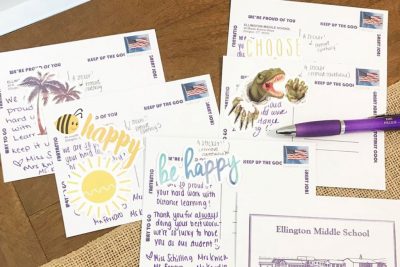 Victoria Schilling '16 (ED), '17 MA, an eighth-grade science teacher at Ellington (Conn.) Middle School, says her students need compassion, positivity, and relationship building in this virtual world.
"We're so used to seeing each other every day and checking in on our lives, and I think that can easily get lost in a digital world," says Schilling. "I try to update my students on my life with videos and pictures, and I encourage them to share updates on their lives with me as well."
Social isolation can play a toll on students' mental health, which is why teachers are making it a point to frequently check-in beyond academics to see how students are feeling about what's happening in the world. Palzere tells his students that he is more than just a digital presence giving them schoolwork to complete, but that he is there to provide support to those who might be feeling overwhelmed or alone.
"I try to update my students on my life with videos and pictures, and I encourage them to share updates on their lives with me as well," says eighth-grade teacher Victoria Schilling.
"I had my kids write about their feelings about everything that has been going on — the best and worst parts," says Lafayette. "Almost all of them wrote about missing me and missing their friends."
Advice for Parents

With the switch to online learning, many parents are juggling working from home with helping their kids get comfortable with this new form of schooling. Neag School alumni educators say they recognize that struggle and want parents to be patient with themselves and to always feel that they are able to reach out for help.
"This is a new experience for everyone, so there are going to be some hiccups along the way," says Cipriano. "The more we listen and work together, the better off we will all be."
Although the transition has been overwhelming at times, Lafayette says families are doing a great job of supporting their children as they try to navigate this new environment. To ease the stress for parents, Niessing provides daily messages to express how proud she is of the families and how grateful she feels to work with them. 
"I remind them how each day is a new day, and each day we are all getting better at e-learning," says Niessing. "They are thankful for the flexibility, resources, and encouragement I provide for their kids and them."
Coping With Changes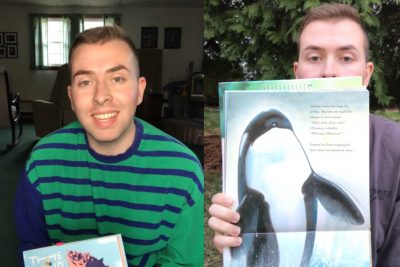 One challenging factor that plays into distance learning is the increased screen time for children. Qutub recommends her students take a quick break in between every hourlong learning session to refresh their minds.
The online transition also poses problems for families with limited or no access to the internet. School districts are offering paper packets to students who do not have the necessary tools to help them during distance learning, but Palzere says he does not believe this is an equitable alternative.
"I even feel guilty posting read-alouds and more engaging online lessons for half my class, knowing that the other half isn't getting the opportunity to experience them just yet for reasons out of their control," says Palzere. "I hope my district can provide every student with a device very soon."
Unexpected Outcomes
One of Qutub's students came to her with a question about an assignment, and once the student had a better understanding, Qutub encouraged him to help others who may be struggling as well. He told her that he was already on the phone helping two friends and that they were keeping each other motivated.
"This really kept me going and reminded me of the small daily wins," says Qutub. "I miss my students and can't wait to see them soon hopefully; that's my number one motivation." 
While the switch to online learning has created some challenges and setbacks for students, teachers, and families, the change has also introduced educators and students alike to new technological skills. The technology that educators are using now can be implemented in their in-person classrooms, creating a broader and more equitable learning experience.
"I've learned some great resources and tools that I will be implementing in my classroom next year," says Qutub. "I've also realized how thankful I am to be in a career that I absolutely love and how grateful we need to be of our lives at every moment."