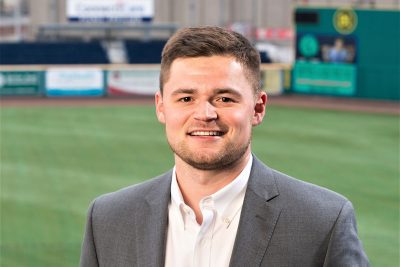 Baseball is a staple of the summertime, but stadiums that would normally be filled with excited fans to cheer on their favorite team are now empty. The COVID-19 pandemic has caused a season setback and a reimagination of the traditional ballpark experience.
Andrew Girard MA '19 has been preparing for baseball's opening day since this past September. As the stadium operations manager for the Hartford Yard Goats, Girard oversees the maintenance and facility enhancement projects at Dunkin' Donuts Park in Hartford, Connecticut. When he learned that the season start date would be delayed due to COVID-19, he and his team began creating systems to ensure that fans would feel comfortable and safe when they were able to return to the park. 
"It really is a brainstorm between everybody involved to make sure that all of us can get back on our feet when this gets going and that we can be successful at executing it," says Girard.
The pandemic has brought several logistics into question, such as how fans will be seated in the park and how they will get concessions. Girard says the Yard Goats have a variety of planning phases in place that abide by guidelines set by the Centers for Disease Control and Prevention and the Food and Drug Administration. They also must abide by the regulations set by the city of Hartford and the state of Connecticut to determine what capacity the stadium can reach.
"I am confident that we are moving in the right direction and talking to the right people, and we are going to have a plan that serves," says Girard.
Finding a Career Through Sport
Sports have always been an integral part of Girard's life. He played baseball during his first two years at Eastern Connecticut State University and then chose to focus solely on his academics in sport management for the remainder of his undergraduate career. He landed his first internship at Rentschler Field, working as a stadium operation assistant, a role that allowed him to build the foundation for his future career.
"I am confident that my education with the Neag School had helped me build that response plan to what it is today, from the way it was organized, to how it was written and the principles used."

— Andrew Girard MA '19
Working closely with UConn personnel at Rentschler, Girard networked and secured an internship with the UConn Athletics Department in the spring of his senior year. His internship supervisor and former event management director of UConn Athletics, Danielle Upham MA '16, along with his professors at Eastern, encouraged him to pursue his master's degree at the Neag School of Education. When he was accepted into the Neag School's sport management program, he says he saw it as an opportunity to invest in himself and build his credentials as a professional in the sport world.
"It's really all about utilizing your resources and building a very strong network," says Girard. "I went from Rentschler to UConn Athletics to graduate school and then from graduate school to the Yard Goats, all based on people I had met from each experience," says Girard.
Becoming a Professional
The greatest lesson Girard says he learned in his time at the Neag School was how to portray himself as a strong professional. He found himself better equipped to hold meaningful conversations, ask questions, and step in when needed. He says the Neag School's sport management program allowed him to bring expertise to the field that he had not acquired during his undergraduate career.
"What you put in is what you get out of things, and I took the opportunity to really focus on my academics, on my skill sets, on my writing, on my reading, and on my ability to articulate conversations as it relates to the field of sports management," says Girard about his time at the Neag School.
In his role at Dunkin' Donuts Park, Girard took on the rewriting of the emergency evacuation plan for the 2020 season. This project required extensive risk assessment and organization in order to be properly executed, all of which he says are skills he learned at UConn.
"I am confident that my education with the Neag School had helped me build that response plan to what it is today, from the way it was organized, to how it was written and the principles used," says Girard.
Joseph Cooper, former sport management faculty at the Neag School, served as Girard's advisor and mentor throughout his time at the Neag School. Girard says Cooper helped him apply what he was learning in the classroom toward being a better professional in the sport management field.
"He uses sport as a platform to change the way people think about things," Girard says of Cooper. "The way he invests himself into his passion and dreams inspired me to do the same in my work."
Giving Back
Girard says the sport management faculty at the Neag School all served as a valuable resource to him and he makes it a point to stay in touch with them and offer his assistance to students. He participates in the School's annual Career Night in Sports and in the student-led UConn Sport Business Conference, two events that provide students with the ability to learn from and foster connections with sport management alumni.
"Andrew is always willing to stay in contact with our students after these events," says Laura Burton, sport management professor and head of the Department of Educational Leadership. "He really goes above and beyond to give back to the program."
Girard says he relied on alumni as a resource for career development and opportunities during his time at UConn, so he wanted to make himself a resource to students and support their growth within the field of sport.
When students ask him what they need to do in order to be successful in the field, Girard says networking is the most valuable tool they can utilize.
"I am a firm believer in the power of networking and that when you do network, you don't ask for a job but rather ask what that person does and show that you are interested in helping out," says Girard. "It's the hard work you put in and your ability to recognize what other people are looking for in their employees that will allow you to be successful."
Burton says Girard continues to foster connections with the Neag School faculty and has proven himself to be successful at an early stage in his career.
"I have no doubt he will continue on a path to leading a sport organization in the future," says Burton. "And he will lead it with integrity, compassion, and with a commitment to diversity and inclusion."
At the time of the reporting for this article, the Hartford Yard Goats had planned on a revised schedule and modified guest accommodations in response to the pandemic. Since publication, Minor League Baseball has cancelled the season and most of the staff, including Girard, have been furloughed.