In the wake of the COVID-19 outbreak, unemployment rates in the U.S. rose to their highest level since the Great Depression as of mid-April. Last week alone, the U.S. Department of Labor reported more than 1.4 million new unemployment claims.
Diandra J. Prescod, associate professor and program coordinator of counselor education and counseling psychology at the Neag School, is working to combat the obstacles faced by those Americans who have lost their jobs or been furloughed as a result of the pandemic. She wants them, first and foremost, to have hope.
Hope Central
Trained as a mental health counselor, Prescod has long been interested in career development and career counseling interventions. Her academic research has focused, for instance, on such areas as career development interventions for STEM undergraduate students and for women and students of color in higher education. In her most recent position at Penn State University, she was the program coordinator for the university's career counseling program.
About a year ago, a colleague had invited Prescod to join in efforts led by Kuder, a career guidance solutions provider that offers tools and resources to people of all ages on career planning and lifelong learning, development, and achievement. Kuder seeks to support people across a wide range of ages and backgrounds – from supporting high schoolers in organizing their college application materials to making tools accessible to military veterans transitioning into the civilian workforce or the realm of higher education.
"We tend to feel more comfortable and more at ease when we feel a little bit more organized, when we can make sense of things and have some sort of a plan, and that's what Hope Central does."

—Diandra J. Prescod, Associate Professor
"They're doing such great things when it comes to career guidance for people in K-12 and beyond," says Prescod, who has since been serving on Kuder's executive board alongside other faculty experts from across the country.
As COVID-19 took hold this spring, Prescod and fellow members of Kuder's leadership discussed how they might be able to help the millions of individuals confronting layoffs and furloughs.
"At the time, none of us knew that much information as far as what was going on, how long this would last," Prescod says. "But we just knew that people needed hope, and they needed some type of encouragement during this time."
The result is a new project called Hope Central.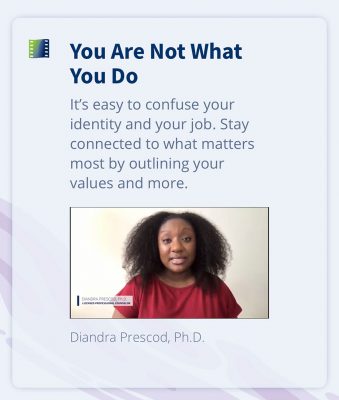 'You are not what you do'
Taking a holistic approach, Prescod says, the team built a pool of resources and tools designed specifically to support people who had lost their jobs due to COVID-19. Within roughly six weeks, Hope Central was in place, offering information on where and how to file for unemployment benefits, a suite of videos for users on such topics as managing stress, connections to mental health services, and guidance on concrete steps individuals could take to gain a sense of control over their lives to the greatest extent possible. Corporations, states, and institutions of higher education are among those ensuring their employees have access to Hope Central's services.
Many of those who now find themselves out of work, Prescod says, are unsure about their next steps. "Let's start with making sure we're keeping ourselves healthy and keeping our stress under control," she says. "How can I start getting that résumé organized? What are some things that are in my control now that I can work on? I might not have control over when I'll get back to work, but I can have control over my health, keeping myself safe, being positive, and working on my skills right now while I'm home. … We're helping to expand that view for people so that they can get ready to really get back out there when the time is right."
One of the videos Prescod created for Hope Central is themed "you are not what you do," focusing on the idea that your career is not representative of your entire identity. "Especially in the States, where work is central to our lives," she says, "we lead a lot of conversations with what we do because that's so connected to who we are. We're these amazing, whole individuals who are so much more than our work."
Reflecting on our full selves, taking time to explore one's past experience for transferable skills and learning how to build resilience against stress are all key to maintaining hope right now, according to Prescod.
"People need hope, and they need to know what their options are," she says. "We tend to feel more comfortable and more at ease when we feel a little bit more organized, when we can make sense of things and have some sort of a plan, and that's what Hope Central does."
"I cannot overstate my appreciation for how Dr. Prescod has hit the ground running since we began our collaboration earlier this year," says Phil Harrington, chairman and CEO of Kuder. "She has had a profound impact on our organization in terms of providing guidance and strategic direction in developing career planning solutions and self-care tools for individuals of all ages and life stages, across the globe. We rely on her not only as a sounding board and resource for the latest research, but for the countless ways that she contributes valuable insights and knowledge. In short, Dr. Prescod ensures that Kuder takes an inclusive approach in order to serve a much larger population of individuals than ever before, and in a meaningful and holistic way."
'I want people to feel heard'
Prescod and her colleagues are now looking to expand Hope Central to a new level, examining research findings in order to making the project more intentional as they plan for phase two.
"We know that COVID has disproportionately affected certain populations," says Prescod, noting such examples as a 25% increase in domestic violence since the start of the outbreak, the disproportionate effect on unemployment numbers among Latinx populations, and race gaps in COVID-19 deaths.
Parents, meanwhile, may also be grappling with their children's own sense of uncertainty or anxiety. Sustaining open communication, giving kids encouragement that acknowledges their talents or interests, and finding ways to expand kids' options — for example, by introducing them to new books where they can find connections between themselves and others — can all have a positive impact, Prescod says. "With children being home a lot more, they still need to be able to engage and continue to connect with others," she says.
"We're paying attention to the research that is coming out and then continuing to tailor what Hope Central looks like to make sure that people can see themselves represented and heard through the content that we're creating," she says.
Ultimately, she and her Hope Central partners are striving to reach hundreds of thousands of people with the resources they have been developing.
"Whether you're a person of color who's been disproportionately affected, someone who thought they'd be retiring soon and has to rethink that, or someone feeling really alone in a situation where domestic violence is present, I want all of those individuals to feel represented," she says. "That's part of what we're working on. I want people to feel heard."
Learn more about Diandra J. Prescod's work.