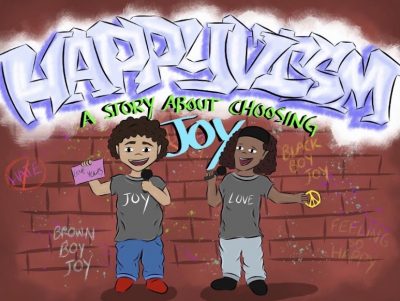 On the way home from a hip-hop education conference last year, Neag School alum Justis Lopez '14 (ED), '15 (MA) and his colleague Ryan Parker were unpacking what they had learned and what they were feeling that day. They started to freestyle rap and found themselves filled with joy, repeating the verse 'I'm feeling so happy.' Their freestyling turned into a song called "HAPPYVISM" that is now part of a greater initiative they have named Project Happyvism.
The song is rooted in the idea of using joy as a form of activism, particularly for young people in Black and Brown communities, Lopez says. Throughout his career in education and consulting, Lopez says he saw a lack of diversity and representation.
"The song is about the importance of loving yourself, loving your skin, loving your hair, and loving your authentic self and all dimensions of it," says Lopez. "It's really a form of liberation and joy."
The song has received recognition in education and philanthropic spheres, with Lopez and Parker having been asked to present at Harvard Graduate School's Can't Stop Hip Hop conference as well as having been honored with the Peace Center of Connecticut's Expressions of Peace award. Most recently, Lopez and Parker decided to turn "HAPPYVISM" into a children's book.
"We wanted to create something that's tangible, that could really be put into the hands of young people and equip them to love themselves and use joy as a form of radical resistance and self-love and self-care," says Lopez.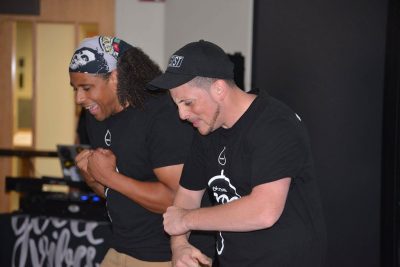 The book is being published by Lauren Simone Publishing House, a local Black-owned publishing company devoted to diversifying children's literature. Lopez pointed out the diversity gap in children's literature as being one of the driving factors in creating their book.
"We saw a very real need for it because identity matters," says Lopez. "What you bring forward with your identity tells a story, and it tells a story that is unique to the lens that you see the world through."
After delaying work on the book due to COVID-19, Lopez and Parker picked things back up with a Kickstarter campaign last month. In exceeding their fundraising goal, they are now donating 250 books to young students in Manchester elementary schools, with hopes to expand across Connecticut. Lopez says they hope to have the book completed and ready for distribution by December.
"I know it sounds cliché', but now more than ever we needed to create this book," says Lopez. "A book rooted in celebrating different complexions and backgrounds and identities, especially for young people."
Project Happyvism is more than the song and soon-to-be-released book. Lopez says they plan on doing work in professional development, including hosting 'joy celebrations' to bring together artists and creators in an uplifting space.
The goal, Lopez says, is to help people navigate the heaviness that exists in the world right now by practicing self-love and keeping joy as the centerpiece of their life.
Becoming an Educator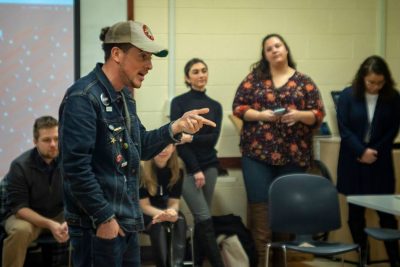 Lopez had not aspired to pursue teaching until his junior year at Manchester High School, when he says transformational educators opened his eyes to what education could be. He says he realized the social, political, and equity lens of education and found it to be a necessity.
"I got really involved throughout the high school to really try to make an impactful change from what I saw was missing there," says Lopez. "I saw that there were very few males of color being represented and that the educators were not reflective of the diverse school population."
He was accepted to UConn through its Student Support Services program, a federally funded TRIO program geared toward first-generation students from low-income backgrounds. That program, Lopez says, changed the trajectory of his entire life and led him to become really involved at UConn and beyond.
"I just wanted to make the best of an experience that nobody in my family had," says Lopez. "It's a blessing to experience the miracle of a college education."
"My ultimate goal in life is to create radical spaces of joy, love, peace, possibility, and liberation for people to reach the best version of themselves, no matter what educational spaces or enviornments that looks like"

— Justis Lopez '14 (ED), '15 (MA)
In his junior year, Lopez was accepted into the Neag School's history education program, where he was advised by Associate Professor Alan Marcus, who prepared him to become a social studies teacher.
"He really tried to emphasize multiple perspectives in education and equipped us to be educators who told the holistic story," says Lopez.
During his time at the Neag School, Lopez credits mentors such as: Noemi Maldonado, Richard Schwab, Dominique Battle-Lawson, and Mia Hines as being influential in his college experience. He became involved with Leadership in Diversity, a student-run organization designed to support students of color pursuing careers in education. He says he wanted to find a way to use his strengths in communication and outreach to create a space of joy and possibility for students of olor.
Making an Impact in Different Spaces
Lopez returned to Manchester High as an educator for a few years upon graduating from the Neag School. He then moved on to teach hip-hop and civics classes in the south Bronx, an experience that he says transformed him.
"I was very thankful to be in that space," says Lopez. "I was lucky to be able to teach and to learn from those young people, and that's something that I always keep near and dear to my heart."
He then continued work at a consulting startup he began during his time at UConn, Just Experience LLC, a multiplatform company that seeks to create spaces of joy to entertain and empower others. His consulting work extends to several higher education institutions and K-12 schools, along with the Council for Opportunity in Education, where he had previously served as the Director of Alumni Relations.
Aside from the Project Happyvism, Lopez plans to return to school to pursue a Ph.D. or Ed.D.
"My ultimate goal in life is to create radical spaces of joy, love, peace, possibility, and liberation for people to reach the best version of themselves, no matter what educational spaces or enviornments that looks like," says Lopez.