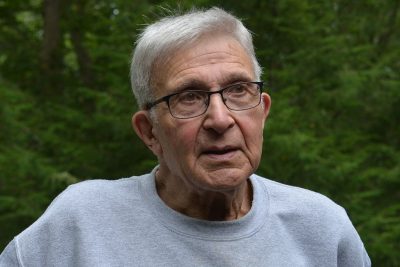 Vincent Rogers of Storrs, Connecticut, a longtime educator and faculty emeritus at the Neag School of Education, died Thursday, Dec. 3, at age 93. He died at home, surrounded by his loving family.
"We share our deepest condolences with the Rogers family, whose generosity over the years toward the Neag School has made a tangible and meaningful impact on schoolteachers across the state of Connecticut and, in turn, their own students," says Neag School Dean Gladis Kersaint.
"In recent years, the Rogers Educational Innovation Fund has, for instance, given us an extraordinary opportunity to fund imaginative efforts led by local elementary and middle school teachers — from a photojournalism project focused on social justice to robotics education in the classroom," says Kersaint.
"We share our deepest condolences with the Rogers family, whose generosity over the years toward the Neag School has made a tangible and meaningful impact on schoolteachers across the state of Connecticut and, in turn, their own students."

— Dean Gladis Kersaint
Impacting Educators Through the Rogers Educational Innovation Fund
Rogers and his late wife, Chris, also a longtime educator, initially established a fund at the Neag School through which elementary school teachers in Mansfield, Connecticut, could apply annually for a $1,000 grant to enrich their classrooms. Over the years, eight grants were made through the original Rogers Educational Innovation Fund to local schools.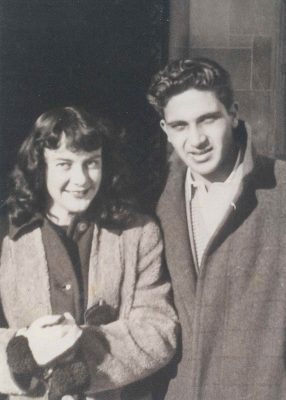 In 1997, Rogers announced a planned bequest to the Neag School, designating a legacy gift of $125,000 to expand the Rogers Educational Innovation Fund to support innovative projects carried out by Connecticut teachers. Elementary and middle school teachers across the state have applied annually for this $5,000 gift for use in the classroom.
Rogers' additional gift has been open to elementary and middle-school teachers across the state of Connecticut to "support research and programs for the collaborative work of classroom teachers and the Neag School of Education," and award recipients have had the freedom to use the award in any way they see fit.
Since the expansion of the fund, three educators have benefited from the Rogers Fund. This year, Jason Gilmore of Guilford, Connecticut, an art teacher at Hartford's McDonough Middle School, was a recipient of the Rogers Fund with a project titled "The Mural of Intervention Project."
In the proposal for his project, Gilmore outlined his hope of giving middle-school students at McDonough — a low-income, 98% free/reduced lunch school — an opportunity to take any difficult situations or feelings that may be part of their day-to-day lives and express them in the form of community murals that will be displayed throughout the school.
Gilmore says the project will offer "a chance for freedom of expression while improving the school's climate and community. … In essence, this award will allow an artistic experience that benefits the whole school." 
In 2019, Neag School alumna and gifted and talented educator for Norwalk (Conn.) Public Schools Jessica Stargardter '16 (ED), '17 MA was the recipient of the Rogers Educational Innovation Fund for her project, titled "An Eye for Change: Real World Investigations through Photojournalism." The project funding made available to Stargardter's students various texts and technologies, including disposable film cameras that allowed them to document problems and proposed solutions in their communities.
"Students need access to resources that present multiple viewpoints and narratives to become effective, empathetic members of our global society," she wrote in her proposal. "Students will gain access to books and technology to research social issues such as racism, sexism, climate change, food insecurity, and so on. Additionally, they will be given the skills to recognize and analyze problems within their community. This authentic learning experience will be framed around the idea of photojournalism."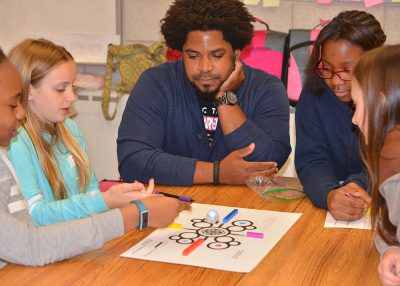 Dwight Sharpe, a mathematics teacher at Woodrow Wilson Middle School in Middletown, was the expanded fund's inaugural recipient in 2018. Sharpe's project, entitled "Accessing and Engaging in Mathematics Through Robotics and Computer Programming," sought "to explore and determine how robotics and computer programming could be embedded into middle school instruction to improve student engagement and achievement."
To improve all students' mathematics performance, Sharpe had been collaborating with his grade-level colleagues and curriculum supervisor to provide more personalized instruction to students. While the school's classroom model had long centered on students sitting at their desks while teachers lectured, Sharpe saw an opportunity to transform that with his robotics and computer programming project.
"At the end of the day, the new project was about engagement," he says. "It was about integrating something into the classroom that hasn't been there."
A History of Innovation
At the University of Connecticut, Rogers spent more than two decades teaching and writing about education techniques, led the Neag School's Department of Curriculum and Instruction, and served on its faculty, retiring in 1990.
Rogers was a world leader in social studies, international education, and the child-centered movement known as "open education," and wrote the definitive book in the field.
"Vin was always a hands-on educator and dear friend, and we miss him profoundly."

— Neag School Professor Emeritus Gil Dyrli
"Vin chaired our department and was one of the very best department heads I ever knew," says Neag School professor emeritus Gil Dyrli. "He led by example through conducting groundbreaking research, securing grants, publishing significant books and articles, presenting keynote addresses at major professional conferences, and sharing his innovative expertise."
He adds: "As I traveled the country throughout my career, representing UConn and doing staff-development programs, a common envious question was, 'Do you work with Vin Rogers?'"
During his retirement, Rogers was active with numerous projects, from becoming a competent equestrian, having begun riding at the age of 63, to teaching jazz and horse racing courses at the Mansfield Community Center near the UConn Storrs campus to continuing to perform with several local jazz groups.
"Vin was an outstanding trumpet player, and when our son was studying the instrument in high school, Vin often invited him to his home to play duets," says Dyrli. "Our son will always remember that kindness and personal interest." 
While at UConn, Rogers concentrated on his innovative work. He connected with a fellow Neag School of Education faculty member, the late A.J. Pappanikou, whose focus was on special education and with whom he partnered to ensure that future educators were getting hands-on experience in urban school settings.
Together, they coordinated about 20 UConn students to do student teaching in New Haven, Connecticut, giving them an opportunity to view schools beyond suburbia — a rare and innovative practice at the time.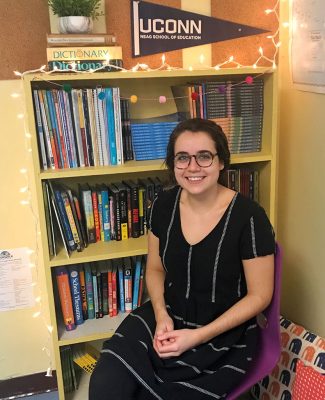 "His many students have gone on to important positions at state, national, and international levels in public and private education," says Dyrli. "His original contributions and seminal ideas continue to be worth exploring, and thanks to the internet and online resources, they are more accessible than ever."
"Vin was always a hands-on educator and dear friend, and we miss him profoundly," he adds.

Through his generosity to the Neag School, Rogers has been passing that spirit of innovation to yet another generation of students, giving teachers in Connecticut the opportunity to enact innovative projects of their own in elementary and middle-school classrooms across the state.
According to Heather McDonald, assistant vice president for development at the UConn Foundation, Rogers always had a story to tell. His passion for education was only eclipsed by his love for music and playing his beloved flugelhorn.
"He shared many stories highlighting how music and jazz specifically delighted and transformed him," says McDonald. "He was incredibly proud of his family and marveled at what a wonderful life he was afforded due to his career in education."
"I could listen to Vin talk about the transformative experiences he had at Cornell (meeting his wife, Chris) and UConn for hours. He was a lifelong learner and loved his home in the 'treetops' in Storrs," recalls McDonald.
Rogers is survived by his and Chris' three children and their spouses, Jill and James Coffrin of Burlington, Vermont; Robin and David Smith of Mystic, Connecticut; and Evan and Jackie Rogers of Stamford, Connecticut. They are also survived by six grandchildren and seven great-grandchildren.
"Vin was an inspiration to all who knew him as someone who lived life to its fullest and pursued his passions relentlessly," according to his obituary.
Learn more about the Rogers' legacy and the Rogers Educational Innovation Fund.