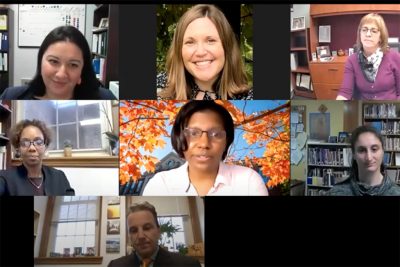 The national conversation surrounding social justice and equity work was brought to the forefront in 2020. In response, educators and school leaders have been reevaluating their teaching practices and the extent to which their school communities offer equal opportunities for all students.
Following the death of George Floyd and months of protests and civil unrest last summer, West Hartford (Conn.) Public Schools released the following equity and anti-racism statement to illustrate the district's commitment to addressing inequities in education:
We, the members of West Hartford Public Schools, dedicate ourselves to the pursuit of equity. Equitable schools are those that value and honor ALL in our community as unique individuals capable of maximizing their true potential. We make a solemn promise to identify and dismantle all elements of systemic racism and historical inequities. We vow to clear paths, with a relentless duty to those in traditionally marginalized groups. We pledge to partner with ALL families in the service of the success of each child.
The Neag School of Education's Alumni Board sought to highlight the work the district has been doing in social justice education as well as social emotional learning through a virtual panel discussion in December. The Board's Student and Alumni Networking Committee Chair, Jocelyn Tamborello-Noble '03 ED, '04 MA, '09 6th Year, spearheaded the event, recruiting colleagues who have been engaged in different facets of social justice work throughout their careers to speak on the panel alongside her.
The panelists included West Hartford Public Schools' Roszena Haskins '17 Ed.D., director of equity and advancement; Anne McKernan '11 ELP, director of secondary education; and Scott Ratchford '86 (CLAS), '99 6th Year, '05 Ph.D., coordinator of equity and family engagement.
"The people on the panel each have a different part of the work, in terms of looking at equity and being able to support each child in West Hartford Public Schools," says Tamborello-Noble.
The conversation was moderated by Rebecca Lewis, a social studies teacher at King Philip's Middle School. She asked the panelists to describe how the district has defined educational equity and worked to make social justice work a priority while incorporating input from students and parents.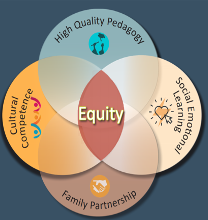 The panelists defined equity within their district as the intersection of high-quality pedagogy, cultural competence, social emotional learning, and family partnership.
"These are important elements that can't be done in isolation," Haskins said during the panel discussion while detailing the equity model.
The panelists explained how they approach social justice and social emotional learning from their respective roles, outlining changes that have been made to curriculum and instruction over the years to benefit students, teachers, and administrations.
"The district recognizes that while we have done some things well, that there are still many areas for growth and change," says Tamborello-Noble.
Working in Partnership
The panel was met with large a turnout, with attendees from other school districts seeking to enter the equity space or improve upon their own practices. The panelists emphasized that while it is necessary for every district to engage in this work, it is also important to remember that there is not one single formula that will be effective in every school community.
"Finding passion for social justice is not difficult among those who have dedicated their lives to education."

— Scott Ratchford '86 (CLAS), '99 6th Year, '05 Ph.D.
"Finding passion for social justice is not difficult among those who have dedicated their lives to education," says Ratchford. "Knowing how to manifest that passion such that we are truly able to meet the needs of each child takes collective vision and action. In working together, we have our best hopes."
District partnership, they attest, is essential in the pursuit toward equitable, inclusive, and socially just schools. The panel served as a space for school leaders and educators to reflect on their practices, ask questions, and learn from diverse perspectives. It was also emphasized that educators are all on an individual journey toward becoming equitable educators, and that it is important to offer all educators entry points to take part in this work.
"Creating networks among educators to share, support, and inspire each other as thought partners across the state allows us to work smarter together and to move the needle in areas in which disproportionality, disparity, underrepresentation are predictable and persistent based on race and socioeconomic status," says Haskins.
Instilling a Commitment to Equity and Social Justice
The panelists also reflected on their studies at the Neag School and the commitment the School holds toward social justice and equity-focused academic experiences. It was there, they said, that they learned the tools necessary for build inclusive and culturally responsive school communities that support all students.
"The unwavering commitment to social justice and equity work continues to affect its students long after they graduate from Neag's programs," says McKernan. "The study of social justice and equity is far from complete."
As districts across the state rethink how they define and work toward equity within their school communities, Neag School alumni are striving to think critically about educational shortcomings and to better serve students and families.
"The Neag School has taught me how to continually reflect on my practice as a teacher, as a leader, to be able to do better, especially in this environment," says Tamborello-Noble.