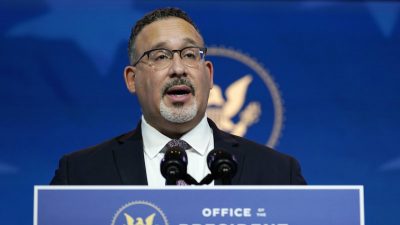 President Joe Biden's nominee for U.S. Secretary of Education, Neag School alumnus and Connecticut's Education Commissioner Miguel Cardona '01 MA, '04 6th Year, '11 Ed.D., '12 ELP, was officially confirmed on March 1, 2021, by the U.S. Senate. Cardona was sworn in on March 2, 2021, by Vice President Kamala Harris as the country's top education official. He is the first UConn graduate in history to hold this position in the White House Cabinet, and the second* UConn alum to hold a Cabinet-level position.
"On behalf of the entire UConn community, I extend my warmest congratulations to Miguel Cardona on becoming the first UConn alumnus confirmed to this U.S. presidential Cabinet position," says UConn President Tom Katsouleas. "Secretary Cardona's ties to UConn run deep, not only as the holder of multiple degrees from the Neag School of Education, but also as an adjunct faculty member and tireless advocate for public education in our state."
"The entire nation will now get to benefit from the dedication and dynamism he has brought to the field of education in Connecticut. I wish him the greatest success, and look forward to his national leadership in this crucial role," adds Katsouleas.
"Throughout his time here as a Neag School student, graduate, and adjunct professor, Cardona has long been a tremendous source of pride in our community," says Gladis Kersaint, dean emerita of the Neag School. "His historic confirmation today perfectly illustrates the importance of ensuring access to education for all. We're elated to see him bringing his talents as a teacher, administrator, and leader to the national level."
Cardona Called "Imminently Qualified"
Initially tapped for nomination in December, Cardona testified at a Senate Health, Education, Labor, and Pensions Committee hearing in Washington, D.C., on Feb. 3, 2021. During the hearing, led by the incoming chair of the education committee, Sen. Patty Murray of Washington, Cardona answered questions from senators for two and a half hours on a range of issues, from reopening schools during the pandemic to student loan forgiveness to school policies for transgender students.
Murray used the event not only to push for Cardona's swift confirmation, but also to advocate quick passage of Biden's $1.9 trillion COVID-19 relief plan, which includes $130 billion for K-12 schools and $35 billion for public higher education institutions. Cardona's warm welcome also had the committee's ranking Republican, Sen. Richard Burr of North Carolina, calling him "imminently qualified" for the job and encouraging colleagues to support his nomination.
For many on the Senate education committee, and much of the country, the hearing on Feb. 3 was their first time meeting Cardona, who is new to the national stage. Cardona, who served as Connecticut's education commissioner for the past year and a half, is the child of parents who moved from Puerto Rico to Connecticut.
"I, being bilingual and bicultural, am American as apple pie and rice and beans," Cardona said during his December nomination acceptance speech.
* Charles Zwick '50 (CLAS), '51 MS served as director of the U.S. Office of Management and Budget under President Lyndon B. Johnson.
Related Stories: