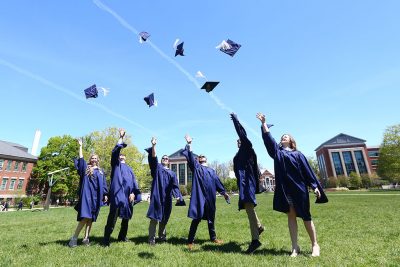 UConn Commencement Ceremonies to Be Held in Person for Classes of 2020 and 2021
Celebrating You in 2021
The University of Connecticut is thrilled to announce that we will be celebrating the Class of 2021 and the Class of 2020 with in-person Commencement ceremonies this May at Pratt & Whitney Stadium at Rentschler Field in East Hartford, Connecticut. We can't wait to come together to celebrate your achievements.
The ceremonies will be held over a five-day period, May 8-12, and will be live-streamed. Please visit the Commencement website for details. Members of the Class of 2021 and the Class of 2020 will receive messages from the Commencement Office that will include details on how to RSVP and how to receive guest tickets. 
In addition, a virtual Commencement ceremony for all Class of 2021 graduates will be held on Saturday, May 8, 2021 at 1 p.m. EDT, streamed via YouTube, to bring the entire class together at once. U.S. Education Secrtetary and four-time Neag School alum Miguel Cardona will be the featured virtual Commencement speaker.
The University's plans have been approved by state health officials, and we remain committed to helping reduce the risk that the COVID-19 virus presents to the UConn community and our state.
UConn complies with all applicable federal and state laws regarding non-discrimination, equal opportunity, affirmative action, and providing reasonable accommodations for persons with disabilities. Contact: Office of Institutional Equity; (860) 486-2943; equity@uconn.edu; equity.uconn.edu.