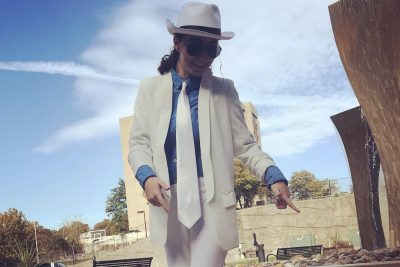 Editor's Note: As Commencement approaches, we are featuring some of our Neag School Class of 2021 graduating seniors over the coming days.

Major:
Extracurriculars:
Currently involved with Diverse Educators Making Outstanding Change (DEMO) and Leadership in Diversity (L.I.D.)
Scholarships:
Hometown:
Why did you choose to study this major/minor?
I chose to study this major for two reasons: First and foremost, I never realized how much of an impact education had until high school. Unfortunately, a close friend of mine took her life due to relentless bullying from students and limited help from staff. I wish there would have been more action taken for the sake of my friend, as we had a plan to come to UConn and graduate together. In her honor, I decided to pursue education to preach the golden rule (treat others the way you wish to be treated), and hopefully inspire and create a positive learning experience for all of my future students. As for my second reason, I've always had teaching in the back of my mind ever since I was a little girl. I would come home from school only to share and teach what I had learned with my parents and grandparents. I even assigned and corrected homework I had written myself to be just like my teachers.
Who is your favorite professor and/or class? Why?
This is a tough question, as all of the Neag School of Education professors were amazing and inspiring. It's wonderful to see that there are so many people who loved what they did so much that they want to take the time to help others onto the same successful path. If I had to choose a professor in the Neag School of Education who made a huge difference in my academic career, it would be Mary Truxaw. Not only was Truxaw an outstanding mathematics methods professor, but she was also a wonderful, considerate, funny, and caring academic advisor. From recommending the best courses to take to helping me organize my academic schedule, she was incredibly helpful in every aspect possible. I'm so grateful to have had her as a professor and an amazing academic advisor, and I wish her nothing but the best in her retirement endeavors!
"UConn's Neag School of Education has done an amazing job preparing me for my future career thanks to the unique experiences of student-observing and student-teaching."
What did you accomplish during your college experience that you're most proud of?
While graduation itself is an amazing accomplishment, I would have to say I'm most proud of the fact that, in all four years of my college career, I have never once decided to give up. I had many obstacles to overcome during these past four years. One very recently being the passing of my grandfather right after Christmas Day back in 2020, I am still grieving his loss to this very day. It breaks my heart every day knowing he won't be here in person to see his first granddaughter graduate from college. However, I know he's still present in my life because I've never stopped, nor will ever stop, taking his advice: "No matter how hard things get, and they eventually will get very hard, don't you ever give up!"
What do you plan to do after you graduate?
After I graduate with my bachelor's degree in elementary education, I will continue to study here at UConn for another year to complete my master's degree in Elementary Education. Once I have successfully obtained both degrees, I would hope to start my first year of teaching as soon as possible. I would love to have my classroom and begin to make a positive difference for many students.
How has UConn prepared you for your future career?
UConn's Neag School of Education has done an amazing job preparing me for my future career thanks to the unique experiences of student-observing and student-teaching. UConn did a wonderful job expanding my horizons as a young educator by allowing me to get involved in various schools in different settings. My current placement, for example, is a compañeros classroom, where I get to work and learn with wonderful ELL students. This is an amazing opportunity that I know I probably wouldn't get anywhere else, and it's these experiences that have helped me become the confident, career-ready individual that I am today.
How has UConn shaped you as a person?
UConn has helped shape me into a better individual overall. Specifically, I came to UConn my freshman year with little confidence in my abilities, mixed feelings and doubts about my major of choice, and a relatively closed mindset. As I continued my journey here at UConn, I slowly become more open-minded and confident about what I can do and what career I want to pursue. Currently, I'm open to all new ideas and love the fact that I now have an amazingly open mindset. I'm also the happiest I've ever been with my career choice, and I'm proud to say that I'm very confident in my abilities, both as an instructor and performer.
If you could summarize your experience at UConn in three words, what would they be?
Dedication, career, surprises
What advice would you give to a student just starting at UConn?
They always say that high school will be the best four years of your life, but if you're truly passionate about a career you have to study for, then that's simply a lie. Academically speaking, college will undoubtedly be much more difficult than high school, but the college experience is unmatched. You meet so many amazing and diverse people, your opportunities are endless, and if you come to UConn, you will receive an education from some of the best professors out there. Most importantly, college is the best time to find yourself and discover who you truly are, and you will certainly meet at least one person who will support you on that same journey. So, with that in mind, my piece of advice is: Enjoy your time here at UConn while you can, because time flies by too quickly. It still feels like I started my college career just yesterday, but I now find myself graduating college in about a month with the blink of an eye.
Do you have anything else interesting you'd like to share?
Take the time to take care of yourself! Treat yourself!