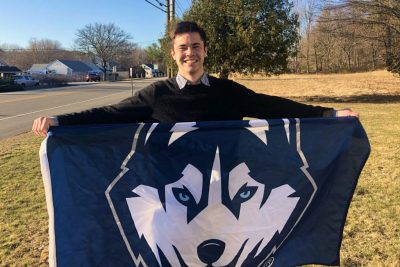 Editor's Note: As Commencement approaches, we are featuring some of our Neag School Class of 2021 graduating seniors over the coming days.

Major:
Special Education major, Sustainable Agriculture minor
Extracurriculars:
UConn Club Soccer; Jumpstart; Special Olympics Assistant Coaching; Special Olympics Committee
Scholarships:
Roberta B. Willis Scholarship
Hometown:
Why did you choose to study this major/minor?
I chose this major because of how rewarding it can be. I have worked with individuals with disabilities since I joined unified sports my freshman year of high school. I loved how the most simple social interaction could brighten up their days. I want to make a difference in these students' lives for the better and allow them to join the real world one day with the required skills.
Who is your favorite professor and/or class? Why?
My favorite professor that I have come across at UConn is Tracy Sinclair. She was a professor for a couple of my classes, and although she just got to UConn, she has been the most helpful and inspiring person that I have come in contact within my time here.
"At UConn, I have become more confident in the things that I do, especially in leadership positions."
What did you accomplish during your college experience that you're most proud of?
At UConn, I have become more confident in the things that I do, especially in leadership positions. During my sophomore year, I was part of Jumpstart; I was a member of a team that had a "team leader" who was responsible for all that needed to be prepared to effectively teach the kids. Halfway through my first year, I took over the role of being team leader once every four times that we went into the school due our usual team leader's other obligations. The following year I took over as the leader of my team. Going into the year, I didn't know what to expect and was quite nervous, but this is where I gained my confidence to teach. I was responsible for eight group members and 20 children. I needed to make sure they were all doing their part while I was doing mine. It was stressful but one of the most rewarding things I have done here at UConn.
What do you plan to do after you graduate?
I plan to teach in a high school transition program where I would be responsible for getting my students ready to transition out of the public school system and into the real world. On top of this, I plan to run a farm in Lebanon, Connecticut, during the summers.  
How has UConn prepared you for your future career?
UConn has greatly prepared me for the future. I have gained the skills to go into a school setting and be somewhat comfortable doing the things required of me, and [it's] helped me make some great connections that I plan on keeping in contact with long after I leave here. 
How has UConn shaped you as a person?
UConn has helped shape me as a person in many ways. The most important is the leadership aspect of my personality. I have always been the person who will step up if someone needs help, but now I will be the first to step up to lead things that I know I am capable of doing. For example, this past semester, I took the responsibility as the coordinator of the Special Olympics assistant coaching program. Although COVID kept me from doing much, I was confident enough to know that I would be capable of taking that position over and do what needed to be done.
If you could summarize your experience at UConn in three words, what would they be?
Rewarding, Busy, Inspiring
What advice would you give to a student just starting at UConn?
One piece of advice I would give to any student at UConn is to learn how to be comfortable being uncomfortable. If you do this, then you will be ready for anything that is thrown your way.  
Do you have anything else interesting you'd like to share?
I went to Spain to play soccer instead of going to college but left two months into the program to attend UConn second semester to get a degree.