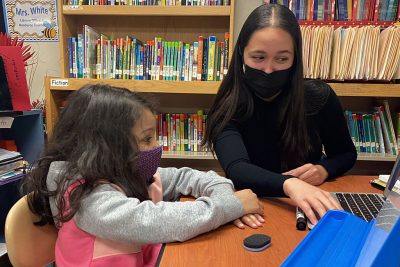 Future Educator Poised to Help Her Students Take Action Toward Social Justice
Isabella "Bella" Gradante '20 (ED), '21 MA says she always knew she would pursue a career in education, having been raised by a family of educators and around schools her whole life. It wasn't until she entered her master's year in the Neag School's Integrated Bachelor's/Master's (IB/M) program that she found what truly called her to the field: the practice of culturally relevant and sustaining teaching. This approach, which emphasizes the importance of holistically recognizing and including students' cultural references in all aspects of learning, has inspired her, she says, to one day lead a classroom that is responsive to the diverse needs of her students.
As a biracial Asian American woman and an aspiring educator, Gradante recognizes the impact that representation in the classroom had on her own educational experience. While she only had one Asian teacher in her K-12 experience, having a role model that looked like her made her feel valued and accepted.
"I think being a person of color that will be a future educator is really important because it can have students of all backgrounds be able to see themselves as a teacher, too, or simply see the potential for them to be educated and successful individuals," she says.
As part of her final year in the IB/M program, Gradante served as a graduate intern at E.B. Kennelly School in Hartford, Connecticut. The internship was multifaceted, ranging from literacy intervention to instructional collaboration. For her master's internship, she worked on a team alongside fellow interns and staff to provide in-person and virtual small-group literacy intervention for K-5 students.
"I think being a person of color that will be a future educator is really important because it can have students of all backgrounds be able to see themselves as a teacher."

— Isabella "Bella' Gradante '20 (ED), '21 MA

"This allow[ed] us to see where our students are at with reading, monitoring the progress that we're making, which is super informative for their classroom teachers," says Gradante.
Leaving a Lasting Impact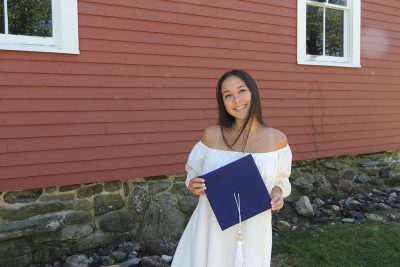 Gradante found other ways to support Kennelly, too. Early on in the academic year, Kennelly's staff had been brainstorming ideas for a token-based book vending machine to promote a love for literacy and reinforce positive behavior in its students. When it came to securing enough funding to implement the project, Gradante proved indispensable.
"We didn't really know how far we could take it, but I wanted to put my effort towards it because I thought it was such an amazing idea," she says.
Making sure students have access to books is something that Gradante says is very important to her. The pandemic has highlighted inequities in education; for example, some students may not have books at home and may not be able to access their school or community libraries.
About one-third of students at Kennelly are English Language Learners, so providing students with texts in different languages and representing different levels of literacy was also a driving factor behind the project.
"It's really important to have this area for literacy where students can have choice and autonomy to what they want to read and just simply have access to books," says Gradante.
She coordinated fundraising through DonorsChoose, a funding site used by educators to raise money for classroom projects, and within days, the book vending machine was fully funded. Gradante is now working with the administrative team at Kennelly to design and customize the vending machine.
"Bella embraced the idea and ran with it," says June Cahill '92 (CLAS), '93 (ED), '94 MA, principal of Kennelly School. "We never expected that it would be funded so quickly, but it was due to her leadership and her commitment to leaving a lasting artifact after her internship was over that we were able to see this project come to fruition."
Identity and Representation
Gradante says the Neag School's commitment to initiating and sustaining conversation around identity in education has been influential for her as she decided what kind of educator she wants to be. For her, Professor David Moss served as a role model in the way he engaged conversations around race and culture in his classes.
"He has made me feel like I've become a leader in a lot of my classes because of the work that we do and the conversations we have," says Gradante.
"I want to teach my students to be problem solvers and critical thinkers," she adds. "It's an immense task to take on, especially as a first-year teacher, but it's really my dream to be an educator that values and respects all cultures and helps my students take action towards social justice."
Principal Cahill, who works with many Neag School interns in their fifth year of the IB/M program, she says she is thrilled to see the leadership traits they possess.
"Neag is giving students the content knowledge that they need to be successful in the classroom, as well as the empathetic lens to really focus on a population that is slowly emerging from a pandemic," says Cahill. "This year, more than ever, students really needed connections to caring adults, and Bella fit that role for them."
Related Stories: