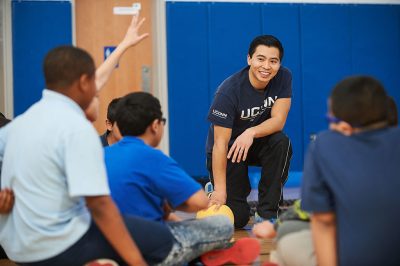 Editor's note: This article about a new USDA grant, led by Jennifer McGarry, originally appeared in UConn Today.
The newly combined Husky Programs will continue promoting healthy lifestyles for SNAP recipients throughout the state.
Two long-running educational programs at UConn for Supplemental Nutrition Assistant Program (SNAP) recipients are combining under a new $4.2 million USDA grant.
This grant will combine Husky Sport and Husky Nutrition. Husky Sport is a UConn Storrs-based program that works with community partners to encourage physical activity and healthy eating. Husky Sport is a collaborative effort between the Neag School of Education and Department of Kinesiology in the College of Agriculture, Health, and Natural Resources. Husky Nutrition is a UConn Health-based initiative focused on decreasing disparities in food and nutrition-related conditions through nutrition education and environmental change around access to healthy foods.
Each state in the U.S. has a version of a SNAP Education or SNAP-Ed program. Funding for these programs comes from the USDA and is distributed by state agencies to individual programs. In Connecticut, this agency is the Department of Social Services.
This new effort, known as Husky Programs, will combine the strengths of both programs to increase the breadth and reach of UConn's SNAP-Ed efforts.
Neag School Professor Jennifer McGarry in the Department of Educational Leadership and executive director of Husky Sport is the PI on this grant. Ann Ferris, professor emerita, from UConn Health initiated the CT SNAP-Ed program in 1994 as well as served as the PI for Husky Nutrition and has remained as Co-PI on the new grant.
McGarry says her initial goal for Husky Programs is to highlight and join both programs' existing strengths.
"What we're trying to do is take the things both organizations have been strongest at and bring them together first and then start to plan for the future."

— Jennifer McGarry, Neag School Professor
"What we're trying to do is take the things both organizations have been strongest at and bring them together first and then start to plan for the future," McGarry says.
A goal for Husky Programs is to not only reach more communities in need, but also build longer, deeper relationships with community partners. Husky Nutrition had historically had better reach across the state than Husky Sport, which was focused on the Hartford area. On the flip side, Husky Sport was able to build deeper relationships with their partners.
"Those are the strengths of each of the organizations have brought to this one and finding the balance is really important," McGarry says.
Much of Husky Programs' work involves partnering with local schools. The Husky Reads program, previously under the Husky Nutrition Umbrella, promotes nutrition literacy for preschoolers. During the eight-week-long program students from the nutritional science and other programs go into classrooms and read a book with the children linking it to a nutrition lesson. There is also a physical activity component that gets the students moving.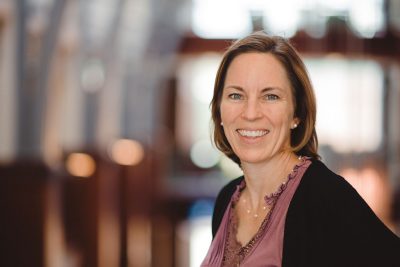 Husky Sport has a long-standing partnership with the Fred D. Wish School, a public elementary school in Hartford. Through this partnership, Husky Sport provided school-wide nutrition education and physical activity programs which will continue under Husky Programs.
Given the nature of the USDA's recurring funding for SNAP-Ed programs, Husky Programs has the unique advantage of being able to build partnerships with community organizations that last well beyond the duration of any single grant.
Husky Programs is also focused on education for adults. Establishing healthy habits in childhood is a critical factor in determining lifelong behaviors and health outcomes. But if children's caregivers aren't able to support these habits, SNAP-Ed programming is limited to the early childhood and elementary school classroom.
"Unless the caregivers are involved, then the things they're doing in school or in after school programs don't necessarily translate," McGarry says.
Several programs that will nowbe part of Husky Programs focus on educating adult caregivers about nutrition and shopping for healthy foods on a budget. Some of the programs also partner with local farmers markets to increase access to affordable fresh produce, as many farmers markets offer double SNAP benefits to shoppers.
McGarry says, often, individuals in low-income areas lack access to affordable healthy options or safe spaces to engage in physical activity. To address these barriers to healthy lifestyles, Husky Programs will also work to change policies and environmental factors aimed at providing equal access to healthy and affordable options for SNAP recipients.
"We can come in and do all these programs and people can be really excited to eat healthy and be physically active," McGarry says. "But if  those things aren't possible, we aren't having the same kind of impact. We also need to address the kind of policy, systems, and environment changes that need to happen."
McGarry holds a Ph.D. in sport management from the Ohio State University. Her areas of expertise include sport management, gender and race in sport, sport based youth development, qualitative research, and youth physical activity.