Editor's Note: This article about a new scholarship to support graduate students in teacher preparation originally appeared on the UConn Foundation's website.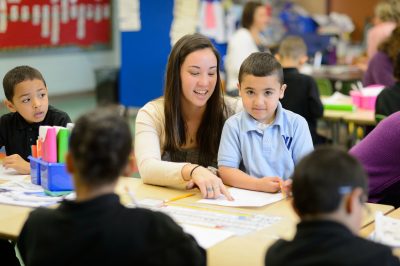 The Neag School of Education received a $400,000 gift from the Neag Foundation to establish the Neag Foundation Scholarship for the Integrated Bachelor's/Master's (IB/M) Program at UConn's Neag School of Education. The scholarship will support fifth-year IB/M students with demonstrated financial need.
The IB/M Program is one of the Neag School's signature teacher preparation programs, allowing aspiring educators to complete a bachelor's degree in education as well as a master's degree in curriculum and instruction or educational psychology within five years.
This support comes at a crucial time for the IB/M students, says Jason G. Irizarry, dean of the Neag School of Education.
"Graduate students aren't eligible for financial aid outside of a loan, so the cost to the student is typically higher in the fifth year of the program," he explains. "In that year, students are doing internships in schools, working every day in an educational setting. There is not a lot of time for them to earn additional funds to cover tuition."
By offsetting some of the costs of the fifth year in the program, the Neag Foundation is helping to make the program more accessible for students who otherwise may not be able to afford to pursue this path. Irizarry says this is important in attracting more teachers from diverse and underserved populations to the teaching profession.
"We are incredibly fortunate to receive generous support from the Neag Foundation to allow us dollars for students who really need support."

—  Dean Jason G. Irizarry
"Enrollment is declining in education programs across the country. We have to think about how to make these programs more attractive and increase access to the teaching profession, especially for those who come from communities that may not have plentiful economic resources," Irizarry says. "We are incredibly fortunate to receive generous support from the Neag Foundation to allow us dollars for students who really need support to make it through our programming."
Sally Reis, Letitia Neag Morgan Chair in Educational Psychology at the Neag School, says that the scholarship will help the Neag School enhance the teaching profession by encouraging and enabling more diverse young people to become teachers—which in turn will diversify the teacher pipeline in the years to come.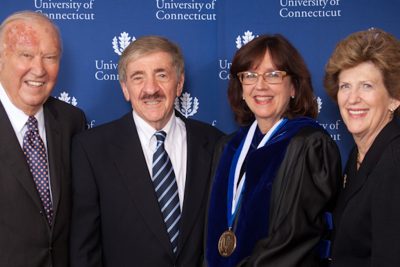 "Educating students from this population to become educators inspires future generations of students to follow the same path," she says. "And graduating with less debt, thanks to this scholarship, means they will have more opportunity to seek employment in diverse and working-class communities, which can have a very important ripple effect."
It was Reis who encouraged Irizarry to submit a grant to the Neag Foundation with his idea for this scholarship. Reis works closely with the foundation, which carries out the work of the late Ray Neag '56 (CLAS), '01 (HON) and his wife, Carole Neag, in supporting great ideas in education and healthcare.
Reis, who is Ray's niece, says that her uncle was passionate about supporting education because of personal experience, and that he would have been especially pleased by this scholarship.
"Ray felt that education was his ticket in life," she says. "He and Carole both came from working class backgrounds and they know that even a small amount of funding can make a difference between those who end up finishing their education, and those who do not."
This gift is the latest in the Neags' long history of transformative support for the School of Education, which is named in their honor.
"The Neag family has made a profound investment in the School of Education," says Irizarry, who started his own career in higher education as a postdoctoral fellow in the Neag School. "Their support has allowed the school to grow in significant ways, and to be a player on the national and international stage. I am extremely grateful for what their support has allowed us to do."