Editor's Note: This article about Neag School alumna and UConn Board of Trustees Distinguished Professor Linda Pescatello originally appeared on UConn Today.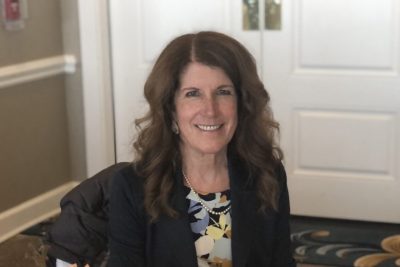 Pescatello's career as a researcher grew out of an enduring desire to learn coupled with her lifelong passion for physical activity and biology.
When Linda Pescatello '77 (CLAS), '81 MA, '86 Ph.D. began her career as an exercise science researcher, the field was a marginal part of the medical sciences. Over the course of her decades-long commitment to continual learning and research, Pescatello's work has risen to prominence, making her an internationally recognized expert in exercise prescription and post-exercise hypotension.
After graduating with a bachelor's degree from UConn's College of Liberal Arts and Sciences in 1977, Pescatello worked as a biology and chemistry teacher, and coach at Rockville High School.
One requirement for her to continue teaching was to earn a master's degree, which she completed from the Neag School of Education in 1981. Pescatello returned to UConn to study exercise science, merging her interests in science and physical activity.
"Amongst all of us what's very very clear is we have a love for sports and exercise," Pescatello says.
Pescatello has a lifelong passion for physical activity, and played on UConn's basketball, softball, and tennis teams as an undergraduate.
When Pescatello was working on her master's degree in the late 1970s, the exercise science lab at UConn consisted of just a scale and a bicycle ergometer on the top floor of the Hawley Armory.
"Just to see the expansion and use of exercise to improve many health outcomes has enabled the growth of our profession."

— Linda Pescatello '77 (CLAS), '81 MA, '86 Ph.D.
Pescatello stayed at UConn and earned her Ph.D. in exercise science in 1986. After managing the Department of Health Promotion at New Britain General Hospital for years, Pescatello returned to UConn as a professor in the Department of Kinesiology, first in the Neag School of Education, and t in the College of Agriculture, Health, and Natural Resources.
Since Pescatello's time as a graduate student, the exercise science field has seen tremendous growth.
"Just to see the expansion and use of exercise to improve many health outcomes has enabled the growth of our profession," Pescatello says.
Part of this expansion can be credited to the "exercise is medicine" movement which began in the early 1990s. This movement emphasizes how exercise can be used as part of treatment and prevention plans for a variety of conditions.
This movement was spearheaded by the American College of Sports Medicine (ACSM), the leading professional exercise science organization in the country.
Pescatello served as associate editor and senior editor for the ACSM guidelines for exercise testing and prescription. She also worked on the development of the 2018 activity guidelines report that served as the basis for the physical activity guidelines for Americans.
Career Making Discoveries
Early into her time at UConn, Pescatello worked on several major studies that led to landmark discoveries.
Pescatello worked with Paul Thompson at the Hartford Hospital to study how genetic polymorphisms affect the exercise training response. They were interested in seeing if people with different variations of the same gene would be better suited to certain kinds of exercise training to improve health outcomes. For example, a certain genotype may make someone's blood pressure improve with endurance training, while another would lend itself to more improvements in muscle size and strength as a result of resistance strength training.
However, the researchers found no such thing. Instead, they discovered many genes account for a small amount of a person's health outcome response to training.
"We found no single that could largely explain how we adapt to an exercise intervention," Pescatello says. "That was an about-face in the field."
Pescatello completed another study looking at the immediate effects of exercise on blood pressure. This now-well-known phenomenon called post-exercise hypotension that occurs when, after exercising, a person's blood pressure decreases for the remainder of the day. In other ways, due to post-exercise hypotension, blood pressure is lower on the days we exercise than on days we don't. This is especially important for individuals with hypertension (high blood pressure). This effect can last for hours and is an effective hypertension treatment strategy.
These findings launched Pescatello onto the international stage as an expert in post-exercise hypotension and drew attention to how effective exercise can be as lifestyle therapy.
Putting Research into Practice
Pescatello's latest project helps put research on exercise prescription to use in clinical settings.
Pescatello has developed an algorithm known as P3EX. This decision support tool helps doctors and other health care professionals prescribe a customized exercise plan for patients at risk for cardiovascular disease.
"We have found that on the current market there is no exercise app that does what P3-EX does," Pescatello says.
P3-EX is a unique tool that helps practitioners determine which risk factor to target to see the greatest benefit to the patient. For example, aerobic activity can help increase HDL or "good" cholesterol levels, whereas resistance or strength training is more effective for lowering LDL or "bad" cholesterol levels.
Pescatello is currently testing the tool's feasibility in a large study. Three hundred professionals will use the tool in their practice and provide the research team with feedback. She is also interested in turning P3-EX into a mobile app with her research team.
Pescatello is also working on a study using Tai-Chi as an intervention for older adults with hypertension, led by postdoctoral researcher Yin Wu.
This work, supported by the Institute for Collaboration on Health, Intervention, and Policy (InCHIP) and the Brain Imaging Research Center (BIRC), will examine Tai-Chi's impact on blood pressure and brain structural function, both of which are important risk factors for dementia.
In an upcoming interuniversity study, Pescatello will look at exercise and stress management for people taking prescription medication for chronic pain and who have opioid use disorder.
"You need to know your strengths and weaknesses and you build your team to complement those."

— Linda Pescatello
"It's another exciting area to develop strong collaborations with and we'll see where it brings us," Pescatello says.
This will not be the first time Pescatello has applied her expertise in exercise prescription to a daunting public health crisis. Pescatello worked with Nancy Petry at UConn Health to study the impact of exercise interventions for people with HIV and substance use disorder.
Pescatello says this kind of team science approach is becoming increasingly important.
"You need to know your strengths and weaknesses and you build your team to complement those," Pescatello says.
An Impact for the Future
As the U.S. faces an aging population and increasing rates of obesity and diabetes, exercise will become an even more important part of regular health care, Pescatello says.
"Exercise is almost going to become a fundamental skillset for all of us because of the way we live our lives and the increase in sedentary and sitting time," Pescatello says.
To address this growing challenge, another arm of Pescatello's research focuses on how to keep people active through collaborations with clinical psychology researchers.
"I think exercise professionals also have contributed to the high amounts of physical inactivity in our country because we often don't combine exercise interventions with behavioral strategies to increase exercise adherence," Pescatello says.
As the challenges Pescatello works to solve have only grown over the years, so has her commitment to research and teaching the next generation.
Research, for Pescatello, calls for curiosity and thinking independently, something she imparts on her students through an experiential learning and problem-solving approach.
"The students are learning current, state-of the art knowledge in our teaching and I take pride in that," Pescatello says.
Pescatello has been a critical force in growing the curriculum at UConn focused on the evidence-based health benefits of exercise.
"Leaving that as a growing venture to the university is something I can give back," Pescatello says.
Pescatello says her intrinsic desire to always learn more and the impact her work and the students she has mentored has keep her motivated.
"I do feel that the research I've been involved with has positively impacted the way people lead their lives which is ultimately the motivation for staying in the field as long as I have," Pescatello says.
Neag School alumna Linda Pescatello was previously a kinesiology faculty member in the Neag School of Education. The Department of Kinesiology originally was housed in the Neag School of Education before moving over to the College of Agriculture, Health, and Natural Resources. 
Previous Stories: