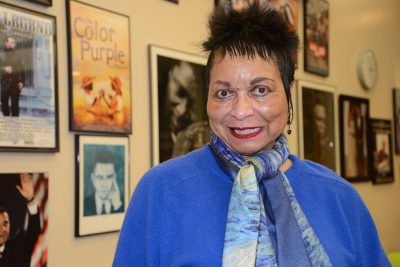 In our recurring 10 Questions series, the Neag School catches up with students, alumni, faculty, and others throughout the year to offer a glimpse into their Neag School experience and their current career, research, or community activities.
As UConn's director of the H. Fred Simons African American Cultural Center (AACC) and affiliate faculty with the Africana Studies Institute, Willena Kimpson Price '90 Ph.D. has been instrumental in supporting UConn African American students' higher education experiences for the past three decades. Price has steered the AACC to be recognized campuswide and throughout the United States as a university center that promotes an understanding and appreciation of the culture, history, and traditions of people of African descent.
Price's professional education career began as a fourth-grade teacher in Atlanta, Georgia. She took a break from teaching to be a full-time stay-at-home mom, later she resumed her education career as a teacher in the gifted and talented program for the Dallas Independent School District in Dallas, Texas. Her career continued to blossom when she moved on to the Syracuse School District in Syracuse, New York, where she taught in the gifted program and became a school and then districtwide administrator, focusing on gifted and talented students for grades 2 through 12.
A graduate of Spelman College in Atlanta, Georgia, Price earned an MS in curriculum and instruction and a 6th year certificate in education administration from the State University of New York, and a Ph.D. in educational leadership from UConn's Neag School of Education. Here, she explores her 30-year journey at the University of Connecticut, including her work with the AACC.
Q: What motivated you to pursue a Ph.D. in educational leadership with the Neag School of Education, and what was the focus of your dissertation?
A: I have spent my professional career as an educator. However, my greatest motivation is my calling to be a servant leader, and my love for teaching and learning was my motivation for pursuing a Ph.D. in educational leadership. My dissertation was on the Accession of African Women Presidents of Historically White Public Universities.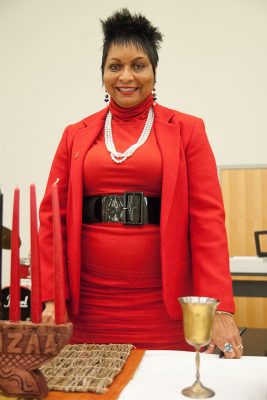 Q: How has the Ph.D. helped you in your role at the AACC?
A: Acquiring a Ph.D. in higher education is an extraordinary accomplishment, and it has given me a wonderful sense of accomplishment to be a role model for my students. Many are in the ranks of first-generation students. I am very proud that many of my students have pursued and are planning to pursue doctoral programs because of our example.
Q: What would you tell others who are considering pursuing a Ph.D.?
A: The best advice I can give is to be committed to excellence in all things, hard work, passion, and patience.
Q: Who was your favorite professor at the Neag School?
A: Oh, I love that question! My favorite professor was Harry J. Hartley, who served as the 12th president of the University of Connecticut. Hartley had served twice as UConn's acting president, vice president of finance and administration, and dean of the UConn School of Education. Harry was a beloved university president and was an extraordinary university professor. He was a model of all the best the academy represents for students, faculty, staff, and alums.
Q: When you started in the AACC in 1993, what was your role then, and how has it evolved?
A: When I started at UConn in 1993, the AACC was in the basement of the old Student Union. Let's just say our Center was not exactly a highly desirable space. We are grateful that over the years, our Center was relocated to the highly coveted space that was once the University of Connecticut Ballroom, thanks to the efforts of then-University President Philip Austin. It is a marvelously beautiful and well-appointed office.
My role has evolved to acquire collaborations and partnerships throughout the University over the year. One of the high points was when UConn conferred an honorary degree to the then-President of the Republic of Senegal, His Excellency, Abdou Diouf. I was the university host for the planeload of dignitaries who attended the Commencement Ceremony. I was also the university liaison to the Senegal Embassy, headed by Ambassador Mamadou Seck, in Washington, D.C. We also led university faculty, staff, community, and trustees to the Republic of Senegal. Our UConn delegation was honored to have a private audience with the President of Senegal. In addition, I was invited to have tea with the First Lady of Senegal in the Presidential Palace, the official residence of the President of the Republic of Senegal. It was quite a splendid time.
"We have to become better listeners and renew our individual and collective commitments to diversity, equity, and inclusion issues."

– Willena Kimpson Price '90 Ph.D.
Q: Why did you decide to join UConn in 1993? How has it changed since then?
A: I am so proud to have been affiliated with the University of Connecticut family for many years. It was extraordinary then, and it became stronger and stronger through the years. We are a global institution that is recognized all over the globe for our excellence as a superior public higher education institution.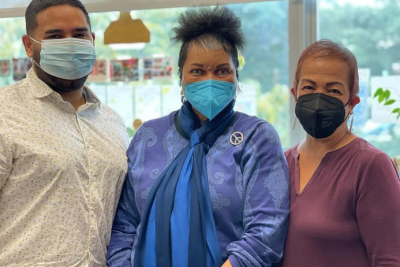 Q: How has the AACC impacted the University and its community over the past 30 years?
A: The African American Cultural Center was established in 1968 to support African American students pursuing the highly coveted higher education experience. In 2018, we celebrated our 50th year of service to UConn, the state of Connecticut, and beyond. Our community represents the beauty of the vast African Diaspora. We have demonstrated, over the years, that we have supported our students in their adjustment to college life and the rigors of academic challenges. We promote the development of cultural awareness, academic excellence, social consciousness, and personal success. The African American Cultural Center is a warm, welcoming, and intellectually challenging environment that contributes to the vitality of the UConn campus for all students, faculty, staff, and alums.
Q: With the more recent prevalence of the Black Lives Matter movement, how has the AACC been able to help the discussion, and how can we continue to enable move this conversation forward positively?
A: Our AACC family has been engaged in a discussion about the Black Lives Matter movement for all the years of our existence. This is not a new discussion for us. We have been living it all of our lives. We have to become better listeners and renew our individual and collective commitments to diversity, equity, and inclusion issues.
Q: The AACC recently kicked off Black History Month with a special event including renowned civil rights attorney Benjamin Crump and brother of the late George Floyd, Philonise Floyd. Why are these types of events important to the UConn community and what was the impact of the speakers' comments?
A: The Opening Ceremony was wonderfully well received by our students, faculty, and staff. Attorney Benjamin Crump was here in person several years ago to talk about the Trayvon Martin Case. It was wonderful to have him back, although in the virtual setting. George Floyd's brother, Philonise Floyd, was quite a splendid addition to the program.
It is critically important for us as a University community to observe Black History Month in the month of February although the AACC celebrates Black History Month every month of the calendar year. Our students were particularly moved by Attorney Crump's longstanding commitment to Civil Rights issues and justice for all. Interestingly, as we were ending the virtual reception that preceded the program, Attorney Crump said that he was just informed of another killing by police in Minneapolis. We later heard that Amir Locke, a Black man, was fatally shot when police were executing a no-knock warrant in a homicide investigation. Students are very disappointed that these killings of Black men are continuing to plague the Black community.
Q: If you were to give advice to your younger self, what would it be?
A: The advice I give myself every single day is, "To whom is given, much is required!" and "Be anxious for nothing!"