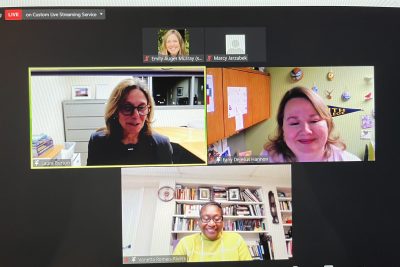 The University of Connecticut's Neag School of Education collaborated with UConn Women and Philanthropy this past Thursday to host "ELLEvate: Supporting Women in Leadership," a panel discussing women's experiences in leadership roles.
The panel, led by Laura Burton, department head and educational leadership professor at the Neag School, included Fany DeJesus Hannon, director of the Puerto Rican/Latin American Cultural Center (PRLACC) at UConn; and Vonetta Romeo-Rivers, director of teaching and learning for Regional School District 10 in Connecticut. Both Hannon and Romeo-Rivers are alumni of the Neag School.
Sharing How They Lead

For Fany Dejesus Hannon '08 MA, who immigrated to the United States at the age of 20 from Honduras, many of the leadership strategies she has developed stem from her personal background and experience.
"I lead as a Latina," said Hannon. "I come from a collective, loving family that values love, respect, and trust. I believe in the power of the 'we'; I believe that I cannot do my job as a leader without my tribe, without my village, and I own that."
The individualist mindset more typical of U.S. culture, she said, has challenged her in this way of thinking; however, Hannon's childhood in Honduras instilled in her the power of collective thinking.
Hannon says she views her colleagues as her chosen family and stresses the importance of appreciating and acknowledging those who work and lead alongside you.
Many of Hannon's messages were echoed by Vonetta Romeo-Rivers '04 6th year, '14 ELP. Romeo-Rivers also immigrated to the U.S., having been raised in Trinidad. In her current educational leadership role, she works to brings forth values of openness, honesty, and transparency that were instilled during her childhood. She encourages people to bring their whole self to work.
"Sometimes when you are that lone voice, that voice that is not typically represented in leadership conversations, it takes a certain type of courage and vulnerability to put yourself out there to ensure that those considerations are also at the table," she said.
Learning and Remembering Your Why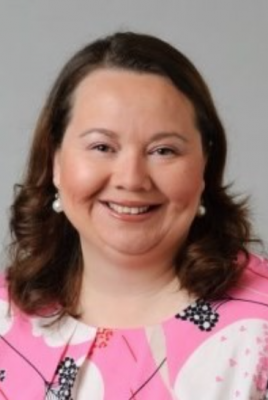 During their leadership roles and professional careers, both Hannon and Romeo-Rivers remember their grounding "why."
As a student at Smith College, Hannon says she did not have any Latinx individuals to look up to as role models, but she did have a strong mother who had imparted to her the value of education.
Hannon says the love and passion she has for her students allows her to work in an environment that she genuinely loves and to which has devoted her entire career.
"What motivates me, what gets me out of bed every day, is to see the transformation in our Latinx students," she said. "I love them. They are the reason why I get up every morning to do this work; I love seeing them finding who they are."
"What motivates me, what gets me out of bed every day, is to see the transformation in our Latinx students."

— Fany Dejesus Hannon '08 MA
Growing up in Trinidad, Romeo-Rivers was surrounded by a community and culture that valued education and teachers. She soon learned that being an educator was a job filled with honor and respect.
"It was part of my upbringing to see and feel that joy and love and appreciation for the profession, so that's what I knew," she said.
Like Hannon, Romeo-Rivers finds watching individuals grow and evolve one of the most beautiful parts of her job.
"I love educating, I love kids, I love seeing the shift, the growing; I love earning their trust, I love seeing them bloom and blossom and evolve as they grow, not only academically, but [as they] find out and figure out who they are," she said.
Amid the COVID-19 pandemic, Romeo-Rivers said she and her colleagues reminded one another why they were doing this work, and most importantly, for whom.
"When you remember for whom you are doing this work, that is how you push through the psychological weight of the invisible labor; that's how you push through the self-doubt and the imposter syndrome," she said.
Working Within a Male-Dominated Society
Despite the joys of working with students, both panelists shared, there are still many moments when, as women, they are forced to break barriers in order to be heard. They acknowledged the daily struggles of working a leadership role within a male-dominated society.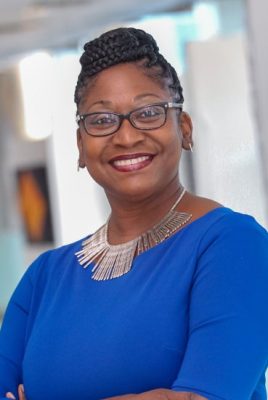 "Within the past four years, someone said to me that I am not an executive leader, that I don't know how to be one," said Romeo-Rivers. "That person implied that I haven't worked at that level of leadership before, and it's not necessarily my fault that I don't know how to be an executive leader."
"There are so many times during the day that you have to re-center, that you have to take a breath, that you have not to be demeaned or diminished or muffled or silenced, and you have to find a way to navigate a system that may not want you there to begin with," said Romeo-Rivers.
"You have to find a way to navigate a system that may not want you there to begin with."

— Vonetta Romeo-Rivers '04 6th year, '14 ELP
Through such interactions, Romeo-Rivers says she has noticed the importance of learning what to take and what to leave, especially from those looking from the outside in.
"Thank God I didn't have to depend on those opinions of those people to know my value and my worth to my profession and the career that I have dreamed of since I was a little girl in Trinidad," she said. "Thank God I had things to anchor me, and it wasn't that."
When Hannon first began as director at PRLACC, she says she was often dismissed because of her age. Her willingness to be vulnerable and show emotion was also often a topic of discussion amongst her colleagues.
But it was during that first year that Hannon says she chose to define herself, rather than let others define her.
"I said to myself, I will lead the way that Fany DeJesus Hannon has to lead," she said. "I embrace my vulnerability, and when it's time to cry, I will cry."
Instead of having to choose between openness and objectivity, Romeo-Rivers and Hannon stressed the possibility of embracing both at once.
"I can be both a vulnerable leader and strategic; I can be both outcomes-driven and still write handwritten notes to folks; I can still be brave enough and courageous enough to have hard and difficult, but necessary conversations, but I can still dress to the nines while I do that," said Romeo-Rivers. "I can hold people accountable for our shared goals and move the needle towards those shared goals, but I shouldn't have to worry so much about likability while I do it."