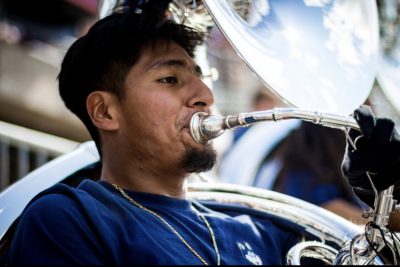 Editor's Note: As Commencement approaches, we are featuring some of our Neag School Class of 2022 graduating students over the coming days.
Major:
Music Education
Hometown:
New Haven, Connecticut
Why did you choose UConn?
I came to UConn because I've heard so many great things about UConn. My high school Band teacher went to UConn and spoke great things about it. When I came up to visit and shadow a student, I saw the countless possibilities and opportunities right before me and thought I could thrive the best here compared to other schools.
What's your major and why did you choose it? 
My major is music education. I chose this path because my big plan in the future is to give back to the city that gave me all the life skills and lessons to become a successful person. So, striving for the best musicianship while also teaching real-life skills is how I would want to run my future classrooms.
What are your plans after graduation?
After my undergrad, I am coming back to UConn for my graduate year since I am in the Neag School five-year program and studying abroad in London for the fall semester. After my grad year, I will be applying and hopefully land a job as a music director (hoping for high school, but any grade is fine) and continue developing my philosophy and style as a future educator.
What activities were you involved with as a student?
I was involved in many activities here at UConn. Since freshman year, I joined the UCMB (UConn marching band) and have been a part of it. I joined the marching band co-ed sorority. I co-founded the UConn jazz club. Joined the UCMB brass band, where we played for a TV station. I was part of the UConn symphonic band and wind ensemble. I participated in the pick-up soccer nights and played in some of the rec leagues such as co-ed soccer, men's soccer, co-ed volleyball, and walley-ball. I was also part of the UConn pep band, where this past year I got to travel with the team to the Final Four in Minneapolis.
How has UConn prepared you for the next chapter in life?
UConn offers so many classes, and through my experience, all the teachers I've had were great and always had time to help outside of class time. In addition, I got very close with my advisors, who helped me stay on track and put myself out there. They all taught me some life skills or lessons, whether it was learning how to apply to a job relating to my major or putting myself out there and networking to open up more opportunities.
"UConn offers so many classes, and through my experience, all the teachers I've had were great and always had time to help outside of class time."
What's one thing that surprised you about UConn?
I was surprised by the number of opportunities that UConn has that are FREE and how willing they are to help you out if you need to pay for something. There is always someone you can call or connect with that can help you with whatever problem you have, and no one wants to see you fail, so they'll always help.
Any advice for incoming first-year students?
As a first-year (student), make friends or acquaintances with anyone you meet because you never know when they'll end up in your class, and you now have an extra friend for help.
What's one thing every student should do during their time at UConn?
Every student should take time for themselves and watch the sunset (or sunrise) on horse barn hill. This is probably one of the most beautiful and worthwhile moments you can experience during your time at UConn.
Who was your favorite professor and why?
My favorite professor is Dr. Bernard. She was my Intro to Music Ed teacher and is now my advisor for the Neag School. She was always open with me and has been one of the biggest reasons why my time at UConn was so much fun and less stressful than most. She an incredibly smart educator and very caring and always helped me find the correct contact and help I needed.
What's one thing that will always make you think of UConn?
One thing that will always remind me of UConn will be watching any marching band, or pep band perform. My years at UConn wouldn't have been the same if it wasn't for my family in the UCMB. I have created lifelong friends and memories with them and will always remember them from now to the end.