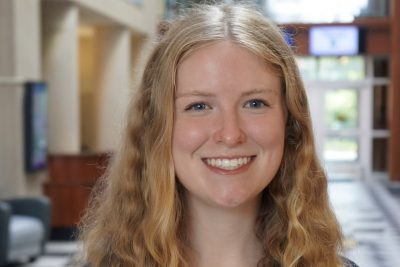 Editor's Note: As Commencement approaches, we are featuring some of our Neag School Class of 2022 graduating students over the coming days.
Major:
Mathematics Education
Hometown:
Danbury, Connecticut
Why did you choose UConn?
During my senior year of high school, I signed up to visit UConn as a Husky-for-a-Day. I got to shadow two current students and follow their school day. When I was on campus, I instantly knew this was the school for me! I loved the welcoming atmosphere, the friendly people, and the beautiful campus. After that day, I had no doubts in my mind: I was going to UConn!
What's your major and why did you choose it?
My major is mathematics education. I come from a family of educators, so I have wanted to be a teacher since I was young. As I got older and discovered my passion for mathematics, I knew I had found my calling! I love working with students as they challenge themselves in math and build their confidence in the subject.
What are your plans after graduation?
After graduation, I will return to the UConn Neag School of Education to pursue a master's degree in curriculum and instruction. During the one-year program, I will complete an internship in a local school, conduct research for an inquiry project, and take education courses. I will also be working at the Q Center as a graduate assistant and teaching an FYE course for first-year students!
What activities were you involved with as a student?
As an undergraduate student, I wanted to be involved in everything! I worked as a resident assistant in the EcoHouse Learning Community in Werth Tower and Northwood Apartments. I also worked at the Adventure Center as an adventure trip leader. As for clubs, I was president of the Teacher Education Student Association, co-vice president of Future Educators, and a member of the Outing Club. I also enjoyed being an FYE Mentor, WOW Leader, and Community Outreach tutor.
How has UConn prepared you for the next chapter in life?
UConn has prepared me for the next chapter by developing my leadership skills. The most significant contributor to my growth and development in college was the many opportunities to serve as a leader. One of these opportunities was being a student teacher at Farmington High School this semester. It was an immense challenge to serve as a full-time high school teacher, but I have never felt more prepared to enter the field of education. The amazing support of the Neag School professors and faculty developed us into strong leaders, and I am so thankful for this community of educators!
"The amazing support of the Neag School professors and faculty developed us into strong leaders, and I am so thankful for this community of educators!"
What's one thing that surprised you about UConn?
What surprised me about UConn is how small the campus feels! When I committed to UConn, I was daunted by the size of the school. I was always lost during move-in, and I needed to use Google Maps to find everything. After a few days, I ditched the GPS and realized the campus was not as big as I thought. Now, I can't imagine going anywhere smaller. UConn has the awesome opportunities of a large school with the interconnected community of a small school.
Any advice for incoming first-year students?
I would advise first-year students to get involved during their first semester! One of the many benefits of going to a larger school is the countless organizations we have here. There is something for everyone, so go to the Involvement Fair and pick some clubs and organizations to try out. It is an incredible way to meet people, try new things, and develop your passions!
What's one thing every student should do during their time at UConn?
I think every student should go on a trip with the UConn Adventure Center! The UAC offers programs for hiking, biking, rock climbing, and other fantastic outdoor activities. The trips are a great way to get off campus while trying something new outdoors.
Who was your favorite professor and why?
My favorite professor is the math education program advisor, Megan Staples. I am so lucky to have Megan as a teacher and mentor, as her classes and guidance completely transformed my idea of what a math educator is. She has helped develop my skills as a leader of inquiry in the classroom and continuously grew my passion for the power of math. I can always count on her to support us as teachers but also as people. I will never forget the day she walked my entire class to stand outside my dorm room window when I was quarantined last year. She goes above and beyond to create a strong community of math teachers!
What's one thing that will always make you think of UConn?
Basketball will always make me think of UConn! I am a huge UConn Women's Basketball fan, and I love cheering from the student section at games. I'm glad to be returning to UConn next year, to keep watching games in Gampel!