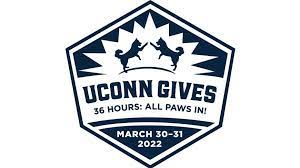 Thanks to 494 individuals, the Neag School of Education garnered more than $25,000 in contributions during this spring's annual Giving Day at UConn. The University-wide fundraising event raised over $504,000 in total for UConn in just 36 hours, with incoming donations set up to support everything from scholarships and academic programs to student groups and athletics. The Neag School, including its Alumni Board, promoted seven different education- and sport management-affiliated projects during this year's Giving Day campaign, held over the course of two days in March.
Leadership In Diversity (LID) & Husky Sport – $15,909 from 315 donors (includes Dean's Board challenge: $5,500 & 3rd place leaderboard challenge: $1,000)
Renzulli Center for Creativity, Gifted Education, and Talent Development – $2,650 from 57 donors
Neag School Alumni Board: Supporting the Passion and Talents of Tomorrow's Educators– $3,080 from 45 donors
Department of Curriculum & Instruction: Forging a Path for Aspiring Educators – $1,953 from 30 donors
Dr. Sue Saunders HESA Professional Development Fund – $910 from 21 donors
UConn Collaboratory on School & Child Health – $505 from 17 donors
Neag Global Education – $426 from 9 donors
One of these projects — the Leadership in Diversity (LID) & Husky Sport partnership project came in third place across all UConn Gives projects this year, raising over $15,000. With 315 donations from all over the world, the project initially raised $9,409. Two Giving Day matching gift challenges, one funded by the Dean's Board of Advocates as well placing third on the leaderboard challenge, brought an additional $6,500 to the project's total.
"Collaboration between LID and Husky Sport has continued to showcase the work of many cool and talented people within the Neag School of Education," says Justin Evanovich, assistant clinical professor, and Husky Sport's managing director. "Actions to support people and change in education and community remain at the forefront of both missions. We hope to build upon the support of generous donors and are thankful for those many relationships built over time."
Husky Sport, housed within Neag School's Sport Management Program, is a community-campus partnership that utilizes the power of sport to connect and empower partners from the city of Hartford and University of Connecticut. Since 2003, Husky Sport has collaborated to identify needs, implement programming, assess progress, and build lasting relationships through intentional programs facilitated in school, after-school, on weekends, and as part of academic coursework.
"Leadership in Diversity's donations from UConn Gives allow the student organization to thrive," says Dominique Battle-Lawson, LID advisor and Neag School's assistant director of student support. "LID uses resources for professional development, community work, community outreach, and more. We are beyond grateful for the donations, and without them, we would not be able to sustain all our efforts."
"Giving to LID allows us as a group to have the flexibility to meet the needs of our pre-service teachers of color," says LID's recent president, Tamashi Hettiarachchi '21 (ED), '22. "LID is somewhere that many of us have strong ties to and financially supporting LID lets this work continue for years to come."
Leadership In Diversity (LID) is a student-led organization at the University of Connecticut that aims to help maintain and encourage confidence and success in students of color as they pursue careers in the field of education. LID aims to provide their members with the necessary tools, networks, and information that they will need to be competitive, well-rounded, culturally responsive educators.