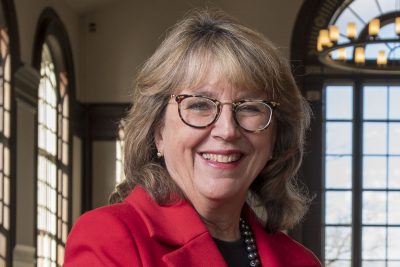 Sally Reis, the Letitia Morgan Chair in Educational Psychology at the Neag School of Education, first connected to the University of Connecticut during her master's program at Southern Connecticut State University in the mid-1970s. While in one class, she heard UConn Board of Trustees Distinguished Professor Joseph Renzulli talk about his work in educational psychology, specifically his internationally-known and pioneering work in gifted and talented with the Enrichment Triad Model.
Something sparked during that talk, and they would go on to become friends. Renzulli encouraged Reis to join the Neag School's educational psychology doctoral program, and they worked on professional collaborations, including research papers, workshops, and presentations. According to Renzulli, one thing led to another, and their partnership blossomed into something more significant: "We fell in love, and we got married."
When asked about Reis' strengths, Renzulli is quick to describe her academically, similar to his work with the Triad Model. "I picture Sally's strengths like a triangle, with kindness to people at the center," he says. "One corner is an innovative, creative scholar, the second corner is leadership, and the third is communication."
"I picture Sally's strengths like a triangle, with kindness to people at the center. One corner is an innovative, creative scholar, the second is leadership, and the third is communication."

— Distinguished Professor Joseph Renzulli
During her master's program, Reis worked as a gifted and talented teacher for Torrington (Connecticut) Public Schools. Her whole family was from Torrington, including her uncle Ray Neag. Neag would later donate to the Neag School a significant gift of $1.5 million in 1996, following a family Thanksgiving dinner discussion about how much it cost to endow a chair. Through the UConn Foundation, after that family discussion, Neag named a chair in gifted education in memory of his wife of 40 years, who had lost her battle with cancer earlier that year.  
A few years later, Neag would donate the largest gift to a school of education in the country at that time. Unfortunately, Reis' uncle passed away in 2018, but he has had a legacy and life-changing impact on the Neag School of Education and across the University through that original gift and subsequent gifts.
Later, Reis would become the coordinator of gifted and talented programs for Torrington Public Schools. Around the same time, she also started teaching in the gifted and talented program at UConn. As the gifted and talented coordinator for the Torrington school district, her role was the first of many leadership roles that she would have during her successful professional 40+-year-career.
Leadership Across the University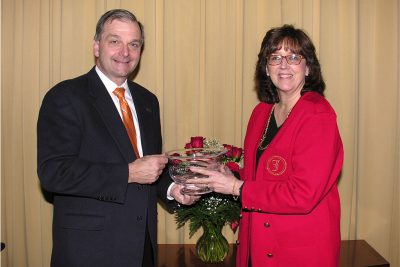 When colleagues and former students across the University and beyond think of Reis, they are all quick to highly commend her for her gifted and talented ability to lead and work with others and to lead major initiatives across the University.
Her vitae is a huge estate filled with notable accomplishments that grew and flourished over time, which could fill volumes. After serving in increasingly responsible faculty roles, one of her early leadership roles at the Neag School was serving as the educational psychology (EPSY) department head.
Dean Emeritus Richard Schwab, who was a doctoral student at the same time as Reis, needed someone to lead the EPSY department, and he knew who to turn to. "Before returning to UConn as dean, I had stayed in touch with Sally (and Joe) through professional conferences and collaborations," he recalls. "I was always impressed with her talents."
"When I was recruited back to the Neag School, I needed a clear plan for the future of the school. There was a lot of turmoil at the time, and we needed a visionary strategic plan to guide our decisions," says Schwab. "So, I put Sally on that committee, knowing she would know what strengths to build on and where we needed to make changes to become one of the top schools of education in the country."
"The plan guided us to build centers of excellence, close weak programs, and would later be shown to Ray Neag to encourage his interest in investing in us through his transformative gift that would later name the school," he says.
"Nobody loves UConn more than Sally or had dedicated more of her life."

— Dean Emeritus Richard Schwab
Soon after the plan was launched, Schwab appointed her as department chair and knew she would lead the Educational Psychology Department to one of the top raked departments on campus because she "was visionary."
Schwab recalls Reis being "fair, a visionary who made tough decisions, but also cared deeply for her faculty."
"Nobody loves UConn more than Sally or had dedicated more of her life," says Schwab. "(In that role) she was fabulous. Being department head is the toughest job on campus, and we worked side by side, but nobody will second guess her because she had strong legitimacy across campus."
Another current faculty member who has known Reis since his Neag School doctoral student days, Joseph Madaus, recalls her role as the department head. "She was always gracious of her time and supportive and created different kinds of opportunities. She was like a mentor to so many young faculty members, and she took an interest in their careers and research."
"She has the people skills and cares for the people she works with," recalls Madaus. "She's an amazing problem solver and visionary. She can look at situations and find positive solutions that benefit a wide range of people, the department, and the University."
While serving as a faculty member, Reis became director of the Young Scholars Saturday Semester, an early version of the still running Young Scholars Senior Summit, a three-week program hosted by UConn and funded by the Jack Kent Cooke Foundation.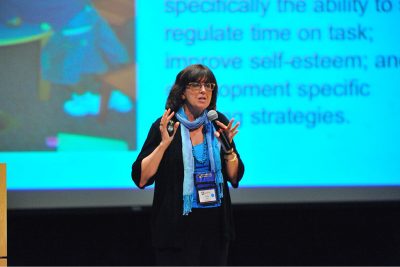 Reis also became co-director of the Confratute-Summer Institute on Enrichment Learning and Teaching with her co-collaborator Joseph Renzulli, which was among the many initiatives she nurtured. Now in its 44th year, Confratute, an annual weeklong event sharing research-based strategies that engage all types of students in learning, has drawn tens of thousands of educators worldwide to the University's Storrs campus during the summer.
Known by many as a masterful organizer and one that "gets things done," Reis has led Confratute for the past 20 years. "She makes all the pieces fit together," says Renzulli. "It always amazes me that she can juggle 16 balls simultaneously and not drop one."
"Confratute is Sally's pride and joy (after her family)," says Stephanie Huntington, a program assistant with UConn's Renzulli Center for Creativity, Gifted Education, and Talent Development. "Teachers from all over the world have had the opportunity to come to this unique conference. The teachers are treated like family, leaving feeling inspired by their experiences. The community of teachers (from) worldwide is like nothing I have ever seen before."
Lisa Muller, executive program director of the Renzulli Center, has similar insights. "Confratute is a unique experience … and Sally is integral to the feeling of family that participants experience while at Confratute. For example, Sally sees off every bus that leaves Confratute to transport the participants back to the airport. Every single bus gets a farewell from her."
Neag School alumna Rachel McAnallen, a math expert and Confratute attendee for the past 38 years, recalls Reis' visionary keynote from 30 years ago. "I remember it like it was yesterday. She gave a passionate talk about the dumbing down of curriculum in the public schools in the US. At that time, I had noticed the change in math textbooks. There were more cartoon-like illustrations and less complex math problems."
"I sat with tears in my eyes as Sally said, 'We may not notice this now, but we will see its effects later down the road,'" recalls McAnallen. "And here we are."
"Sally is the single most effective leader I have known. I have never seen Sally encounter a problem she could not solve, a difficult situation she could not diffuse, or a stranger she did not make feel welcome."

— Del Siegle,  Director of the NCRGE
Another notable leadership role that Reis cultivated over time was her role with the National Research Center on the Gifted and Talented (NRC/GT), which was the precursor to the National Center for Research on Gifted Education (NCRGE).
"(She) was the driving force of NRC/GT, and she was responsible for the national legislation that created the Javits program that funds the national center and all of the Javits research we do at UConn," says Del Siegle, director of the NCRGE and a former doctoral student of Reis'. "She stands out as a leader because she offers practical and creative solutions to pressing issues schools and the field of talent development are facing."
"Sally is the single most effective leader I have known," says Siegle. "I have never seen Sally encounter a problem she could not solve, a difficult situation she could not diffuse, or a stranger she did not make feel welcome."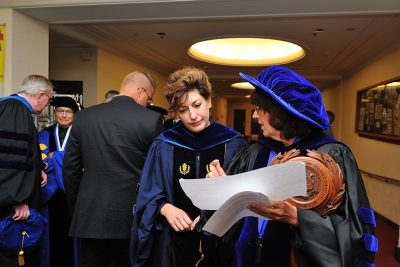 During Susan Herbst's term as UConn's first woman president, Reis was named vice provost for academic affairs. She bloomed into a university-wide leader responsible for many initiatives, including undergraduate education programs and majors.
While in this role, where she also served as a member of the President's Cabinet, she excelled and achieved numerous accomplishments, including restructuring the Center for Excellence in Teaching and Learning to more effectively serve faculty and staff; creating a University Office of Engagement; leading all training for department heads and associate deans; revising of the university's promotion, tenure and reappointment process; increasing student retention and graduation rates; and leading the development of a five-year strategic university plan, to name a few.
She managed various departments, including the Institute for Student Success, which houses the Office of First Year Programs and Learning Communities. In addition, Reis was instrumental in launching the ScHOLA²RS House, which helps influence positive academic outcomes for Black males, and recruiting former Neag School faculty member Erik Hines to be the inaugural director. Hines has since left UConn, but ScHOLA²RS House continues to positively impact Black male success in college.
Reis worked with many administrators, including Jennifer Lease Butts, the current associate vice provost for enrichment programs and director of the Honors Program, whom Reis had encouraged to apply to the director position after a staff retirement.
"Sally championed numerous Honors initiatives across the University, including ensuring that an Honors education was available at all regional campuses," Lease Butts says.
After serving in that vice provost role for six years, she became the senior advisor to the provost and president for special projects for two years.
Reis and Rachel Rubin, chief of staff to then-President Herbst, established the BOLD Women's Leadership Network in 2019 to develop female student leaders at UConn.
Lease Butts and Reis have worked together on the BOLD Women's Leadership Network, where Reis has continued as the faculty director, and Lease Butts oversees the administration of the enrichment programs.
Reis excelled in all these roles due to her "unique combination of being not only a brilliant academic and talented administrator, but somebody who people gravitate toward," says Schwab.
"She had legitimacy because she was an outstanding scholar," says Schwab. "Nobody could question her academic ability because she had deep leadership experience from running the National Research Center on the Gifted and Talented to being department head to being on the faculty senate."
"She worked her way up the ranks and established herself as a faculty member, but a faculty member who always looked out for the best interest of the faculty members," says Schwab.
"Sally knew lots of folks and knowing people in Connecticut is very important because of the trust you build over the years," recalls Schwab. "She knew faculty and administrators, but she also knew people in the legislature."
Mentoring and Nurturing Through Communication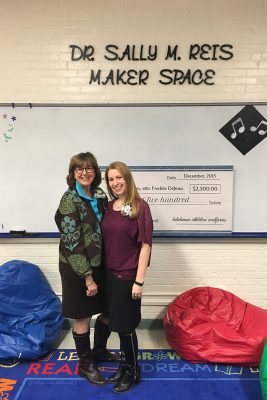 While Reis was successful as an accomplished leader throughout Connecticut and beyond, she was also known as a kind and generous mentor to many, whether a graduate student, colleague, or one of the many individuals she managed. It's often related to her "kindness at the center" trait that Renzulli acknowledges and her "willingness to help people."
"Sally immediately engages you and takes an interest in you. You always feel like you have her time and attention," says Lease Butts. "She had encouraged me to apply for the Honors position and had told me at the time, 'I think you'd be great.'"
"She's a nurturer and caretaker, and she just believes in people," says Lease Butts. "It's really about promoting and developing the talents in other people, helping them to be the best versions of themselves, seeing potential when others may not be seeing it."
Neag School alumna Melissa Thom '15 MA started attending Confratute in 2009, where she learned about the Three Summers Program. While pursuing her studies, she focused her graduate program on gifted and talented. A previous educator at the Renzulli Gifted and Talented Academy in Hartford, Connecticut, Thom came to Connecticut to teach at the Renzulli Academy after meeting Reis at an international reading conference in Phoenix, Arizona.
"I consider Sally to be one of the most important mentors in my professional life," says Thom, who is currently a middle school teacher librarian for West Hartford (Connecticut) Public Schools. "She is a very important person in my life!"
Muller is also among the many who recognize Reis' ability to nurture and help others. "Sally is warm, personable, caring, and funny," she says. "Sally is a giver and loves to assist anyone … and is always willing to make that phone call or reach out to someone to help and provide support personally."
Muller also benefited from Reis' support when working on a research project. "Under her guidance, my skills blossomed, and I soon took on many more responsibilities and had a more significant role. I credit Sally with being one of the first to recognize my gifts and talents and providing me with the opportunities to continue to grow professionally and personally.
One of Reis' early successes as a mentor was when she was working as a doctoral student. She co-taught many courses, including one for a master's student, Thomas Hébert, who would earn his master's and then doctorate in gifted education. He is currently a professor of gifted and talented education at the University of South Carolina and has "admired all of Sally's significant professional achievements for many years."
"My earliest memories of Sally are of her nurturing all students in the master's degree cohort and maintaining her passion for the field we were entering," he recalls. "While Sally was pursuing her doctorate, she was also working part-time as coordinator of gifted and talented for Torrington Public Schools. As a result, she recruited me to teach as an enrichment teacher."

"She works diligently to uncover her students' skills, strengths, and experiences, and then nurtures these seeds … to ensure the opportunities for individual growth."
— Associate Clinical Professor Rebecca Eckert
"My fondest memory of Sally is her dedication to working with Michael, a second-grader in my classroom," he says. "The intense discussions and laughter … that emerged is a memory that makes me smile today."
A graduate student of Reis' who now works as an associate clinical professor in teacher education at the Neag School, Rebecca Eckert, thinks "Sally's work with students resembles that of a patient gardener."
"She works diligently to uncover her students' skills, strengths, and experiences, and then nurtures these seeds of excellence carefully with so much support and careful planning to ensure the best possible opportunities for individual growth and the achievement of great goals," says Eckert.
"Like a true gardener, Sally is always one to celebrate the beautiful things that bloom from all this hard work," says Eckert. "It's no wonder she has a long list of grateful former students and such a beautiful garden."
Another graduate student, Nicole Waicunas, now the Schoolwide Enrichment Model outreach coordinator at the Renzulli Center, echoes similar sentiments.
"Sally is brilliant. She also takes the time to see others and help them uncover their gifts and talents," says Waicunas. "I am grateful for her continued belief in me, even when I doubted myself."
"Sally takes on the struggles, and she sees the diamond in the rough," says Waicunas.
Susan Baum, a fellow doctoral student of Reis, is in "awe of her dedication to the field … and goes out of her way to mentor others and rejoices in their accomplishments."
McAnallen recalls how "she couldn't have asked for a better advisor."
"Her timing was priceless because she knew when to hold your hand and when to kick your ass," says McAnallen.
While Lease Butts isn't a former graduate student, she's thankful for Reis' mentorship. "I've benefited daily from her guidance and mentorship, learning how to be an administrator and woman leader," says Lease Butts.
Innovative Creative Scholar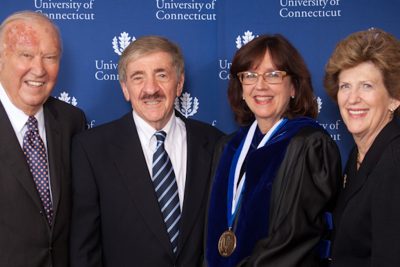 Reis' over 40-year career at UConn was built on the foundation of her innovative and creative scholarship, for which she was well known locally and internationally.
Schwab, working for the University of Qatar to help reform their teacher education programs, sat down with one of their administrators, who held up a brochure and said, "Do you know these people by any chance? They're our heroes." The brochure featured Reis on the cover for Confratute.
Reis, who has served as the principal investigator for the National Research Center on the Gifted and Talented (NRC/GT) from 1990 to 2013 and is the co-project director of Project 2e-ASD, has authored more than 250 articles, books, book chapters, and technical reports.
She is a Board of Trustees Professor in Educational Psychology, the highest honor bestowed on a faculty member at UConn. She also holds the first Letitia Neag Morgan Chair in the Neag School.
"Reis is one of the first scholars in gifted education to pursue a focused line of research on the challenges faced by gifted females in American society," says Hébert. "Her dedication to this work has had an incredible impact on women worldwide, particularly culturally diverse gifted women." Reis' book, Work Left Undone: Compromises and Challenges of Talented Females (Creative Learning Press 1999), has been widely used worldwide and translated into several languages.
"Her leadership as a principal investigator on numerous NRC/GT research studies has advanced the field of gifted and talented education for several decades," says Hébert.
"Reis is one of the first scholars in gifted education to pursue a focused line of research on the challenges faced by gifted females in American society."
— Professor Thomas Hébert
Her influence on the world of gifted and talented is well-known, and she has impacted the growth and development of children near and far. "She was amazing at implementing the Enrichment Triad Model in her classroom in Torrington," recalls Baum.
"Through her efforts, the model became known, and the rest is history," says Baum. "The Enrichment Triad Model and the Schoolwide Enrichment Model are the most widely used approaches in gifted education worldwide."
Betsy McCoach, another former doctoral student of Reis' and professor of educational psychology at the Neag School, agrees, "For the last 40 years, Sally has been one of the most prominent scholars in gifted education."
"Her curriculum impacting study, Why Not Let High Ability Students Start School in January?, is still one of the most influential studies in gifted education," says McCoach.
Madaus also agrees about her impact on the field of gifted education. "Her research line alone is remarkable. Everything else that she's created helped foster and grow is incredible."
The Next Chapter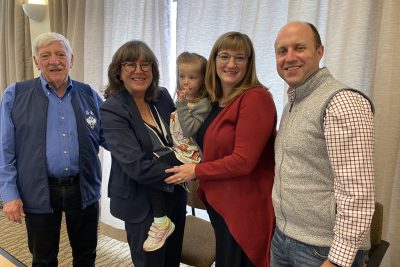 While Reis recently decided to retire from the University as a full-time faculty member, she won't be going very far.
A research team led by Reis, which includes Madaus and Nicholas Gelbar, is studying how students who are both academically talented and also on the autism spectrum can enjoy greater college success based on the correct high school experience.
"High school should not be just about deficit reduction, but about talent development," says Reis of the findings.
Reis still has an active part in the annual Confratute conference and will continue to accept speaking engagements, which take her worldwide, including an upcoming project in Italy.
While she's a natural nurturer, she's always put family first on the list of her priorities. Now that her schedule is more open, she will spend more time with her young granddaughter, who turns four this year and help with wedding plans for one of her daughters, who is getting married this summer. She will also spend more time at home, in her garden.
"What many people don't know about her is that she's a very accomplished horticulturist and gardener," says Renzulli.
Those traits of tending and nurturing others have blossomed into a garden of gifted and talented successes that have a lasting legacy, both at UConn and beyond.
View photos from an album gathered in honor of her retirement celebration. If you would like to honor Sally Reis and her legacy to gifted and talented education, please consider giving a gift to the Joseph Renzulli and Sally Reis Renzulli Fund. Visit the website for more information.