After a year of careful planning, the Neag School of Education's Two Summers Educational Technology program and the UConn School of Fine Art's Digital Media and Design (DMD) program co-hosted the inaugural Frontiers in Playful Learning conference from June 1 – 3, 2022.
The three-day conference attracted roughly 55 in-person attendees from around the U.S. (Connecticut, New York, Massachusetts, Florida, Ohio, Virginia, and more) with additional national and international participation through live-streamed sessions. Most attendees were scholars and graduate students from research universities, but some very dedicated K-12 teachers and industry professionals also took the time to attend.  
How it All Started
Organized by Stephen Slota, who has dual faculty appointments in both the UConn Learning Sciences (formerly known as the Cognition, Instruction, & Learning Technology program) and DMD programs, the idea to host Frontiers came about after a series of conversations between playful learning scholars who felt they had fallen out of touch through the pandemic. "Although there are several other events centered on game-based education, we wanted to target game-and play-based teaching and research in higher education, specifically," said Slota.
"Bringing together a small, tightly-knit group of interdisciplinary experts seemed like a good first step," remarked Slota.
The UConn Two Summers Educational Technology program (among the Top 15 in the U.S. according to SuccessfulStudent.org) has become a nationally-recognized hub for playful teaching and learning research due in large part to their frequently-cited (2012) Review of Educational Research meta-analysis Our Princess is in Another Castle: A Review of Trends in Serious Gaming for Education and (2017) edited volume Exploding the Castle: Rethinking How Video Games & Game Mechanics Can Shape the Future of Education.
"What's great about the community is its interdisciplinary nature, which creates points of contact that can't be achieved with a narrow focus on just one discipline or role."
— Assistant Professor-in-Residence Stephen Slota
"We recognized that our unique status positioned us to revitalize and organize the field around a set of shared goals by welcoming teachers, researchers, and designers to UConn's campus as part of our community of practice," Slota noted.
In addition to reengaging game- and play-based instructors and scholars, Slota and other Frontiers attendees sought to explore means of enhancing their individual and collaborative efforts. For some, that meant finding co-researchers and co-authors; for others, it meant finding complementary skillsets that could facilitate design work.
"What's great about the community is its interdisciplinary nature, which creates points of contact that can't be achieved with a narrow focus on just one discipline or role," said Slota.
What the Presenters and Attendees Thought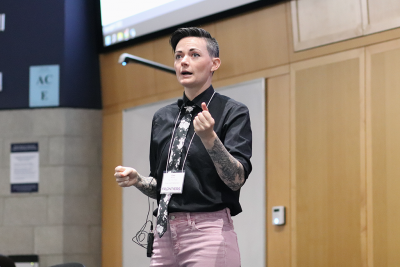 Anecdotal feedback indicated that attendees felt Frontiers was a "huge success," and they seemed "impressed with how smoothly it went, especially since it was the first time hosting the event."
Slota quickly recognized and credited Juliet Kapsis, the representative contact through UConn's University Events and Conference Services, for her help. "She went above and beyond to work with various departments, programs, and people during the year it took to bring Frontiers together."
According to one presenter, Trent Hergenrader, an assistant professor of English at the Rochester Institute of Technology, "What I appreciated about Frontiers is that everyone was interested in the process of teaching through the use of different kinds of games; to leverage deeper learning for our students."
"In other words, it centered on games as teaching tools for higher education and, specifically, which games offer particular teaching and learning affordances (rather than a narrower focus just on how to use or make learning games)," he added.
Another presenter, Evan Torner, an associate professor of German Studies and Film/Media Studies from the University of Cincinnati, felt the three days he spent at Frontiers in Playful Learning were "some of the most productive [he's] experienced in [his] career."
"It was a healthy combination of presentations, discussions, postmortems, ideation, and play," said Torner.
Tori Wagner '20 MA, an incoming UConn Learning Sciences doctoral student and former Staples (Connecticut) High School physics teacher, greatly benefited from her connections with established experts and fellow up-and-coming playful learning professionals.
"The conference was a fantastic combination of presentations on cutting-edge research and informal discussions across various disciplines."
— Incoming Doctoral Student Tori Wagner
"The conference was a fantastic combination of presentations on cutting-edge research and informal discussions across various disciplines," said Wagner. "It was enlightening to gather perspectives of those outside my standard STEM circle. I'm excited to continue to learn from and work with the talented scholars I met as we contribute to the growing body of games and education research."
Roger Travis, a UConn associate professor of Literatures, Cultures, and Languages, was also complimentary about Frontiers. "We all know games teach, but conferences like Frontiers are helping us figure out how we can use that limitless power to engage and educate."
Summing up a widely shared perspective, presenter Wendi Sierra, assistant professor of Game Studies at the Texas Christian University Honors College, observed, "With such a rich and diverse group of people, the conversations were amazing, and I walked away with so many new ideas. As a result, my list of books to read, games to play, and things to try in my classroom is (excitingly) overwhelming."
Outcomes and Future Plans
Through the unanimously positive feedback, Slota concluded that "there was an agreement we should continue hosting Frontiers in Playful Learning on an annual basis," and he felt "the most important outcome was networking."
"That's what's wonderful about bringing together so many passionate, hard-working scholars—nerding out about topics we spend all our personal and professional time thinking about," Slota articulated with a smile. "Not only did we meet face-to-face with folks we'd only 'seen' through video conferencing over the last three years, but we cultivated friendships that have already led to new scholarly discourse and publication efforts."
Many presenters and attendees are already looking forward to another Frontiers, including Torner, who recommends "anyone interested in games and learning consider attending next year!"
Slota acknowledged that limiting attendance to fewer than 100 people allowed them to encourage one-on-one interactions during and between sessions, which proved to be "one of the best decisions we made."
The organizers are planning for Frontiers in Playful Learning 2023 to run from May 31 – June 2, 2023. They'll introduce minor changes to the session formats (including a peer-reviewed play track for demoing board, card, roleplaying, and video games). Still, the attendees were "so happy" with the first go-around that the organizers will focus on "simply expanding an already-solid infrastructure."
Visit the conference website to learn more about Frontiers in Playful Learning, including an archive of photos and session recordings.