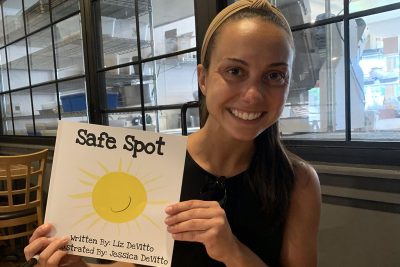 Elizabeth "Liz" DeVitto '14 (ED), '15 MA, a special education teacher for the past eight years at Roaring Brook Elementary School in Avon, Connecticut, had a goal to write a children's book before she turned 30. When she looked for a book to help her students deal with emotions, she couldn't find anything appropriate. Since she couldn't find the right book, she decided this was her chance to fulfill her goal by publishing Finding a Safe Spot, to help her students when they become overwhelmed with emotion.
DeVitto has always loved children's books and is amazed by the illustrations and words. "The words can have such simple phrases and hold so much meaning," she says.
While she previously joked with friends, saying, "Someday I'll write a children's book," DeVitto was determined with her goal, and she knew this was the perfect opportunity.
It began as simply as writing notes on her phone. She would constantly write ideas and go back and change them. Then she shared them with her younger sister, who would start writing ideas for simple pictures and would eventually create the illustrations. Finally, DeVitto researched book publishing and found the most practical route was self-publishing through Amazon.
"My goal was just to do it and be able to share it with my students in the school, and if it impacted at least one kid or one parent, then I did exactly what I wanted to do," she says. "Amazon was the easiest way to go about it (for self-publishing) because it wasn't like I was looking to make a bunch of money."
"If we're feeling mad, we can solve our problem differently. We can go to that safe spot and sit there until we are ready to face the world."

— Elizabeth "Liz" DeVitto
DeVitto's book, which has sold 500 copies so far, helped her fulfill her goal. "I wanted to make a difference and make it easy."
The topic was essential to DeVitto as she wanted to make it clear to adults and students through the book that it's okay to feel emotions. "It's okay to be mad, it's okay to be sad, it's okay to feel anything, and sometimes you don't know why you feel those things," she says.
She notes how individuals react is very important. "We can't feel mad and tear a whole room apart, she says.  "That's not socially acceptable, but if we're feeling mad, we can solve our problem differently. We can go to that safe spot and sit there until we are ready to face the world again."
Setting Up a Safe Spot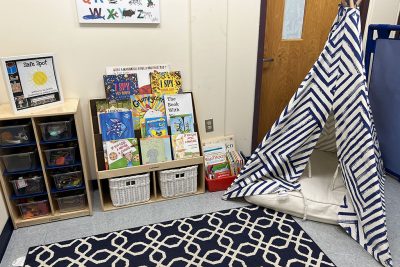 DeVitto, who shares a classroom with another teacher, moved to a new, larger classroom this fall that has a big workspace with tables and stations. Each student also has their own bin. In the room, she set up a "safe spot," a quiet corner in the back where the students could calm down.
Setting up the new classroom was an undertaking, with moving and organizing all her materials, resources, and equipment, but she's excited about the bigger space.
"Having a designated space at school is important," she emphasizes. "Students like to create that space with you. That also makes a difference for some kids. It's so valuable to have them help build that space with you."
DeVitto enjoys that the safe spot makes students feel happy and safe. "Being able to have a relationship and build relationships not only with the kids but also with the parents, who for many of them at the elementary level, this might be a completely new and sometimes scary experience when they're trying to navigate the world of special education."
"In my classroom, I always set up a safe spot they can go and sit at any time, even if they're not in my room," she says. "They know they can leave a space and go sit there."
Having that designated space is huge, because DeVitto says that each one of the kids comes in with their backpack that teachers can see, but that they also have an "invisible backpack" that teachers must unpack.
"We need to figure out, did something happen this morning?" she says. "Did they get in a fight with their sister or brother?"
There are so many things that the teachers can't see. "Unpacking that invisible backpack will really help you as a teacher figure out how to help them regulate their emotions and get them in a good state," DeVitto says.
"To me, being able to do that is the root of building relationships with kids first and foremost," she says. "If they can trust and have a relationship with you, it makes it much easier to unpack that backpack."
Managing Life as a Teacher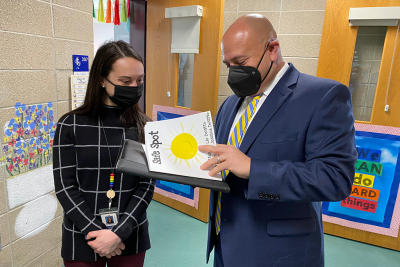 Ever since childhood, DeVitto has always wanted to be a teacher, including playing school in her parent's basement. Her mom would bring her to the teacher store, and DeVitto would buy all the supplies. Her best friend's mom was a teacher who would let them go into her classroom every year to set up her first-grade classroom. She thought that was "the coolest thing."
DeVitto loves being a special education teacher. She has thought about going into educational administration but likes her current position. "I like being able to be and work with kids every day in the capacity that I do. I can't see myself doing anything else," she says.
Over the past eight years in the classroom, she has realized that the teaching world looks drastically different than it once did.
"It's not just the teaching, it's adapting to change and having that mentality of asking, 'Okay, this is where we are in today's world. What are we going to do?'" she says.
"Something happens that kind of makes [teaching] the most rewarding job and makes it all worth it."

— Elizabeth "Liz" DeVitto
She understands that change is hard, but with change comes growth.
Over the past few years, she has learned to focus on work-life balance because she can't be the best teacher she can be unless she's taking care of herself.
"I will wake up every morning and work out before I go to work," she says. "I like to get to work early. This sets me up for success and I like the routine of working out."
While she gets in early, she doesn't stay late. "Even if I think I can get more done, I will not," she says. "This is something I've promised myself. I will go home and be with my family or do what I must do."
DeVitto has benefitted from work-life balance and thinks teaching is the "most rewarding job." However, there are days when she thinks, "Oh my gosh, what am I doing?"
But there is always that "one moment of the day," she says. That one hug from one student or a smile from another that makes her day.
"Something happens that makes it the most rewarding job and makes it all worth it," she says.
If you've ever considered becoming a teacher through the Neag School of Education, visit teachered.education.uconn.edu to learn more.