Throughout the academic year, the Neag School is proud to share the latest achievements of its faculty, staff, students, and alumni. Explore their most recent promotions, awards, retirements, publications, and more:
Dean's Office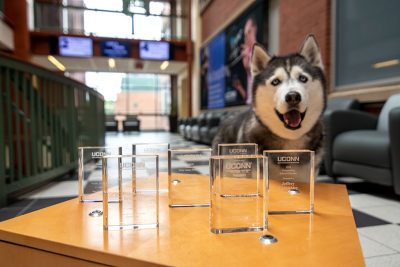 The Neag School of Education and its Alumni Board are delighted to announce the 2023 Neag School Alumni Awards honorees:
Outstanding School Educator — Kristen N. Negrón '12 (CLAS), '15 MA
Outstanding Professional — Margery H. Daniels '71 (ED)
Outstanding Early Career Professional — Andrew Alexi Almazán Anaya '18 MA
Outstanding School Administrator — Emily B. Gomes '06 (ED), '07 MA
Outstanding School Superintendent — Joseph P. Macary '94 (CLAS), '05 ELP, '16 Ed.D.
Outstanding Higher Education Professional— Raymond L. Pecheone '78 Ph.D.
Outstanding Diversity, Equity & Inclusion Professional — Roszena L. Haskins '17 Ed.D.
Distinguished Alumnus — Richard L. Schwab '79 MA, '81 Ph.D.
All awardees will be formally recognized at the Neag School's 25th Annual Alumni Awards Celebration in March. Read more about the honorees.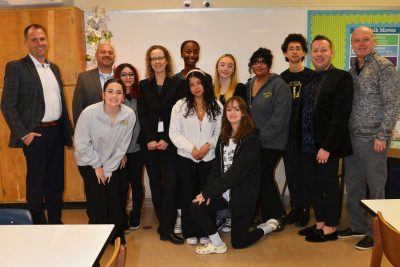 Dean Jason G. Irizarry and Ann Traynor visited East Hartford (Connecticut) High School in January as a guest of East Hartford Superintendent Nathan Quesnel '01 (CLAS), '02 MA, '22 Ed.D. The tour included observing a UConn Early College Experience (ECE) Program course, "EDCI 1100: If You Love It, Teach It." View photos from the visit.
Neag School researchers, who are members of the Center for Connecticut Education Research Collaboration, joined Connecticut State Department of Education colleagues this month to share reports on attendance, engagement, and remote learning during the pandemic. 
The Neag School welcomed Alyssa Hadley Dunn, the new Director of Teacher Education. Dunn comes to the Neag School from Michigan State University.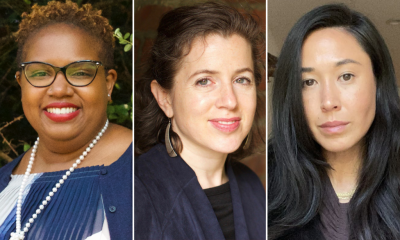 Sakeena Everett, Alexandra Freidus, and Grace Player recently received Spencer Foundation Grants, which support transformative, methodologically rigorous education research projects that help create a better, more equitable society. Read more about their work.
The Neag School of Education co-sponsored the UConn MLK Living Legacy Convocation.
The Neag School of Education hosted a networking reception in January at the UConn Hartford campus. View photos from the event.
Department of Curriculum and Instruction (EDCI) and Office of Teacher Education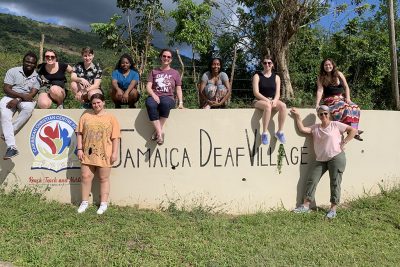 Neag School students, co-led by Hannah Dostal, engaged in a one-week global learning program over the winter break in partnership with one of the two main providers of Deaf Education in Jamaica, the Caribbean Christian Center for the Deaf (CCCD), which supports three residential schools for Deaf children and the Jamaican Deaf Village. Neag students participated in daily activities and collaborative learning opportunities with the Deaf Jamaican community. In addition, Neag students had the opportunity to learn and experience the culture and language of the Jamaican Deaf community through school and community involvement and civic engagement. View photos from the week.
Department of Educational Leadership (EDLR)
Casey Cobb and Preston Green were ranked in the top 200 by American Enterprise Institute director of education policy studies and Education Week blogger Frederick M. Hess in his 2023 "Edu-Scholar Public Influence Rankings." This annual exercise spotlights the top education scholars who move ideas from academic journals into national conversation. Using nine metrics, Hess calculated how much university-based academics contributed to public discussions of education.
Clarisa Rodrigues, Neag School doctoral candidate in the Department of Educational Psychology, prepared a rapid research brief with the Center for Education Policy Analysis, Research, and Evaluation (CEPARE). Connecticut's public school system has a rapidly growing number of students classified as English Learners (ELs).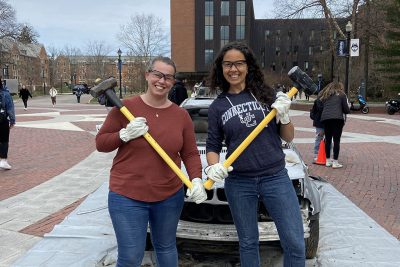 Department of Educational Psychology (EPSY)
Kristin Simmers and Sarah Gilmore, doctoral students in learning sciences, were elected to leadership posts (Simmers – Co-President; Gilmore – Policy and Practice Chair)  of the International Mind, Brain and Education Society (IMBES) trainee board.
The National Technical Assistance Center for Positive Behavioral Interventions and Supports, co-directed by Brandi Simonsen, published an article on "Discipline Discussions: The Impact and Harm of Exclusionary Discipline" for the U.S. Department of Education's Office of Special Education and Rehabilitative Services Blog.
Brain Healthy, an initiative developed by a multi-disciplinary team of researchers and educators headed by Ido Davidesco, received support of a $1.3 million Science Education Partnership Award (SEPA) from the National Institute of General Medical Sciences (NIGMS) at the National Institutes of Health (NIH). Read about the project in UConn Today.
Faculty/Staff
Melissa Bray has been named the recipient of the Trainers of School Psychologists 2023 Trainer of the Year award in Scholarship. This award is given to a school psychology trainer who, throughout their career, has demonstrated exceptional contributions to training that merit special recognition. Bray will officially receive the award at the TSP Award Ceremony and Reception on Feb. 6.
Jacqueline Caemmerer was recognized by the Journal of Intelligence with the 2022 Young Investigator Award.
Todd Campbell co-authored "Engineering for Ecological and Social Justice: What Can Pollinators Teach Us About Designing Healthier Cities for Humans and Other Species in the Face of Climate Change" for the January/February issue of the National Science Teaching Association's Science Scope. Campbell also co-authored with Neag School alumnus and current post-doc Byung-Yeol Park '21 Ph.D., along with others, "Eco-Digital Storytelling: Engaging Historically Excluded Populations in Environmental Action Through Mentoring, Geospatial Technology, and Digital Media Storytelling" for the January issue of Curriculum, Instruction, and Pedagogy.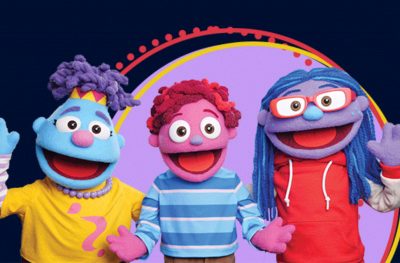 Sandra Chafouleas received a presidential citation from the American Psychological Association in December for her work on Feel Your Best Self (FYBS). She was also selected as this year's UConn Reed Fellow. In addition, Chafouleas, Neag School alumna Emily Iovino '15 CLAS, '16 MA, '20 Ph.D., and the FYBS program they co-lead were featured by NPR's Where We Live. FYBS has also been nominated for a Kidscreen Award. Learn more about the award in this story.
Alexandra Freidus co-authored "Contested Justice: Rethinking Educational Equity Through New York City's COVID-19 School Reopening Debates" for the November issue of Educational Evaluation and Policy Analysis.
Preston Green participated in a webinar in January on pending SCOTUS race-based admission cases and practical implications and strategies for admission offices at the invitation of the Law School Admission Council (LSAC). Green also participated in a presentation on the Carson v. Makin Supreme Court decision in January to the Vermont legislators on behalf of the Vermont National Education (Vermont-NEA).
James Kaufman co-authored with former Neag School faculty member Ronald Beghetto,"Where is the When of Creativity?: Specifying the Temporal Dimension of the Four Cs of Creativity" for the November issue of Review of General Psychology.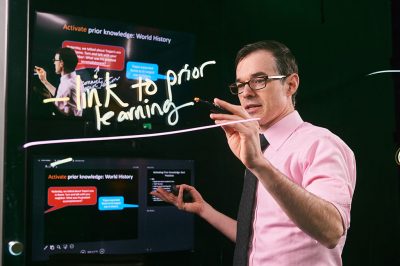 Devin Kearns was appointed to the New York City Literacy Advisory Council. In that role, Kearns will help improve literacy instruction and shape the direction of literacy in New York City. Read more about his new role.
Craig Kennedy chaired the Institute of Education Sciences (IES) Special Education peer review virtual panel in February.
Thomas Levine, Dorothy Anagnostopolous, and former Neag School faculty members Glenn Mitoma and Rene Roselle co-published "Exploring the Nature, Facilitators, and Challenges of Program Coherence in a Case of Teacher Education Program Redesign Using Core Practices" for the December issue of the Journal of Teacher Education. In addition, Levine accepted an invitation to serve on the editorial board for Educational Research Review, an Elsevier publication that draws a lot of European and global authors.

Allison Lombardi co-authored "From the Editors" in the January issue of Career Development for Exceptional Individuals. Lombardi also co-wrote with Graham Rifenbark, H. Jane Rogers, Hariharan Swaminathan, and Neag School doctoral students Ashley Taconet and Shannon Langdon, along with others, "Establishing Construct Validity of a Measure of Adolescent Perceptions of College and Career Readiness" in the same issue.
Joseph Madaus co-authored with Nicholas Gelbar, Sally Reis, Neag School alumna Emily Tarconish '21 Ph.D., and others "Improving the Transition to College for Twice-Exceptional Students with ASD: Perspectives From College Service Providers" for the January issue of Career Development and Transition for Exceptional Individuals.

Alan Marcus published an article "Combating antisemitism today: Holocaust education in the era of Twitter and TikTok" for The Conversation.
Betsy McCoach was interviewed for a recent episode of Science Goes to the Movies (a CUNY TV show). The episode "Gifted Children and Other Superheroes" features Dr. McCoach who joins the discussion about "Raising Dion" and gifted children.
Tracy Sinclair was elected vice president of the Council for Exceptional Children's Division on Career Development and Transition (DCDT).
Stephen Slota gave a keynote address at the Playing with Perspectives Symposium hosted by Texas Christian University in December. The presentation, titled Play Nice: Empathy at the Heart of Design, described subjectivity and identity; individuals' positioning within and between complex systems; the relationship between empathy and perspective-taking; authorial intent; three levels of narrative; storytelling in contemporary transmedia properties; collaborative worldbuilding; and best practices for high-quality storytelling in education, training, and game design.

Students

Hannah Cooke, a doctoral student in curriculum and instruction, has been accepted to the 2023 Community for Advancing Discovery Research in Education (CADRE) Fellows program.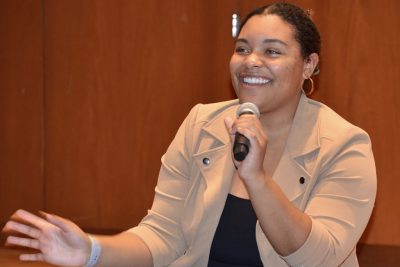 Brianna Chance, a music education major, received funding from the BOLD Women's Leadership Network for her project documenting student homelessness and housing insecurity in Connecticut. Read more about her documentary.
Arpita Kurdekar, a Ph.D. candidate in the new integrated doctoral studies program with the School of Fine Arts, the Neag School of Education, and the School of Engineering at UConn, is featured by UConn Today.
Sandra Silva-Enos, a doctoral student in curriculum and instruction, co-authored with Elizabeth Howard and others "Tensions Between Equity and Elitism for Local Scholarship Students in an International School" for the December issue of Globalisation, Societies, and Education.
Ashley Taconet, a doctoral student in educational psychology, was one of five recipients of the Council for Exceptional Children's Division on Career Development and Transition graduate student scholarship in 2022.
Megan Go, a master's student in the Higher Education Student Affairs (HESA) program, published an article, "Asian American Mental Health: Heritage and Roots," for the November issue of Diverse Issues in Higher Education.

Alumni
Daniel Crispino '15 6th Year, the 2020 Neag School Outstanding School Administrator and current curriculum administrator in Meriden, Connecticut, was featured on CBS News for his work with students and the classroom.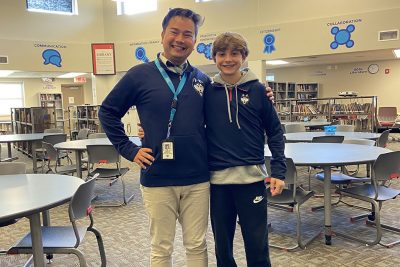 Chris Dailey '99 MA, associate head coach for UConn women's basketball, was presented with the Gold Key by the Connecticut Sports Media Alliance in December. The Gold Key is given to individuals who have made a significant contribution to the state's sporting landscape.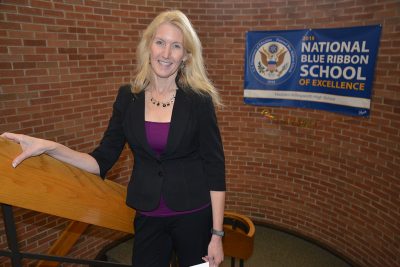 Donna Hayward '98 6th Year, '10 ELP, principal of Haddam-Killingworth High School, was named the 2023 National Principal of the Year by the National Association of Secondary Principals. Read more about her story.
Zato Kadambaya '99 MS (ENG), '03 MA, the current math methods instructor at Alternative Route to Certification, has been appointed supervisor of mathematics for grades 6-12 for New London (Connecticut) Public Schools. He also continues to work on opening an elementary school and outreach to the community in Togo, West Africa.
Symone James '16 (ED), '17 MA is the recipient of an "Excellence in Equity Award", sponsored by the American Consortium for Equity in Education.
Ajhanai (AJ) Channel Inez Keaton '21 Ph.D. co-authored "Racist State and the State of Race: An Analysis of Instagram Commentary Pertaining to LeBron James" for the December issue of Sociology of Sport Journal. Keaton is currently on faculty at the University of Louisville in Kentucky.
Tatianna Montalvo '18 (ED) won an Emmy (broadcast media manager category) for her work with ESPN.
Byung-Yeol Park '21 Ph.D. published "Service Learning: A New Approach in Science Education to Address Environmental Challenges" for the December issue of the Journal of Science Education. Park is currently a postdoc with Neag School's Department of Curriculum and Instruction.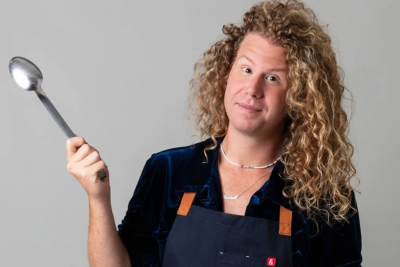 Garrett P. Schlichte '15 MA is currently a contestant on America's Test Kitchen: Next Generation. Schlichte, who lives in San Francisco, is a freelance writer and talented home chef whose culinary style is "FUN."
Emily Tarconish '21 Ph.D., Allison Lombardi, and Neag School doctoral student Ashley Taconet co-authored "Disability Awareness & Inclusive Teaching Online Training Videos for College Instructors Featuring Students with Disabilities" for the Winter 2023 issue of Journal of Postsecondary Education and Disability.

Curt Vincente '84 (ED), an employee with UConn's Division of University Safety, was recently inducted into the Connecticut Recreation and Parks Association (CRPA) Hall of Fame. Vincente served CRPA as president in 1992 and served several terms on its executive board. Vincente retired as director of parks and recreation from the Town of Mansfield in 2020 after serving the community for over 30 years.

In Memoriam
Richard W. Albin '70
John F. Arnold '80
Edward R. Bader '63
John D. Bodnar '72
Cherol D. Brown '76
William E. Carpenter '66
John M. Civitillo '59
Catherine DeNunzio  '46
George B. Drumm  '81
Victoria J. Espeland  '96
Joyce A. Frangiamore '64
Shirley S. Gandza '78
Anne L. Gracyalny '71
Roslyn D. Haney '64
William P. Kelleher '55
Susan A. Reid Knopick '72
Abigail L. O'Brien (former staff member)
Catherine R. Osiecki '69
Gail G. Powers '62
Kathryn C. Prior '60
Robert J. Schreck '77
Kelly A. Shea-Gallagher '99
Steven J. Schnall '69
Kenneth M. Shaw '65
Virginia "Ginny" Smith (former staff member)
Edith F. Swatzburg '58
Anthony F. Tedesco '67
Robert L. Twiss '50
Thomas Vasil '74
Richard Warren '80
Cecilia S. Whelan '72 
Congratulations to our Neag School alumni, faculty, staff, and students on their continued accomplishments inside and outside the classroom. If you have an accolade to share, we want to hear from you! Please email us any news items or story ideas.