Throughout the academic year, the Neag School is proud to share the latest achievements of its faculty, staff, students, and alumni.
Explore their most recent promotions, awards, retirements, publications, and more:
Dean's Office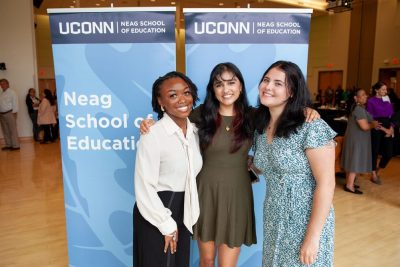 The Neag School held its annual Scholarship Celebration in October at the Student Union to commemorate students' academic achievements and the generosity of donors who have financially enabled those students to continue pursuing higher education. Students shared personal stories and expressed gratitude for their scholarships and the individuals playing an instrumental role in helping them achieve their academic and professional goals. Read more about the event in this story.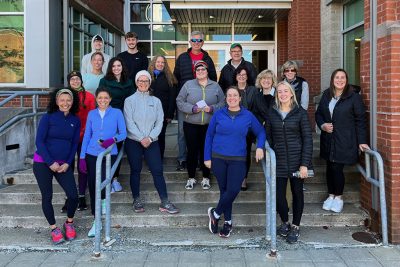 In honor of National Hispanic/Latinx Heritage Month, the Neag School co-sponsored several events for UConn's Puerto Rican/Latin American Cultural Center in September, including "Pedagogies of Community Cultural Wealth," "Illuminating the Path: A Community Cultural Wealth to Student Success at UConn," "PRLACC Open House," and "Whose Culture Has Capital: A Dialogue with Dr. Tara J. Yosso." The events were held in various venues at UConn Storrs.
In October, the Center for Education Policy Analysis, Research, and Evaluation (CEPARE) hosted a CEPARE Speaker Series at UConn Storrs featuring Olivia Chi from Boston University who spoke on "Who Becomes a Teacher When Entry Requirements Are Reduced? An Analysis of Emergency Licenses in Massachusetts."
The Neag School hosted the annual Robert Run/Walk, dedicated to the memory of Robert Colbert, an avid runner and associate professor and School Counseling program coordinator. The run was coordinated through the Community Building Committee and celebrated Dr. Colbert's commitment to equity and social justice.

Department of Curriculum and Instruction (EDCI) and Office of Teacher Education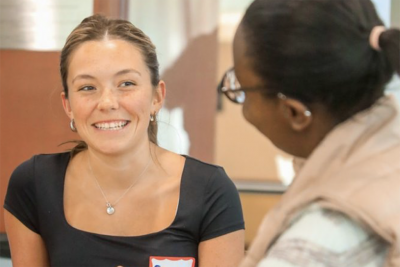 The Neag School created a mentoring program for those enrolled in its Integrated Bachelor's/Master's (IB/M) teacher education program. The mentoring initiative was piloted with transfer and campus-change students in the 2022-2023 academic year. Thanks to support from the Neag School's Dean's Office, it has expanded this year to include more students and help them achieve academic success. Read about the new initiative.
The Neag School's EDCI Department is a partner with UConn's Indoor Air Quality initiative. It was recently part of an EPA testing process for the Corsi-Rosenthal Box that showed the filters are 99% effective in removing airborne viruses. Learn more in this article.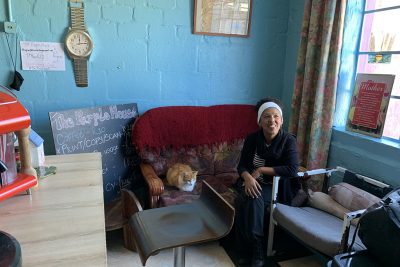 Neag School's Office of Teacher Education, led by Alyssa Dunn, started a micro-grant project to fund education programs throughout the Neag School. Eight grants were given out this year. Learn more about the program.
The Connecticut Noyce Math Teacher Leaders Program, led by Megan Staples, was featured in a video at the National Council of Teachers of Mathematics' Annual Meeting & Exposition in Washington, D.C., at the end of October.
Tracy Sinclair, Allison Lombardi, Graham Rifenbark, along with three doctoral students, Chris Esposito, Sheryle Jackson, and Shannon Langdon, presented at the Council for Exceptional Children's Division on Career Development and Transition International Conference, which took place in Reno, Nevada, in October.
EDCI invited Anthony Galgano and Emily Hajko of Truerobotics to share their robotics and STEM education expertise with secondary math education students and other Neag guests in a special session, "Hands-on Strategies for Teaching STEM and Math." Students learned about the value of STEM integration – for education and future occupations – and had the opportunity to build a robot. The event was held at UConn Storrs in September.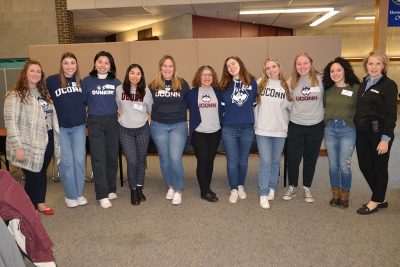 Langford Elementary School in East Hartford welcomed Neag School IB/M elementary education master's interns, who saw structured literacy and layered instruction in action (via classroom visits); plus, they engaged with hands-on learning about multisyllabic word instruction via the instructional coach. It was also UConn Day at Langford, so the school celebrated by wearing blue, white, and UConn gear. View photos from the visit.

Department of Educational Leadership (EDLR)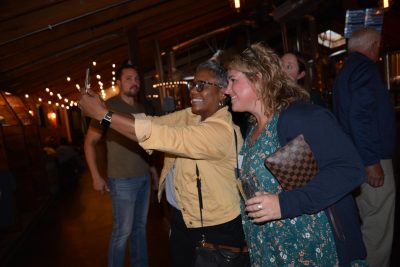 In September, the Neag School hosted an alumni reunion event for the University of Connecticut Administrator Preparation Program (UCAPP) and Executive Leadership Program (ELP) at Kinsmen Brewing Company in Milldale, Connecticut. The annual gathering, held for the first time since the pandemic, allowed alumni and colleagues to gather and reconnect. View photos from the event.
The EDLR department produced a new Higher Education Anti-Racist Teaching (HEART) Podcast episode, co-hosted and co-produced by Omar Romandia, a doctoral student in educational leadership. The segment featured guests who spoke on "The Means That Separate Within Higher Education."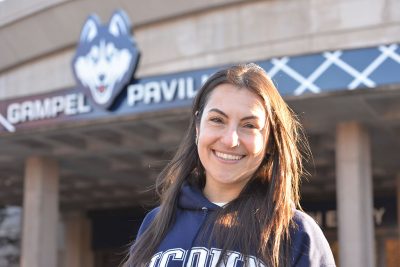 The Sport Management Program participated as a mentorship site in the annual Global Sport Mentorship Program (GSMP). Laura Burton and Danielle DeRosa acted as the hosting mentors for Nemesia Hijós from Argentina. Hijos spent time with sport management faculty to learn more about the context of sport in the U.S., nonprofit development and social entrepreneurship, and gender and leadership development in sport.
Department of Educational Psychology (EPSY)
The EPSY department in FY 2023 had the highest research productivity of any department at UConn. Although grant proposals and new awards can vary year by year, total research expenditures are the ultimate metric of sustained and ongoing research productivity. EPSY has also experienced steady growth in research expenditures over the past five years and has accounted for much of the total Neag research expenditures over that time ($7,394,359 in 2019 to $12,135,828 in FY 2023). Finally, the Q1 OVPR report for FY 2024 indicates that EPSY submitted grant proposals for significantly more funds this fall than last fall, so EPSY research activities are continuing their positive trajectory.
The EPSY Department has new grants, including:
National Center on Positive Behavioral Interventions and Supports (PBIS)
• $21 million over five years ($3.3 million sub-award to Neag)
• Brandi Simonsen, Co-PI, Jen Freeman, Co-PI
• Supporting over 27,000 schools implementing PBIS in all U.S. states.
Project Focus (Javits, U.S. DOE)
• $3.4 million
• Catherine Little Co-PI, Kylie Anglin Co-PI
• Supporting teachers in providing instruction that challenges all learners, including advanced learners, with a primary emphasis on questioning and discussion practices in the classroom.
State Personnel Development Grant (SPDG)
• $5.9 million over five years to the Connecticut State Department of Education
• Neag is a partner ($500,000 subaward)
• Joe Madaus Co-PI, Susannah Everett Co-PI
• Expand statewide efforts to strengthen individualized education program (IEP) development and implementation.
The Center on Positive Behavior Interventions and Supports was collectively awarded more than $21 million to lead the National Technical Assistance (TA) Center on PBIS in collaboration with the University of Oregon (Prime Institution) and the University of South Florida (USF). (The total amount is awarded to UO, UConn, and USF; each has ~$3.3 million subs from UO to co-direct the Center, and seven other partner intuitions also have subs to support national TA and dissemination efforts). Brandi Simonsen co-directs the Center, which has been continuously funded by the Office of Special Education Programs since 1998 and by the Office of Elementary and Secondary Education since 2014. Read more about the new funding.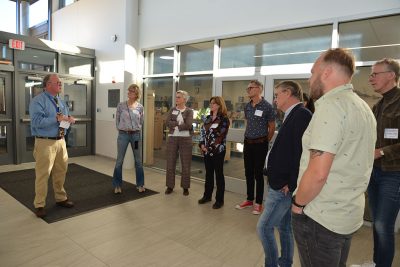 In October, the EPSY department hosted a group of educators from the Netherlands who visited UConn and Mansfield Public Schools to expand their learning about Positive Behavior Interventions and Supports (PBIS). PBIS is an evidence-based framework supporting students' behavioral, academic, social, emotional, and mental health. The Dutch educators, Neag School educators, and students toured the Mansfield schools and learned how PBIS is incorporated. The Dutch educators also attended a national PBIS conference to learn how other educators have incorporated the framework. Read more about the partnership.
The Neag School created a new Licensed Professional Counselor (LPC) Certificate program, approved by the University's Board of Trustees earlier this year and directed by Sara Renzulli. The 18-credit program is entirely online, with all classes and clinical experiences occurring in the summer. It allows graduates to apply to the Connecticut Department of Public Health for their Licensed Professional Counselor-Associate (LPC-A) certification. Learn more about the new program.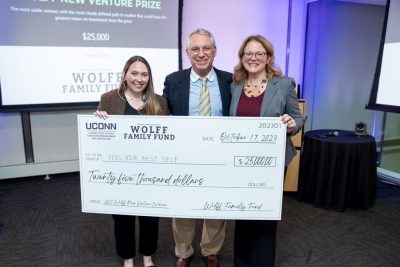 The entrepreneurs who created the Feel Your Best Self Collaborative Project, led by co-founder Sandra Chafouleas, won the highly coveted Wolff New Venture Competition and a $25,000 prize in October. Read more about the competition.
Lyman Dukes '01 Ph.D.; Emily Tarconich '21 Ph.D.; Ashley Taconet '23 Ph.D.; Nicholas Gelbar '06 (CLAS), '07 MA, '11 MA, '12 6th Year, '13 Ph.D.; Joe Madaus; and former Neag School faculty member Mike Fagella-Luby co-published "COVID-19: An Examination of the Perceptions on Instruction for College Students with Disabilities During Remote Learning" for the 2023 issue of Journal of Learning Disabilities.

Faculty/Staff
Michele Back presented "Performing Knowledge and Identity in Native/Heritage Peer Tutoring Interactions" for Temple University's Department of Spanish and Portuguese Hispanic Heritage Month Event Series in October. She also presented with Neag School alumna Kyra Kabulis '19 (CLAS), '23 MA, a session on "What We Do Matters: Rediscovering the Joy of World Languages" for the CT COLT Fall Conference in New Haven in October.
Melissa Bray, Jacqueline Caemmerer, Jennifer Ortiz '07 (CLAS), '09 MA, '12 6th Year, '15 Ph.D., and another colleague co-presented multiple presentations at the Connecticut Department of Corrections-United School District #1 in Wethersfield, Connecticut in October.
Scott Brown published "Trust BUT VERIFY: Maintaining Research Integrity in the 21st Century" for the October issue of The European Educational Researcher.
Sandra Chafouleas presented "Simple and Joyful: Keys to Expanding Intergenerational Wellness" as part of the Inspirational Academic Presentations during President Maric's Inauguration in September at the Student Union Theatre.
Chen Chen was a guest participant on "Imperialism and Sport: Featuring Chen Chen" for the Sport, Social Justice and Development Podcast.
Morgaen Donaldson co-authored with former Neag School faculty member Shaun Dougherty and others "Motivating Leadership Change and Improvement: How Principal Evaluation Addresses Intrinsic and Extrinsic Sources of Motivation" for the September issue of "Educational Administration Quarterly." Donaldson co-presented with Alex Lamb '22 Ph.D. on the CCERC Project for the Connecticut State Department of Education Performance Matters Forum in Hartford, Connecticut, in October. She also presented "Following the Money: Investigating Variations in the Design and Implementation of School District ARP-ESSER Plans" at George Mason University in Washington, D.C., in October. The paper was co-authored by Lamb and fellow Neag School alum Sam Kamin '22 Ph.D.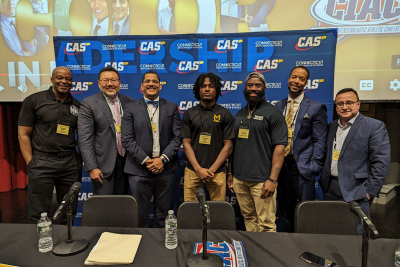 Richard Gonzales participated in the 2023 Men of Color in Leadership Conference in Berlin, Connecticut, in October. Gonzales was also a featured interviewee on a podcast, In the Lead with UCEA.
Preston Green published "Charter Schools Aren't Public Schools. Here's Why We Need to Change That" for "Public Voices for Public Schools." Green co-published "All Aboard!: Making Charter School Boards All-Purpose State Actors Under the Supreme Court's Amtrack Case" for the October issue of "Drake Law Review" and co-published "State Leaders Could Decide the Legal Fate of Religious Charters" for the Brookings Institute. He was also a panelist for "Religious Charter Schools: How Did We Get Here, and What Does it Mean" for the Network for Public Education Conference in Washington, D.C., in October.
Elizabeth "Liz" Howard co-authored the DLeNM monograph "Navigating Tensions Between Translanguaging and Separation of Languages in Dual Language Programs" for the Dual Language Education of New Mexico. She also presented on the same topic at the Dual Language Education of New Mexico conference in Albuquerque, New Mexico, in November.
Risa Isard co-authored with Neag School alumnus Charles D.T. Macaulay '17 MS, '21 Ph.D. and another colleague "Women's Sport and Everyday Resistance" for the July issue of Frontiers in Sports and Active Learning.
James Kaufman penned an essay, "Are You an Artistic Genius?" for Aeon Magazine. He also co-authored a book "Lessons in Creativity from Musical Theatre" (Routledge, 2023).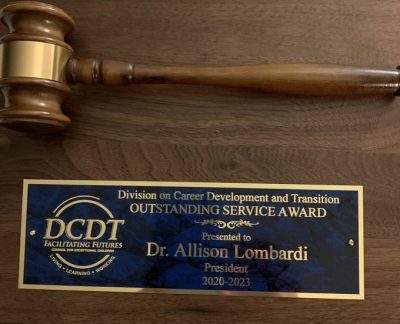 Allison Lombardi was recognized by the Council for Exceptional Children's Division on Career Development and Transition with the Outstanding Service Award for her six-plus years of service as a board member and president.
Kenny Nienhusser co-authored "UndocuCare: Strategies for Mental Health Services That Affirm Undocumented College Students' Psychological Needs" for the August issue of New Directions for Higher Education.
Joseph Madaus presented on "Changing Postsecondary Requirements" at the 45th Annual International Academy for Research in Learning Disabilities International Conference in Gainesville, Florida, in October.
Adam McCready was chair for the "Examinations into the Experiences of Students Facing Distinct Higher Education Pathways" paper session for the 2023 ASHE Annual Conference in Minneapolis, Minnesota, in November.
Sally Reis, Joseph Madaus, and other colleagues, co-published "Editorial: Serving Vulnerable and Marginalized Populations in Social and Education Contexts: Challenges and Opportunities" for the October issue of Frontiers in Psychology.
Joseph Renzulli published "Marcia Gentry as Influencer: Leader, Scholar, Colleague, Friend" for the October issue of Roeper Review.
Jennie Weiner was a co-presenter on "Education Lead(Her)ship" at Harvard University in Boston, Massachusetts, in November.

Students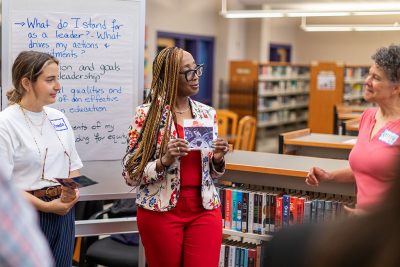 Nunchette Black-Burke, a UCAPP student, won the election for mayor of Windsor, Connecticut. She is the chief outreach officer for family engagement and community partnership at Hartford Public Schools in Hartford, Connecticut.
Luis Orione, a doctoral student in educational psychology, published "Teaching Gifted Children How to Control Stress Using Techniques From High-Performing Athletes" for the September issue of Parenting for High Potential.
Omar Romanda, a doctoral student in educational Leadership, was a keynote speaker at the UConn Global Cultures Conference held at UConn Storrs in November.
Devora Trestman, a music education student, won the UConn Music Department's undergraduate concerto competition in September.

Alumni
Michael Alfano '98 Ph.D. was promoted to vice president for strategic initiatives at Sacred Heart University. He previously was vice president for strategic partnerships and dean of the Farrington College of Education and Human Development.
Claudia Bachmann-Bouchard '19 MA was one of 12 educators from across the U.S. selected to attend the weeklong MacArthur Foundation Institute on Climate Change and Equity in August at Acadia National Park on the coast of Maine. Bachmann- Bouchard is a science teacher at Norwich Free Academy in Norwich, Connecticut.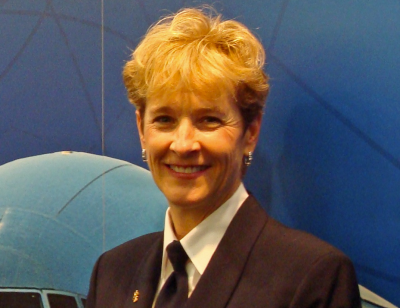 Amy "Carson" Bond '80 ED was featured in UConn Today for starting a scholarship to support UConn ROTC students. Bond retired as a pilot with American Airlines after a 34-year career.
Cob Carlson '76 (ED) was featured in UConn Magazine about his career as a documentary filmmaker. For more than 30 years, Carlson has edited — and sometimes produced and directed — feature films and documentaries on topics ranging from post-traumatic stress disorder to war orphans to Robert F. Kennedy.
Robert Cotto Jr. '16 Ph.D. was appointed to the advisory board of the Connecticut General Assembly (CGA) Commission on Racial Equity in Public Health. He directs DEI Campus and Community Engagement with Trinity College in Hartford, Connecticut.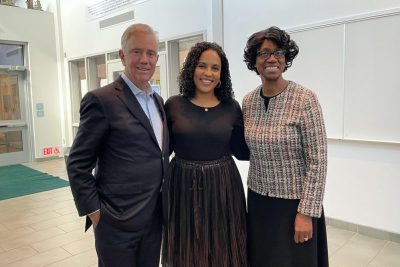 Governor Ned Lamont and Connecticut Education Commissioner Charlene M. Russell-Tucker announced that Kiana Foster-Mauro '20 (ED), '21 MA, a fourth-grade teacher at Nathan Hale Arts Magnet School in New London, has been selected as Connecticut's 2024 Teacher of the Year. The recognition is the state's highest honor, celebrating extraordinary teachers. Read more about Foster-Mauro.
Michael Gentile '19 Ph.D.; Elizabeth Zagata, a doctoral student in educational psychology; and Tracy Sinclair co-published a chapter "Challenges in Paraeducation Supervision" in the book "Cases on Leadership Dilemmas in Special Education" (IGA Global 2023).
Monique Golden '15 MA, '21 Ph.D. has arranged to leave a generous gift in her estate plan to support UConn's ScHOLA²RS House students who want to study abroad. Read more about her story.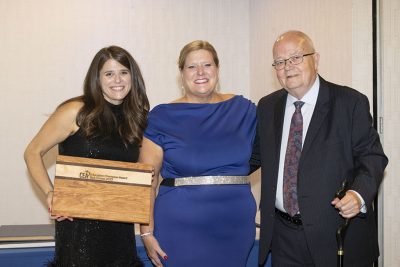 Katie Grant, a fourth-grade English teacher at Manchester High School, was recognized by the Connecticut Education Association (CEA) with the Early-Career Educator Award. She was recognized at CEA's 175th fundraising gala in Bristol, Connecticut, in September.
Tamashi Hettiarachchi was chosen by the Knowles Teacher Initiative as a member of its 2023 Cohort of Teaching Fellows. This year, 37 promising high school mathematics and science teachers who are just beginning their careers were awarded Knowles Teaching Fellowships. She began her second year of teaching at Hall High School in West Hartford, Connecticut, during the 2023-2024 academic year.
Ajhanai (AJ) Keaton '21 Ph.D. co-authored "Through the Decades: Critical Race Theory and Pathways Forward in Sport Sociology Research" for the October issue of Sociology of Sport Journal. Keaton is an assistant professor at the University of Louisville.
Bonnie Kegler '88 (CAHNR), '90 MA was featured by CAHNR's Extension News. Kegler most recently joined UConn Extension and the 4-H program in Windham County as an assistant extension educator this summer after a teaching career at Killingly High School.
Melody Li '14 MA was hired as the senior vice president of global business development for Dentsu Sports International in Tokyo. Before that, she was the vice president of sales and marketing for SPORTFIVE and held other leadership positions in Beijing and Shanghai. Last year, she was recognized as a "Leaders Under 40 Class of 2022" by the Leaders Sports Awards.
Michael Mallery Jr. '16 Ph.D. penned a commentary, "What Data-Driven SEL Has Done for My District," for Education Week. Mallery is the district coordinator for social-emotional learning at the Windsor Public Schools in Windsor, Connecticut.
Charles D.T. Macaulay '17 MS, '21 Ph.D. and former Neag School faculty member Sarah Woulfin co-published "Institutional Plurality and a Fractured Organizational Self" for the September issue of Sport, Business, and Management.
Stephen Nelson '96 Ph.D. published "Searching the Soul of the College and University in America" (Rowman & Littlefield 2023). This is his eighth book.
Byung-Yoel Park '18 Ph.D., along with Rebecca Campbell-Montalvo, Todd Campbell, doctoral student Hannah Cooke, and others, co-authored "Applied Environmental Teaching using Caring Pedagogy is Essential in Educational Disruptions" for the September issue of Research Issues in Contemporary Education.
Sandra Silva-Enos '10 (CLAS), '23 Ph.D. won second place in the National Association for Bilingual Education 2024 Outstanding Dissertation competition. She will be honored at the annual conference in March.
Lea Theodore '00 MA, '01 6th Year, '02 Ph.D.; Melissa Bray; and another colleague co-authored a book "Desk Reference in School Psychology" (Oxford University Press 2023).
Timothy Watt '14 MA won the statewide 2023 Lights on Afterschool Teacher of the Year Award. Watt is a third-grade teacher at Mayberry Elementary School in East Hartford, Connecticut, who joined the Thrive Afterschool program this school year, immediately impacting the program and his students.

In Memoriam
Patricia C. Allietta '78
Phyllis B. Braunstein '69
Stanley P. Brittingham Jr. '76
Theresa W. Conheady '58
Duncan R. Craig '62
Silvio Digregorio '77
Florence G. Foss '64
Roland A. Gonthier '83
Paul W. Heimann '72
Audrey B. Leighton '56
Joseph R. Marquis '63
Michael N. Maheu '80
Frances A. Molinari '67
Mark J. Myers '09
Jane E. O'Brien '75
Richard J. Paskiewicz '75
Mary E. Rafuse '82
Corrie K. Sadler '78
Carl Selavka '53
James M. Shifrin '92
Robert S. Stowe Jr. '71
James G. Zuccardi '57
Congratulations to our Neag School alumni, faculty, staff, and students on their continued accomplishments inside and outside the classroom. If you have an accolade to share, we want to hear from you! Please email neag-communications@uconn.edu any news items or story ideas.