In its 2014 report, the State of Connecticut Achievement Gap Task Force concluded that the most accurate predictor of student academic achievement is the degree to which families encourage learning; communicate high, achievable expectations to children; and become involved in their children's education. School districts have come to recognize that our schools cannot ensure students' success on their own and require the active engagement of families and the entire community.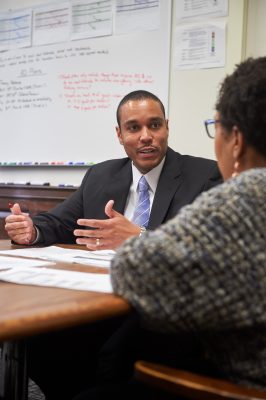 School leaders are being tasked with forming more meaningful collaborations with parents and other community partners to ensure that all students have the opportunity to reach their full potential. Unfortunately, this new approach to educating our children is not something that has been readily embedded in the leadership training that aspiring school administrators currently receive in most university certification programs.
To respond to the growing demand for this type of work, UConn's Neag School of Education has been awarded a $20,700, four-month planning grant from the Hartford Foundation for Public Giving to support a collaborative, research-based process to augment their UConn Administrator Preparation Program (UCAPP) for aspiring school principals and intermediated managers.
"UCAPP has a national reputation for quality and innovation. This is another example of our effort to prepare school leaders who are committed to realizing excellence and equity in all Connecticut school communities."
— Richard Gonzales, Director of Neag School Educational Leadership Preparation Programs
"The planning grant from the Hartford Foundation for Public Giving will allow us to engage Hartford-area educators to inform the design of a parent and community engagement curriculum for aspiring leaders in all three of our principal preparation models — Traditional, PLUS, and Residency," says Richard Gonzales, director of educational leadership preparation programs at the Neag School. "UCAPP has a national reputation for quality and innovation. This is another example of our effort to prepare school leaders who are committed to realizing excellence and equity in all Connecticut school communities."
The results of this process will be used to enhance the essential knowledge, skills, and dispositions of faculty and students within the program in the area of family, school, and community partnership and culturally responsive leadership. In the 2014 Connecticut  Achievement Gap report, two policy recommendations emerged that would be directly supported by this proposed work: 1) Assure that the current UConn Administrator Preparation Program includes content aimed at developing leadership capacity with families as partners, and 2) Provide opportunities for teacher and administrator preparation students to gain competency in family engagement.
"While much of the investigation and training of family, school, and community partnership linked to student success has focused on teachers and families, recent efforts have applied such a framework to school leadership," says Susan Bruckner,  senior education investments officer at the Hartford Foundation. "The Department of Educational Leadership at Neag understands that effective leadership at both the school and district levels plays a vital role in creating and sustaining authentic engagement in the service of student success. The Foundation is please to support this initiative to enhance the UConn Administrator Preparation Program curriculum and build the knowledge and skills of its faculty to better meet the needs of aspiring and practicing school and district leaders serving the region's highest need communities."
Hartford Foundation funds would be used to a) Conduct a curriculum audit to identify gaps, b) Cover the cost of acquiring and reviewing curriculum materials and programs from reputable organizations, c) Hold collaborative meetings with key stakeholders, and d) Engage technical consultants from local and national organizations.
About the Neag School of Education
The Neag School of Education stands out as a major contributor to instructional and research excellence at the University of Connecticut, one of the nation's leading public higher education institutions. With academic departments dedicated to educational leadership, educational psychology, and curriculum and instruction, the Neag School also offers a five-year integrated bachelor's/master's program in teacher education and a one-year, post-baccalaureate teacher education program. According to the 2017 U.S. News & World Report rankings, the Neag School ranks among the top 20 public graduate schools of education in the nation and has four specialty programs ranked in the top 20 nationally: Special Education, Educational Psychology, Secondary Teacher Education, and Educational Administration and Supervision. Visit education.uconn.edu for more information.
About the Hartford Foundation for Public GIving
The Hartford Foundation for Public Giving is the community foundation for Hartford and 28 surrounding communities. In 2015, the Foundation celebrated ninety years of grantmaking in the Greater Hartford region, made possible by the gifts of generous individuals, families and organizations. It has awarded grants of more than $630 million since its founding in 1925. For more information about the Hartford Foundation for Public Giving, visit hfpg.org or call 860-548-1888.