Despite having spent four years focusing his studies in the electrical program at a technical high school — where he had graduated as salutatorian — Orlando Valentin '15 (ED), '16 MA knew within the first few weeks of his freshman year at UConn that the field of electrical engineering was not quite the right fit for him.
Seeking out his academic advisor, Valentin found himself talking with her about his roots in Meriden, Conn., where he grew up as part of a family heavily involved in martial arts. Valentin himself started learning karate at age 3; by the time he headed to UConn, he had been serving as a martial arts instructor for nearly three years.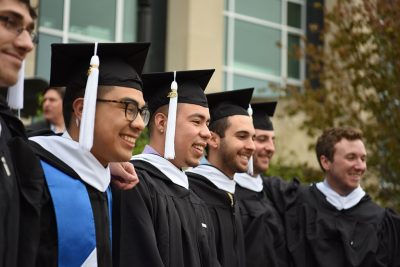 His advisor suggested he consider pursuing a business career and managing a karate studio. That's when Valentin had his realization. "Actually," he recalls saying, "I just love teaching. I want to be a teacher."
With awards ranging from the Alma Exley Scholarship to the state Minority Teacher Incentive Grant, Valentin completed the Neag School's integrated bachelor's/master's (IB/M) teacher preparation program this spring. The first in his immediate family to have earned a university degree, his goal is to land his first job this fall as a science teacher — ideally, in his hometown of Meriden.
"If I'm going to make a difference in a community," he says, "I want it to be right back home."
But don't let Valentin's plans to return home to teach fool you. During his time in the Neag School, he has sought out firsthand experience not only in school districts across Connecticut — but also in classrooms abroad.
A Whole New Level of Diversity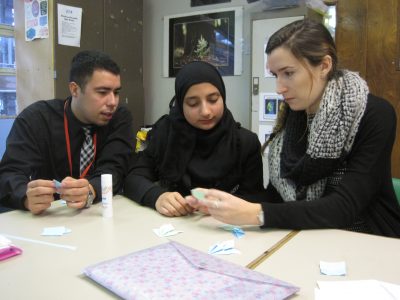 Valentin spent his junior year interning at Batchelder Elementary School in Hartford, Conn., followed by student teaching duties in a third-grade classroom through his senior year at North Windham Elementary School. Both placements were in urban districts — communities that, in Connecticut, would be considered diverse.
This past fall, however, Valentin encountered a whole new meaning to classroom diversity as one of 16 education students immersed in the Neag School's London Study Abroad Teaching Internship Program. There, he interned at Hampstead School — a secondary school in London with 1,300 students and more than 200 staff — where he spent the semester based out of the special education department, working with students enrolled in what would be the U.S. equivalents of sixth through 12th grades. For Valentin, the age of the students, the school's size, even London itself — none of these differences, when compared with his previous experiences in the States, were as striking to him as the tremendous level of diversity.
Hampstead School serves pupils who have emigrated from more than 50 different countries, with more than 78 languages spoken among its student body. As an intern in U.S. schools, Valentin was able to make use of his conversational Spanish skills to help students who did not speak English. But at Hampstead, his students often included refugees, speaking Romanian, Somali, or Armenian.
"In Connecticut, when we say the term 'diverse,' you think of more Hispanic and black students," says Valentin, whose grandparents immigrated to the U.S. from Puerto Rico. What he discovered at Hampstead, he says, "almost pales what we call 'diversity' in the States."
Lessons Learned — Inside and Outside the Classroom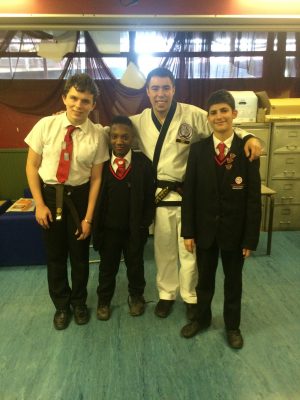 Being immersed in another culture and educational system while working with students who were decidedly older than the elementary schoolchildren he had student-taught as part of the Neag School bachelor's degree program also exposed Valentin to other significant differences.
For one, he says, students in the British educational system appeared more comfortable with classroom discussion around controversial topics, from religion to reproduction, both required in the UK curriculum. Instructors at Hampstead also seemed to Valentin more forthcoming with students about poor academic performance than their American counterparts.
"Teachers are able to say, 'You did very poorly, so you need to focus more.' The low students are pushed to achieve higher, and the higher-performing students are pushed, too. It doesn't end at 'A,'" Valentin says.
Outside of his time at Hampstead, too, Valentin observed how international education qualifications differ from country to country, through an internship he held at the downtown London offices of education publishing giant Pearson. There, as a member of its International Qualifications Division — working alongside Neag School alum and Pearson progression recognition manager Rebecca (Brown) Spanos '05 (ED), '06 MA — Valentin designed an international study guide for students who aspire to study at a university in the U.S.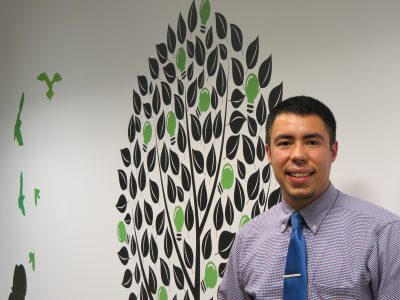 Engineering Education
Even as Valentin looks to bring all he has learned in London to his work as a schoolteacher stateside, he is already planning long-term, with an eye on pursuing his sixth-year certificate and, ultimately, enjoying a career in school administration as a vice principal or principal.
It is a trajectory certainly fitting for someone not only with experience teaching here and abroad, but who has also held a variety of leadership positions throughout his five years at UConn. "I've always enjoyed being a leader; I like being under pressure and making difficult decisions," Valentin says. "I'd like to be someone who supports others."
For the former aspiring electrical engineer, everything is falling into place. "I think I now consider myself a social engineer," he says. "There is a lot I want to change with education, to try and break some of these vicious cycles that I see. Whatever I can do to have the biggest impact, that's what I'd like to do."
Editor's Note: Orlando Valentin is well on his way to achieving his ambitions, having accepted a position as a fourth-grade teacher at Casimer Pulaski Elementary School in his hometown of Meriden, Conn., beginning this fall.
Learn more about the Neag School's London Study Abroad Teaching Internship Program here or contact Associate Professor David Moss, Director of Global Education for the Neag School, at david.moss@uconn.edu.
Check out the stories of other Neag School London Study Abroad Teaching Internship alumni: