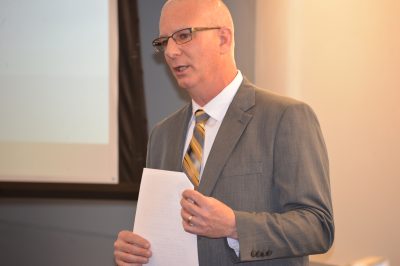 Neag School students completing the UConn Administrator Preparation Program (UCAPP) this spring presented their change projects — the program's signature capstone assignment, in which students identify a need or opportunity for school improvement and work toward positive change — during the 2nd Annual Change Project Day. Thirty-nine students from the program's three preparation models – Traditional, Preparing Leaders for Urban Schools (PLUS), and Residency – shared their projects and fielded questions from alumni and fellow cohort members during their presentations, held on the Storrs campus in April.
In its second year, the program's Change Project Day provides the opportunity "to celebrate our students' UCAPP leadership journey," says Richard Gonzales, assistant-in-residence and director of Educational Leadership Preparation Programs in the Neag School. "We also aim to build a community of practice culture among our current and former students."
Check out out Facebook photos from the 2016 UCAPP Change Project Day.
New to this year's event were presentations by the Traditional model students, along with participation by UCAPP alumni, including 18 graduates who facilitated the presentation sessions. Students also had the opportunity to invite their mentor principals and several guests.
The change projects serve as a "capstone assignment that provides an authentic opportunity for our students to apply what they have learned, and to lead improvement around an area of need in their internship or home school," according to Gonzales.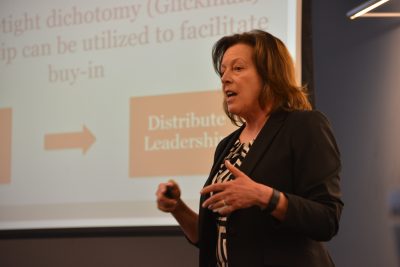 Students' projects were diverse – from building a social studies toolbox to supporting teachers with curriculum fatigue.
More than 50 guests attended to support the presenters, including superintendents, mentor principals, and UCAPP instructors.
"We would like to thank [our partners] for their partnership and support in preparing highly and capable school leaders who are committed to realizing equity and excellence for all students and school communities," says Gonzales. "We also wish to express our most sincere appreciation for the school and district leaders, who generously shared their time and expertise as mentors to our UCAPP leaders."
The Connecticut Association of Schools, Hartford Public Schools, and LEAD Connecticut are partners with the UCAPP program. A new partner, UConn School of Law, will provide for the opportunity for students to combine the UCAPP program in educational leadership with UConn School of Law's JD program. The new program is slated to launch in Fall 2016.
Learn more about UCAPP here.