In this new series, the Neag School will be catching up with students, alumni, faculty, and others throughout the year to give you a glimpse into their Neag School experience and their current career, research, or community activities.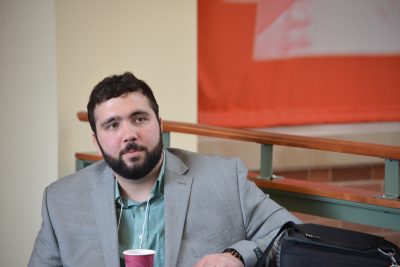 Incoming Ph.D. student Dakota Cintron will join the Neag School this fall as part of the second cohort of Dean's Doctoral Scholars. The program provides full tuition for four years plus a stipend to promising Ph.D. candidates. Dean's Doctoral Scholars have the opportunity to conduct interdisciplinary research with leading experts in the field of education while earning a doctoral degree from UConn in curriculum and instruction, educational leadership, or educational psychology. For more information about the Dean's Doctoral Scholars program, visit s.uconn.edu/neagdds.
Hometown: I was raised in Wheeling, W.V. I am currently living in West New York, N.J.
Where were you working/studying previous to Neag School? I was a graduate student at Teachers College at Columbia. I obtained an MS in applied statistics and a Ed.M. in measurement and evaluation. At Teachers College, I worked with Dr. Young-Sun Lee as a research assistant working on projects related to item response theory and cognitive diagnosis models. I also worked with Dr. Robert Carter on projects related to structural equation modeling and multivariate analysis. Prior to my work with Dr. Young-Sun Lee and Dr. Robert Carter, I worked at New Visions for Public Schools, where I synthesized and disseminated research for developing programs and initiatives at New Visions.
What appealed to you about the Neag School and/or the Dean's Doctoral Scholar Program? Research conducted by Dr. Betsy McCoach is what motivated me to apply to UConn. The Dean's Doctoral Scholars Program appealed to me because it would help support my education both financially and intellectually.  
What are your research interests and what will be your specific Ph.D. area of study at the Neag School? I am interested in generalized and nonlinear latent variable models, cognitive diagnosis models, and item response theory. I will be in the Measurement, Evaluation, and Assessment program at the Neag School's [Department of Educational Psychology].
What do you hope to ultimately achieve in pursuing your doctoral research into these particular areas of focus at the Neag School? I hope to use the skills I learn to measure and support an individual's development across their lifetime.
What does it mean to you to be named a Dean's Doctoral Scholar? It means a great deal. Given the competitive nature of the program, it is an honor to be selected as a DDS. Also, it means that I will have an opportunity to learn about the culture and research being conducted at the Neag School in a manner that I would not have been able to otherwise.
Describe your proudest career moment. My proudest career moment was when I was accepted into the Ph.D. measurement, evaluation, and assessment program at UConn.
What are your hobbies? Besides learning about statistics, computer science, and basically everything in between, my hobbies include hiking, whitewater rafting, and listening to music.
When do you find yourself at your happiest? I am at my happiest when I am learning something new.
What is something that most people don't know about you? I lived in Germany for a year as a young child.