In this new series, the Neag School will be catching up with students, alumni, faculty, and others throughout the year to give you a glimpse into their Neag School experience and their current career, research, or community activities. 
Incoming Ph.D. student Xin Xu will join the Neag School this fall as part of the second cohort of Dean's Doctoral Scholars. The program provides full tuition for four years plus a stipend to promising Ph.D. candidates. Dean's Doctoral Scholars have the opportunity to conduct interdisciplinary research with leading experts in the field of education while earning a doctoral degree from UConn in curriculum and instruction, educational leadership, or educational psychology. For more information about the Dean's Doctoral Scholars program, visit s.uconn.edu/neagdds.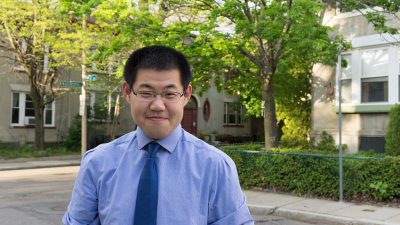 Hometown: Dandong, China
Where were you working previous to Neag School? I completed my undergraduate program of speech and language pathology in Shanghai, China. Then I obtained a master's degree of special education at Boston University. After that, I worked in a public school at Brookline, Mass. I worked in a resource classroom and provided support for students with autism, ADHD, and specific learning disabilities.
What appealed to you about the Neag School and/or the Dean's Doctoral Scholar Program? Firstly, the prestigious faculty's research about behavior intervention match my interests. Secondly, the learning environment is so fantastic that I could not say no to UConn.
What are your research interests? My research interest is Applied Behavior Analysis (ABA), and I will also learn more about providing behavioral intervention and support for students with special education needs, and examining the effectiveness of evidence-based strategies or intervention derived from ABA.
What do you hope to ultimately achieve in pursuing your doctoral research into these particular areas of focus at the Neag School? Achieving research methods and experience in the area of behavior support, and then applying them after I go back to my country. I wish to improve the social justice there and promote the quality of life of the population of people with special needs.
What does it mean to you to be named a Dean's Doctoral Scholar? It's a great honor for me. It means my previous work and potential have been recognized and accepted by these high-standard experts. It means I can have more opportunity to engage in research about special education.
Describe your proudest career moment. The moment I was accepted by a prestigious university in Shanghai (I was ranked in the first 5 percent in my town) and when I was granted with a national scholarship based on my hard work (ranked first in my department).
What are your hobbies? Swimming and building warship models
When do you find yourself at your happiest? I am at my happiest when I have a KALAOK [Karaoke] party with friends.
What is something that most people don't know about you? When you see me wearing headphones, mostly I am not listening to music. I am listening to audiobooks!