In this new series, the Neag School will be catching up with students, alumni, faculty, and others throughout the year to give you a glimpse into their Neag School experience and their current career, research, or community activities. 
Incoming Ph.D. student Robert Cotto Jr. will join the Neag School this fall as part of the second cohort of Dean's Doctoral Scholars. The program provides full tuition for four years plus a stipend to promising Ph.D. candidates. Dean's Doctoral Scholars have the opportunity to conduct interdisciplinary research with leading experts in the field of education while earning a doctoral degree from UConn in curriculum and instruction, educational leadership, or educational psychology. For more information about the Dean's Doctoral Scholars program, visit s.uconn.edu/neagdds.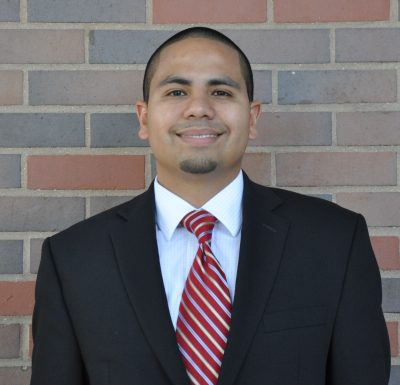 Hometown: I grew up in few different towns including Hartford, Manchester, and Wethersfield. Since coming back home to Connecticut from college, I have lived in Hartford.
Where were you working previous to Neag School? For the past two years, I have served as the director of Urban Educational Initiatives and a lecturer at Trinity College. In that position, I managed an early-college program, developed partnerships between faculty and outside groups, and taught in the Educational Studies program. Before coming to Trinity, I was a senior policy fellow at Connecticut Voices for Children and a high school teacher in an interdistrict magnet school in Bloomfield, Conn.
What appealed to you about the Neag School and/or the Dean's Doctoral Scholar Program? I appreciated the racial and ethnic diversity of the faculty, their interest in social justice, and the fact that the Neag School is part of a research university that values the preparation of teachers and administrators in public education.
What are your research interests and what will be your specific Ph.D. area of study at the Neag School? I will be in the Learning, Leadership, and Education Policy Ph.D. program. In the past, I have written on education policy, particularly school choice and accountability, as well as the history of educational reforms. I am also very interested in the concept of public scholarship, or in other words, the work of engaging with the public on research findings and questions in education.
What do you hope to ultimately achieve in pursuing your doctoral research into these particular areas of focus at the Neag School? I hope to develop my research skills and develop my writing in addition to earning a Ph.D. My advisor will be Preston Green III, who is in the area of equity and social justice. We both have similar questions about educational equity, particularly on school choice policies. So I hope to become a sharper researcher under his guidance and the faculty at the Neag School.
"My proudest moments are seeing the kids I taught, now adults, all grown up! I've seen them graduate, get their first jobs, have their own families. I'm proud to have been a very small part in that growth."
What does it mean to you to be named a Dean's Doctoral Scholar? It was truly an honor to be named Dean's Doctoral Scholar. It means my advisor and I can really focus on meaningful research in education and pressing questions. It means that I get to complete my education while being in my home state of Connecticut.
Describe your proudest career moment. When I first started teaching ninth grade, I thought to myself, "I'll teach at least four years to see my students graduate." Four years came, then five, six, and seven years. It all went very quickly. I only taught for seven years, but I taught hundreds of kids in a short period of time because I taught on a semester schedule and summer programs, too. A majority of the students I taught still live in the Hartford area. I see former students everywhere — at the mall, at work, at UConn, even once on a beach in Puerto Rico! My proudest moments are seeing the kids I taught, now adults, all grown up! I've seen them graduate, get their first jobs, have their own families. I'm proud to have been a very small part in that growth.
What are your hobbies? I enjoy playing soccer, amateur photography mostly for family events, and watching all sports — basketball, football, soccer — pretty much anything!
When do you find yourself at your happiest? When I'm on a beach, preferably in Puerto Rico or somewhere in the Caribbean.
What is something that most people don't know about you? I play the mobile game Clash of Clans. All the time. It's a terrible waste of time, but it's fun to be on the same team as a few people I know.
Find Robert Cotto on Twitter at @robertcottojr or read his blog at http://commons.trincoll.edu/cssp/category/blog/