Following an evening of networking among more than 130 educational leadership alumni, students, and colleagues, two notable Neag School alumni — school principal Alicia Bowman and superintendent Joseph Macary — took to the stage to share their program experiences and insights on leadership during Neag School's Second Annual Educational Leadership Alumni Forum, held Nov. 1 at UConn's von der Mehden Hall in Storrs.
Lessons Learned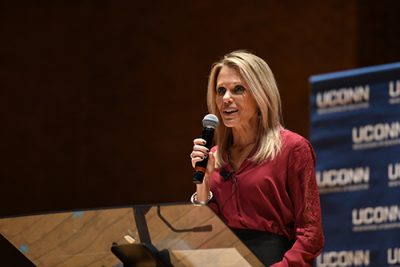 Featured speaker and three-time Neag School alum Alicia Bowman '01 (ED), '02 MA, '08 6th Year, who began her education career as a sixth-grade teacher at West Woods Upper Elementary School in Farmington, Conn., rose through the ranks to become team leader, then literacy specialist, then assistant principal, before beginning her current position as principal. She spoke about her lessons learned in these roles over the past 14 years.
"Leadership is making happen what you believe in, and I believe that learning and leading are inseparable," says Bowman, who was recognized in 2015 by both the Connecticut Association of Schools and the National Association of Elementary School Principals as the National Distinguished Principal of the Year. "As a school administrator, I have the opportunity to create a community where students, teachers, and administrators are teaching and learning simultaneously, under the same roof."
As a former sixth-grade teacher, Bowman compared school leadership to leading a classroom. "It involves the same challenges: thinking critically, seeing situations in new ways, being able to make mistakes, knowing yourself, and being passionate about the work that you do," says Bowman. "Leadership development is a personal journey aimed at becoming an authentic leader whom others will follow."
Bowman went on to speak about her realization that effective leaders do not have all the answers, but that they should have the ability to ask the right questions; consciously surround themselves with colleagues who believe in the work and have shared core beliefs; listen and engage with students; share emotions in order to build deeper relationships; and maintain work-life balance between work and family.
"Leadership is making happen what you believe in, and I believe that learning and leading are inseparable."  Alicia Bowman '01 (ED), '02 MA, '08 6th Year
Bowman says she used to think that recognition and celebration did not need to be a priority in high-performing organizations, and that having fun might make an organization's team appear as if they were not working hard enough, or were not serious enough. That outlook, she admits, has changed: "I think celebration, recognition, encouragement, and appreciation are vital to an organization. When the recognition is specific and deliberately delivered, it's even more motivating than money."
She also focused on the importance of cohort learning, which she experienced as part of the Neag School's UConn Administrator Preparation Program (UCAPP).
"Our cohort was a community of learners where each member brought a unique perspective and their own experiences to our collective leadership development," she says. "That cohort experience modeled for us the power of professional collaboration and shared accountability. In a culture of trust and support, we were able to have honest conversations about teaching, learning, and leading."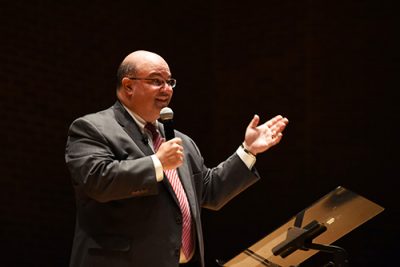 From Intern to District Leader
Another three-time UConn alum, Joseph Macary '94 (CLAS), '05 ELP, '16 Ed.D., superintendent for Vernon Public Schools in Vernon, Conn., served as the evening's next guest speaker. Macary talked about his managerial, leadership, instructional, and political experiences, calling his superintendency "the most challenging and rewarding position I've ever had."
Macary's vision for leadership centers on working together as a team to make learning with high expectations a priority for all children. "Education is truly the way people excel in today's society," he says.
A first-generation Lebanese-American, Macary's family came to the U.S. years ago for the educational opportunity. "My family left their country, left their families, so that we could get a better education in a prospering society," he says.
He says he learned early on about the importance of getting firsthand experience. While earning a degree in political science at UConn, he had an internship at the state Capitol, assigned to the appropriations committee. That experience would prove invaluable, as he often now works with elected members of school boards and other political entities.
Prior to accepting the leadership role for Vernon Public Schools, Macary spent 10 years with Wolcott Public Schools, in Wolcott, Conn., starting out as an intern while attending UConn's Executive Leadership Program (ELP). While holding a full-time teaching job, attending board meetings that often ran late into the night, and welcoming his second child, Macary completed 120 hours for the internship — and says he "loved every moment of it." He emphasized the power of internships, whether at the state Capitol or as part of ELP.
Macary moved up the ranks in Wolcott, achieving the level of superintendent, before moving over to Vernon. While in Wolcott, Macary also pursued the Neag School's Ed.D. program, with a research focus on secondary education and policies for helping secondary schools improve.
All along the way, Macary has focused on making a difference in children's lives and creating conditions for success. He says he believes in the "whole-child approach to learning: the academic, the social, and the emotional."
"The mental health of our children is our biggest problem right now," he adds. "For those of you in schools and classrooms, that is what we struggle with each day, and we need to reflect a whole-child approach."
He also believes in having a partnership with the communities and families. "You need the parent, you need the student, and you need the teacher working together."
And creating those conditions for success is the responsibility of school and district leaders, he says. "It's the leadership that puts the students in front of that classroom, fed, well-nourished, healthy, and ready to learn. It's the leadership that puts the teacher in front of that classroom, properly trained, with a good curriculum, and with a strong instructional core."
Macary noted that, for him, the key parts of leadership — the political, the managerial, and the instructional leadership — all came from UConn.
"We need to understand that we need strong leaders in education today, so that we can create the conditions for people to succeed, that they can create that instructional leadership, and that instructional core, to make things happen," he says. "We need school and district leaders to create the conditions for students to succeed in our schools and classrooms across the state and nation. I urge you to support leadership — through UConn — to make a difference in children's lives."
Following their presentations, Bowman and Macary responded to questions from the audience.
Are you interested in taking your education career to the next level? Find further information about Neag School's Executive Leadership Program (ELP) or UConn Administrative Preparation Program (UCAPP) today.
View photos from the event here.