In this new series, the Neag School is catching up with students, alumni, faculty, and others throughout the year to give you a glimpse into their Neag School experience and their current career, research, or community activities.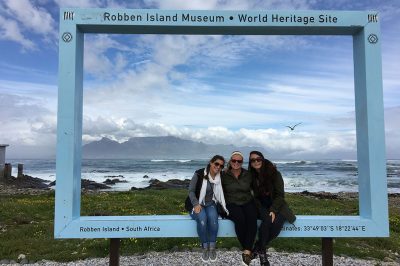 Three Neag School students — Alexandra "Ali" Jabick '16 (ED), '17 MA, Cheyann Kelly '16 (ED), '17 MA, and Yizhi Wang '16 (ED), '17 MA — each in their fifth year of the Integrated Bachelor's/ Master's program with a concentration in elementary education, are currently spending the semester in Cape Town, South Africa, where they are working at Christel House School, which is run entirely on donations and where all students are on full scholarship.
There, Jabick, a native of Fairfield, Conn., and Kelly, a native of Bethany, Conn., are working in a Grade 3 classroom, while Wang, from Woodbridge, Conn., is teaching in a Grade 4 classroom. Although registered for classes at the University of Cape Town, the university has been closed since September due to protests by students demanding free, quality education for all in South Africa; their classes are being held by their professors off-campus.
Here, Jabick, Kelly, and Wang together answer our latest installment of "10 Questions."
What led you to choose to pursue a degree in the field of education? We have all always loved working with kids. We think teaching is a great career. Teachers play such an important role in a child's life.
Why did you decide to participate in study abroad in South Africa? We have all always wanted to study abroad. Cape Town has such a rich and unique history and culture. It is a once-in-a-lifetime opportunity to be able to live and work in another country. We thought it would be a great experience to work with underprivileged children from diverse backgrounds. We were all very exited to come to Cape Town because we have heard such great things about it. Cape Town is such an appealing destination that we might not have had the opportunity to come, if it was not for this program.
Were you homesick, and how did you stay in touch with family and friends back in the U.S.?We definitely miss our friends and family at home, but it has been easy to stay in touch. When we have wifi, we use Facetime, WhatsApp, iMessage, and other social media. We are always so busy here and there is so much to do, so we haven't really been too homesick.
"Without hesitation, this has been an incredible and truly life-changing experience."
What have been some of your favorite moments during this semester? It is hard to pinpoint just one memory from the semester, as we have had so many memorable experiences. The highlight of our internship at school has been how loving and welcoming all of our students have been. Every morning, a crowd of hugs greets us. Our students are so eager to learn about us and share their own stories. We loved getting to experience heritage day, a national holiday, with our students. We learned all about their cultures as they dressed up in traditional outfits. There was a fashion show in the lower grades that we were able to judge. We have also loved all of the adventurous things we have done here. We have so many memorable experiences, from walking cheetahs and elephants to shark cage diving and climbing the mountains. We loved spending three nights in Kruger National Park where we were lucky enough to see the "Big 5" [leopard, elephant, rhinoceros, water buffalo, and lion] on our various safaris.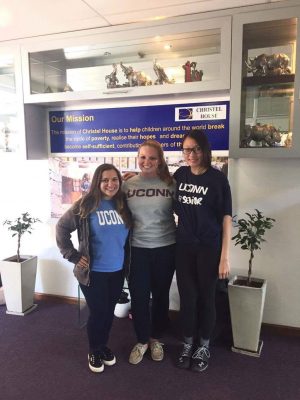 What challenges did you face, and how did you overcome them? One challenge we have faced is the language barrier. Even though all of our students speak English, it can still be difficult to understand them because of their accents. We also struggled learning all of our students' names. The huge class sizes have also been a challenge. We all have 33 students in our class with diverse needs. We have overcome these challenges by spending three days a week in the school and learning from our surroundings.
What have you enjoyed about studying in South Africa? We love that we have gotten to meet and talk to so many new people. We are lucky to live here for so long that we are able to immerse ourselves in everyday life. We have such a better understanding of the history and culture here than we did when we first arrived. We have tried new foods, such as ostrich, crocodile, and warthog. We have also loved the scenery here. Every car ride is a great view, and we have loved traveling to all of the scenic spots.
Would you recommend that others teach abroad? Yes! Without hesitation, this has been an incredible and truly life-changing experience.
How did the Neag School prepare you for this experience? The Neag School has exposed us to the importance of culturally responsive teaching. It has also shown us how important it is to get to know your students. We have brought what we have learned over the years at UConn with us as we teach lessons, work with small groups, and communicate with teachers.
How has teaching in South Africa changed your outlook on teaching? Our experience here has really stressed the importance of getting to know your students on a more personal level. It is important to learn where our students are from as we try to understand their behaviors. Students behave as they do for a reason, and we have really seen how poverty and family issues affect a student. We have also learned how important it is to have open communication with your students and celebrate their strengths and differences.
What do you believe makes a great educator? We believe a great educator is someone who genuinely cares about their students. A great teacher must be responsive to their students' needs. A teacher must also be adaptive and always looking for ways to improve.
Read more about current Neag School student Cheyann Kelly's experiences in Cape Town in her blog. Read other installments of the 10 Questions series here. Or, find out more about Global Experiences available through the Neag School here and here.