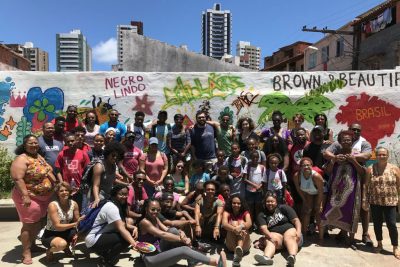 Students and faculty advisors from University of Connecticut's ScHOLA2RS House traveled to the Bahia region of Brazil this spring to learn about the low access rate to higher education among Afro-Brazilian adolescents.
ScHOLA²RS House, which stands for Scholastic House Of Leaders in support of African American Researchers & Scholars, is a Learning Community at UConn designed to support the scholastic efforts of male students who identify as African-American/Black through academic and social/emotional support, access to research opportunities, and professional development. Erik Hines, an educational psychology professor in the Neag School of Education, serves as faculty director of ScHOLA2RS House.
Students from UConn's Engineering House Learning Community joined ScHOLA2RS House students on the trip, along with students from The Ohio State University (OSU). Sixteen students from UConn and 18 students from OSU traveled to Salvador, Morrow De Sao Paulo, and Gamboa, engaging in a myriad of activities centered on understanding Afro-Brazilian culture and educational disparities in the Bahia region.
"I am grateful for having the opportunity to take students on a trip outside of the U.S. to understand the universal experiences of Black people."

— Erik Hines, faculty advisor, ScHOLA2RS House
"UConn and OSU students met with Afro-Brazilian students at DeVry University of Brazil to better understand the commonalities and differences in colleges in Brazil and the United States," says Hines. In addition, they met with students from the Steve Biko Institute, an organization that assists Afro-Brazilians with college preparation; conversed with professors and a local politician about how Afro-Brazilians are impacted by educational policies in Brazil; and performed a service learning project at Escola Alberta School. The service-learning component, Hines says, is designed to provide students with "hands-on experiences that engage their critical reflection skills and develop a sense of civic responsibility."
"What was really cool about the Brazil trip is that the ScHOLA2RS learned about a piece of their own history and culture from a different part of the world," says David Ouimette, executive director of UConn's First Year Programs and Learning Communities. "They also saw the challenges and opportunities provided by their studies to change the world."
The Ohio State Connection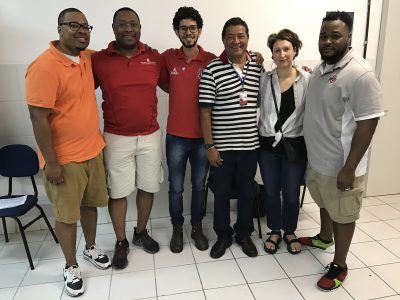 The ScHOLA2RS House students' study abroad experience in Brazil came together through a partnership with OSU and James L. Moore III, Distinguished Professor of Urban Education at its College of Education and Human Ecology, who invited ScHOLA2RS House students to join him and his OSU students.
Moore, who also serves as executive director of OSU's Todd Anthony Bell National Resource Center on the African American Male, has been taking undergraduate and graduate students to Salvador, Brazil, since 2013 as part of an annual education abroad program focused on higher education in Brazil. This was the first time he invited Hines, a longtime colleague and friend, as well as students from UConn, to take part.
"This year was even more amazing because our students were able to meet, engage, share, and reflect on their educational and social experiences in the United States with the UConn students, while together learning about the educational and social conditions for Afro-Brazilians," says Moore. "It was wonderful transcultural, educational experience. I surely hope that UConn will plan to go next year. I am confident that it will be even better."
'Just the Beginning'
The study abroad program to Brazil was chosen not only because it is a short-term, 10-day trip during spring break and affordable for students, but also as it is a trip that can serve as a primer to interest students in taking more study abroad trips during their tenure at UConn.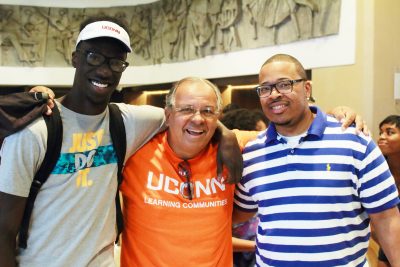 "UConn students who study abroad persist and graduate at a high rate," Hines says. "For some, this was their first experience traveling outside the country, or even leaving the New England area, so we provided support as students applied for passports and prepared for their trip."
"Since we know study abroad is a transformative learning experience, we thought it would be important to encourage students to do it earlier in their academic career instead of waiting until the typical junior year abroad," adds Ouimette. "I believe that the ScHOLA2RS trip to Brazil allowed students to experience the world and caused them to reflect about their own life experience."
"I am grateful for having the opportunity to take students on a trip outside of the U.S. to understand the universal experiences of Black people," says Hines. "To see students interact with another culture and learn about Salvador was amazing. [They] learned how their experiences around race and education mirror Afro-Brazilians. They understood that we (U.S. Blacks) have our obstacles and barriers, but they saw how socioeconomic status can have a long-term impact on life outcomes in the Bahia Region, whereas it can be easier in the U.S. to move to another socioeconomic status level and change your life outcomes."
In addition to the scholarly and service-learning opportunities, students ate at local restaurants, tasting authentic Bahian delicacies; visited a beach; took a tour of historic Salvador; and played basketball with local students on the Island of Gamboa. UConn participants ended the study abroad course by showcasing a video project and submitting journals about their experience.
"Many of my students comment that they now see the relevance of their history, sociology, and anthropology courses and are inspired to learn more and more deeply."

— David Ouimette, executive director, UConn's First Year Programs and Learning Communities
An added benefit, Hines says, is that the trip will offer some student participants an opportunity to present their research at the International Colloquium on Black Males in Education, a conference taking place this fall that focuses on the global dynamics of Black males in the educational pipeline.
As a result of the trip, "many of my students comment that they now see the relevance of their history, sociology, and anthropology courses and are inspired to learn more and more deeply," says Ouimette. "For some students, this is just the beginning as they plan more trips abroad."
Balfour Foundation Support
Through a $150,000, two-year grant from the Lloyd G. Balfour Foundation, students and the faculty advisor from ScHOLA2RS House will have future opportunities for study abroad and professional development. The grant — which focuses on increasing retention and graduation rates as well as preparing Black males for graduate and professional school — will help to expand ScHOLA2RS House students' opportunities to work with faculty and, ultimately, become better prepared as global citizens who will enter the academic and professional arenas where they are underrepresented.
"Our students will receive these services as interventions to prepare them for education beyond the baccalaureate," says Hines. "We intend to develop the first national, research-based model that has been proven to retain, graduate, and assist this population in attaining fulfilling careers."
At the end of the two-year grant, Hines will evaluate, through a mixed-method research approach, the impact of these initiatives on students' ability to persist at UConn and enroll into graduate/professional school. In addition, the research will consider a comparison group of students who are not in ScHOLA2RS House to determine whether there is any difference in academic achievement, Hines says. Hines is the principal investigator, and Ouimette is the co-principal investigator.
To learn more about ScHOLA2RS House, visit lc.uconn.edu/schola2rshouse.
Related Stories: