Congratulations to our Neag School alumni, faculty, staff, and students on their continued accomplishments inside and outside the classroom. If you have an accolade to share, we want to hear from you! Please send any news items and story ideas to neag-communications@uconn.edu.
In addition to the Dean's Office accolades, explore this edition's list of achievements for the following: the Department of Curriculum and Instruction; the Department of Educational Leadership; the Department of Educational Psychology; Faculty/Staff; Alumni; Students, as well as In Memoriam.
Dean's Office and Departments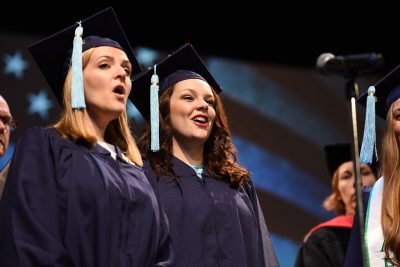 Commencement Weekend at the Neag School featured a surprise visit from Jonathans XIII and XIV, who accompanied the Class of 2017's nearly 150 undergraduates in their processional to the Jorgensen Center for the Performing Arts; a performance of the National Anthem by Class of 2017 music education graduates Noah Fields, Victoria Ioppolo, Sarah Ryan, Alyssa Venora, and Jamie Wisset; personal student videos; and a standing ovation for Neag School alumna Lynda Mullaly Hunt '88 (ED), '97 MA's Commencment address. Jaci VanHeest served as lead marshal. Check out the coverage from the weekend, including drone footage of the undergrads' procession.
President Susan Herbst hosted a welcome reception for Dean Gladis Kersaint for educational leaders and friends in Hartford, Conn., in May. View photos from the event.
Dean Gladis Kersaint was selected by the Connecticut Science Center in Hartford, Conn., as one of three new trustees. The other newly named trustees include Thomas M. Daugherty, managing partner of the KPMG Hartford Office; and Samir Mehta, president of defense systems and services at Sikorsky. This April, Dean Kersaint also served as a guest speaker on productive math discourse for a webinar sponsored by national outlet EducationWeek.
During its May faculty/staff meeting, the Neag School recognized the following:
Faculty promotions
To Professor:  Todd Campbell – EDCI; Catherine Little – EPSY; Brandi Simonsen – EPSY 
To Associate Professor with Tenure: Tutita Casa – EDCI; Hannah Dostal – EDCI; Rachael Gabriel – EDCI; Christopher Rhoads – EPSY
To Associate Professor-in-Residence: Michele Femc-Bagwell – EDLR
To Associate Research Professor: Kimberly LeChasseur – EDLR
Years of Service
10 Years of Service: Donna Bone – EDCI; Jessica Goldstein – ESPY; Cory Joyce – Dean's Office; Susan Payne – EDCI; Megan Staples – EDCI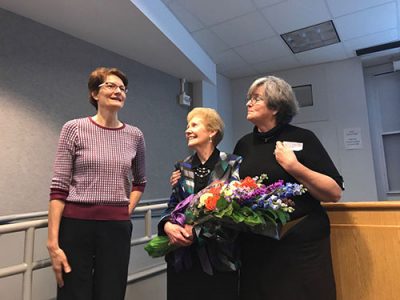 15 Years of Service: Michael Coyne – ESPY
20 Years of Service: Joseph Madaus – Dean's Office/ESPY
25 Years of Service: Gary West – Dean's Office
30 Years of Service: Elizabeth "Jean" Gubbins – ESPY
Mary Anne Doyle was also recognized for her 17 years of service as head of the Department of Curriculum and Instruction.
The Neag School of Education recognized three retirees during the May faculty/staff meeting as well: Carol Cadman – 19 years at UConn; JoAnn Easton – 24 years at UConn; Cheryl Lowe – 17 years at UConn
The Neag School of Education hosted its Annual Scholarship Awards Ceremony at the Jorgensen Center for the Performing Arts in April. Each year, the Neag School celebrates the deserving student scholarship recipients and the remarkable generosity of the many donors who help support these students in their journey through higher education. View pictures from the event.
In the wake of the landmark Connecticut Coalition for Justice in Education Funding v. Rell court ruling this fall, Joseph Madaus and the Neag School brought together more than 160 special education directors, school administrators, teachers, attorneys, and others from across the state for a daylong summit dedicated to exploring special education issues. Summit panelists included Neag School faculty Mary Beth Bruder, Shaun Dougherty, and Robert Villanova, as well as UConn alumni including Marisa Halm, Nathan Quesnel and Paul Freeman. Check out coverage — including archived video of the panel discussions, held in Hartford at the UConn Law School campus.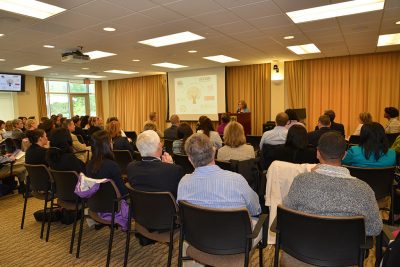 The Neag School co-sponsored the UConn Collaboratory on School and Child Health "Symposium on Trauma-Informed School Mental Health: Broadening and Aligning the Conversation towards Action" at the Neag School in May. The symposium provided an overview of school mental health and framed a statewide conversation through a trauma-informed lens. Read more about the event, or view the photo album.
Department of Curriculum and Instruction (EDCI) and Teacher Education
Faculty and staff from the Department of Curriculum and Instruction hosted a rock concert by The Vygotskys, featuring the Notorious ZPD, at Lakeside Restaurant in May in Coventry, Conn.
The Department of Curriculum and Instruction hosted a special event in Storrs this May dedicated to young adult (YA) literature and Islam. The event, led by Wendy Glenn, featured four YA authors, along with 15 freshmen from East Hartford High School who studied their novels as part of a Muslim education research project. The Neag School, in conjunction with the UConn Multicultural Children's and Young Adult Literature Research Center and the UConn Humanities Institute, sponsored the event. View photos from the event.
A new Neag School video promoting the Integrated Bachelor's/Master's Teacher Education program in special education features special education students Annie Maclachlan and Jillian Bucciero.
The winners of the State of Connecticut's Letters About Literature contest, which was sponsored by the Neag School, were announced. Neag School students reviewed Connecticut students' contest submissions. View photos from the judging portion of the contest.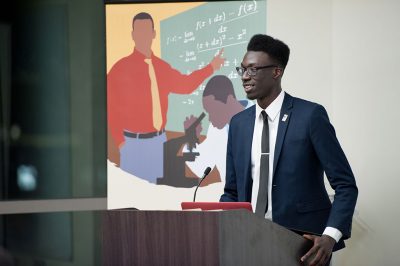 ScHOLA²RS House, which is led by Erik Hines, hosted its end-of-the-year banquet to recognize the accomplishments of the students. ScHOLA²RS House is designed to support the scholastic efforts of male students who identify as African-American/Black through academic and social/emotional support, access to research opportunities, and professional development. View photos from the banquet. Hines and ScHOLA²RS House students presented to students in the Aetna Health Professions Partnership Initiative Doctors Academy this April, sharing information about the Learning Community and discussing how to overcome challenges they may face as a future college student. In addition, read about the immersive trip to Brazil in which ScHOLA²RS House students participated this past spring, led by Hines.
In honor of Teacher Appreciation Week, Dean Gladis Kersaint visited E. B. Kennelly School in April in Hartford, Conn., and the Robert J. O'Brien STEM Academy in May in East Hartford, Conn., to meet alumni teachers and deliver classroom care packages from the Neag School. View more pictures from the Kennelly visit and the STEM Academy visit.
Teacher Education welcomed participants from 61 school districts from across the state for the annual Education Recruitment Career Fair in April at the Storrs campus. In addition to connecting with recruiters, graduating education students had the opportunity to interview with school district representatives for positions in teaching, counseling, and school psychology available beginning this fall. View photos from the Fair.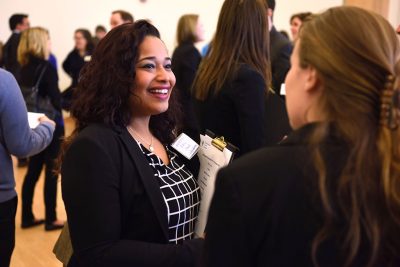 Teacher Education, led by Doug Kaufman and David Moss, welcomed 15 German teachers to UConn for a professional development and information sharing program. Fifteen candidates were selected to participate in Neag School's short-term program for German teachers to the U.S. For the second time, the German teachers came to the Neag School for a two-week immersion into campus and school life. View photos from the visit.
Teacher Education held its 2017 IB/M Master's Day of Research in May, at which master's students in the IB/M presented their inquiry projects from this past academic year during a poster session.
Stemming from the Thomas J. Dodd Research Center's human rights education initiative, led by Glenn Mitoma, a new partnership has been established between the Neag School, the Upstander Project, and the Mashantucket Pequot Museum.
Department of Educational Leadership (EDLR)
The Center for Education Policy Analysis (CEPA) hosted two speaker sessions in April, featuring Ebony Bridwell-Mitchell from the Harvard Graduate School of Education and Ana M. Martínez Alemán from Boston College. Learn more about the 2016-17 CEPA Speaker Series and access photos and videos from many of the presentations.
CommPact hosted students, parents, and educators from West Side Middle School in Waterbury, Conn., for a visit to the Storrs campus in April.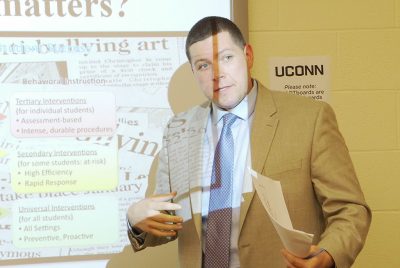 Students in the Ed.D. cohort took part in a Qualitative Methods Research Symposium this April, led by Kimberly LaChasseur. Ann Traynor gave the keynote address. Students presented their research studies to an audience that included faculty, alumni, and students.
The Graduate Certificate in College Instruction (GCCI) launched a blog this past spring semester on college instruction. Run by managing editor and graduate assistant Kristi Kaeppel, it offers thoughts from faculty, administrators, teaching assistants, and students on college teaching. Check out one of Kaeppel's entries, recently featured on the Neag School website, titled "What Being a High School Dropout Taught Me About Teaching."
Kari B. Taylor from the Ohio State University has been named director of the Higher Education and Student Affairs (HESA) program, effective Aug. 1.
Husky Sport, through the support of 300 donors, raised almost $8,000 during UConn's Ignite 2017 fundraising campaign. The funds will support people, programs, and partnerships.
Erin McGurk, director of educational services for Ellington Public Schools, was recognized by the University Council for Educational Administration (UCEA) with the UCEA Educational Leadership Award. The award was announced at the Neag School's Annual Scholarship Awards Ceremony in April on the Storrs campus.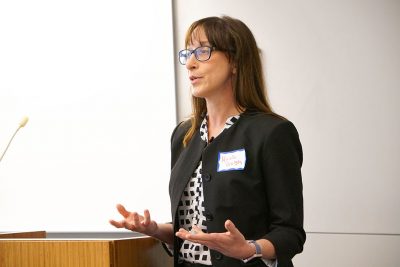 The University of Connecticut Administrator Preparation Program (UCAPP) hosted its annual Change Project Day in April on the Storrs campus. Cohorts presented their capstone projects, followed by a reception and panel discussion with alumni. View photos from the event.
Department of Educational Psychology
The Center for Behavioral Education & Research (CBER) hosted the Northeast PBIS Network Leadership Forum in May in Groton, Conn. View the photo album. In addition, CBER (photo) hosted its Seventh Annual CBER Graduate Research Symposium in May at the Storrs campus. The symposium included a keynote by U.S. Sen. Chris Murphy and Catherine Holahan of EducationCounsel, who spoke on "Current Opportunities and Challenges in the Field of Education." A poster session featured graduate students' research. View photos from the symposium.
The Neag School hosted the 29th Annual Postsecondary Disability Training Institute (PTI). The annual PTI Conference welcomed nearly 400 attendees for the four-day conference in Boston this May.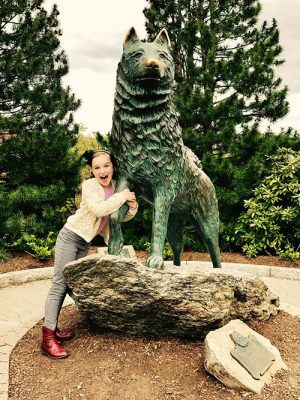 The annual Teaching and Learning With iPads Conference was held in May at the Storrs campus, welcoming more than 200 participants. Special guest speakers included Olivia Van Ledtke, a 9-year-old social media superstar promoting digital citizenship for kids. See more photos from the event.
Special education faculty and students participated in the Council for Exceptional Children (CEC) Convention, the annual convention for the field's largest professional organization for special education researchers and practitioners, hosted this April in Boston. Nearly all the Neag School special education faculty presented, along with numerous graduate students.
Faculty/Staff
Joseph Abramo and Cara Bernard have been awarded $10,000 for a research project with the National Association for Music Education (NAfME). The focus of the project will study issues related to diversity, equity, and inclusion in music education.
Michele Back was awarded a Global Teacher Education Fellowship from Global Teacher Education, Inc. (GTEI). The goal of the Fellows program is to support select U.S. teacher educators in designing global learning classrooms for their teacher candidates, according to GTEI. Back will use the fellowship to revise her master's world language seminar in order to orient it more toward global learning. She hopes to integrate some research on the development of intercultural citizenship with this course revision.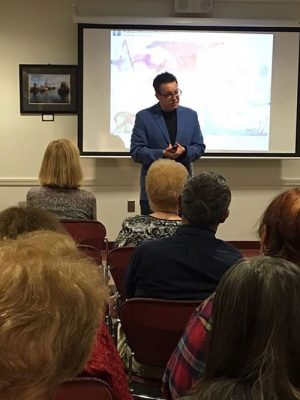 Ronald Beghetto was a featured speaker at "Inspiring and Exploring Creativity" in April at the Wallingford Public Library in Wallingford, Conn. The event was hosted by the Neag School of Education, the Meriden Chapter of the American Association for University Women (AAUW), and the Wallingford Public Library. He also served as a panelist for UConn's most recent Science Salon, held in Stamford this month, which focused on bringing the business world's best practices around igniting creativity into the classroom.
Sandy Bell presented a session titled "Three Strategies for Supporting Learning for Beginning Women Farmers and Ranchers" at the 2017 USDA Extension Risk Management Conference in Cincinnati in April.
Patricia Bellamy and Justin Evanovich co-presented with another colleague "Integrating Physical Activity and Vocabulary Enrichment: Diversify Your Lessons Without Taking Away From Instructional Time!" at the Literacy Essentials Conference in New Britain, Conn., in April.
Eric Bernstein co-authored a chapter titled "Supporting Students with Non-disclosed Disabilities: A Collective and Humanizing Approach" in the recently released book Disability as Diversity in Higher Education (Routledge, 2017). Bernstein also presented a session titled "Creating Structures for Learning and Understanding: Schemata and Mental Models" at the 2017 American Dental Education Association (ADEA) Annual Session in Long Beach, Calif., in March. Also in March, he co-presented one of the 2017 ASCD Empower! Annual Conference closing sessions, titled "Knock, Knock: Exploring Laughter to Empower Leadership and Learning" in Anaheim, Calif. Bernstein has been named the UConn Liaison for the ADEA Commission on Change and Innovation in Dental Education (ADEA CCI).
Scott Brown, along with GlobalEd 2 Co-PI and Neag School alumna Kim Lawless '94 MA, '96 Ph.D., now associate dean of research at the University of Illinois at Chicago's College of Education, were invited to present the GlobalEd 2 project to children of staff at the U.S. Department of Education on Bring Your Family to Work Day this past April in Washington, D.C. In addition, Brown co-presented, along Lawless with other colleagues, three sessions at the 2017 AERA Annual Meeting in April. Brown also has contributed to a recently released  publication Handbook of Research on Instructional Systems and Educational Technology, a reference source for the latest scholarly research on new models, trends, and data for solving instructional and learning challenges in education (IGI Global, 2017). 
Todd Campbell co-presented three sessions at the 2017 National Association for Research in Science Teaching (NARST) annual conference in San Antonio in April. One of the three sessions was co-presented with current doctoral student TJ McKenna.
Milagros Castillo-Montoya was elected to serve as member-at-large of AERA Division J – Postsecondary Education (three-year term). Castillo-Montoya also published "Deepening Understanding of Prior Knowledge: What Diverse First-Generation College Students in the U.S. Can Teach Us" in the latest issue of Teaching in Higher Education.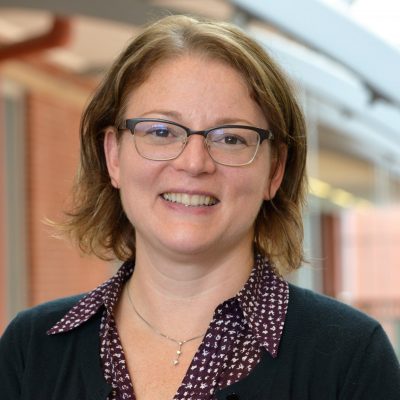 Sandra Chafouleas has been named Board of Trustees Distinguished Professor, the highest honor that the University of Connecticut bestows on faculty who have demonstrated excellence in scholarship, teaching, and service. Read more about the announcement, which was formally approved by the Board of Trustees in April.
Casey Cobb has been selected to serve as a juror for the Brock International Prize in Education. The jurors are individuals who have expertise in academia, K-12, and higher education administration, and service at the state, national, and international levels. Cobb as well as Richard Gonzales was also included in a recent piece in UCEA Review featuring their work in supporting a collaborative effort across universities to improve principal preparation programs.
Joseph Cooper participated in a symposium titled "The Complexity and Comfort of Black Athlete Philanthropy" hosted by the University of North Carolina in April. Cooper was also selected this spring as "Faculty of the Year" by UConn's chapter of the National Association for the Advancement of Colored People (NAACP).
In March, Danielle DeRosa, Milagros Castillo-Montoya, and Jennifer McGarry presented on intergroup dialogue with 20-plus participants as part of the UConn Center for Excellence in Teaching and Learning (CETL)'s ongoing series for teaching and learning on the Storrs campus.
A report on the effect of high-quality career and technical education on student outcomes — published by Shaun Dougherty in Education Finance and Policy — was highlighted by the Massachusetts Budget and Policy Center in May.
Richard Gonzales facilitated a session on leadership for the Windham Teacher Leadership Fellows initiative in Windham, Conn., in February.
Robin Grenier is a collaborator on a recently awarded Canadian Social Sciences and Humanities Research Council (SSHRC) grant titled "A Cross-national Study on Feminist and Gender Adult Education Work in Art Galleries and Museums." Grenier was named a consulting collaborator with Plimoth Plantation on a recently awarded National Endowment for the Humanities Museums, Libraries, and Cultural Organizations Implementations grant titled "Along These Shores of Change." She was also recognized by the Academy of Human Resource Development (AHRD) with the Excellence in Scholarly Practice Award for 2016.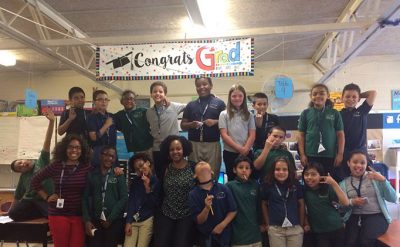 Mia Hines met with fourth-graders at O'Brien STEM Academy in East Hartford, Conn., this May to give an interactive presentation on UConn, the college admission process, and careers.
Joshua Hyman hosted the superintendent of Hartford Public Schools, Leslie Torres-Rodriguez, for his Economics of Education Reform class on the Storrs campus in April.
Tamika La Salle served as the keynote speaker for the Nebraska PBIS Conference held earlier this month.
Kimberly LeChasseur published "Sustaining Community Partnership Across Transition in District Leadership" in the Journal of Cases in Educational Leadership in February.
Donald Leu recently completed work in Chicago as a member of the National Assessment of Educational Progress (NEAP) core group working on a validity study of the NAEP Reading Assessment. The project, which was part of NAEP's continuing work to evaluate the validity of assessments, looked at relationships between reading and writing assessments in NAEP, PARC, Smarter Balance, and state assessments, such as those developed by Massachusetts and Oklahoma.
Catherine Little was recognized by the Connecticut Association for the Gifted, a statewide nonprofit with nearly 500 members throughout the state of Connecticut and beyond, as the 2017 "Friend of the Gifted," which is awarded to an educator, school administrator, parent, community member, or professional who has profoundly impacted the lives of gifted children in Connecticut. She was honored at an awards ceremony during CAG's Annual Members Dinner in Middletown, Conn., in May.
Allison Lombardi co-published "A College and Career Readiness Framework for Secondary Students With Disabilities" this spring in Career Development and Transition for Exceptional Individuals. Lombardi was also appointed chair of the Research Committee for the Division on Career Development and Transition, a division of the Council for Exceptional Children (CEC).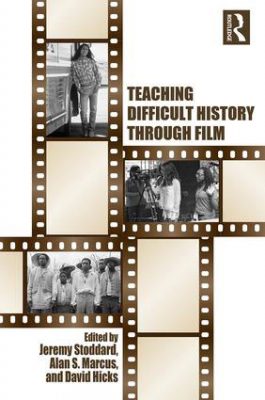 Alan Marcus published the second edition of his book Teaching History with Museums: Strategies for K-12 Social Studies (Routledge, 2017). He is also the editor and contributor to Teaching Difficult History Through Film (Routledge, 2017), which includes chapters by Glenn Mitoma and Mark Kohan.
Betsy McCoach received the AERA Structural Equation Modeling SIG Service award at the AERA conference this April in San Antonio.
Bianca Montrosse-Moorhead co-published "Toward the Development of Reporting Standards for Evaluations" in the American Journal of Evaluation in April. She also gave a training workshop titled "A Primer on Evaluation Theories and Approaches" at the American Evaluation Association's 2017 Summer Evaluation Institute in Atlanta earlier this month.
Joseph Renzulli has led the way to a new collaboration between UConn and Italy's University of Pavia, one of Europe's oldest universities. Read more about the new collaborative agreement.
Eliana Rojas was profiled by Manchester Public Schools for her efforts in hosting a UConn visit of university professors from Chile this past fall.
René Roselle participated on a major forum panel in March — held at the American Association of Colleges for Teacher Education (AACTE) Annual Meeting — titled "The Clinical Practice Imperative: Conversations with AACTE's Commission."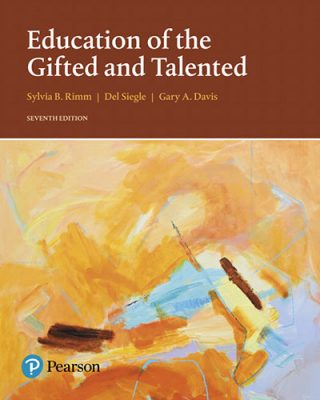 Del Siegle co-published the seventh edition of Education of the Gifted and Talented (Pearson, 2018), the most popular textbook in the area of gifted education.
Megan Staples co-published with alum Sherryl (Hauser) King '07 (ED), '08 MA a chapter titled "Eliciting, Supporting, and Guiding the Math: Three Key Functions of the Teacher's Role in Facilitating Meaningful Mathematical Discourse" in the newly released Enhancing Classroom Practice With Research Behind Principles to Actions (National Council of Teachers of Mathematics, 2017). Principles to Actions was the National Council of Teachers of Mathematics (NCTM)'s landmark 2014 publication that combined specific, research-based teaching practices essential for a high-quality mathematics education for every student with core principles in order to guide teachers, mathematics coaches, administrators, parents, and policymakers in building a successful mathematics program at all levels. King currently serves as a math teacher at Ellington (Conn.) Middle School.
Jaci VanHeest has been elected to the UConn Senate Executive Committee for a three-year term, beginning July 1.
Jennie Weiner and Sarah Woulfin co-published "Controlled Autonomy: Novice Principals' Schema for District Control and School Autonomy" in the Journal of Educational Administration.
Jennie Weiner was recognized with the Educational Change SIG Emerging Scholar Award during the AERA conference in San Antonio in April. The award honors her outstanding record of original and significant scholarship on educational change. She also co-published "Where the Two Shall Meet: Exploring the Relationship Between Teacher Professional Culture and Student Learning" in Journal of Educational Change in February.
Sarah Woulfin and Rachael Gabriel co-published "The Terrain of Intermediary Organizations' Professional Development Offerings" in Professional Development in Education. In addition, Woulfin served as a project manager and reporter for the New Haven's Blue Ribbon Reading Commission on the state of reading in the City of New Haven; a press conference on the report was held in May in New Haven, Conn.
Students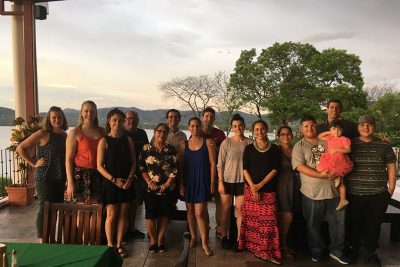 Emily Baseler '17 (ED), '18 MA, Kelsey Iwanicki '17 (ED), '18 MA, and educational leadership doctoral student Chelsea Connery '13 (ED), '14 MA, participated with the La Paz Community School education program in Costa Rica this spring. The Neag School students even taught La Paz schoolchildren a UConn Huskies chant.
Doctoral student Ashley Boyle completed a two-year term with the Professional Positions Committee of the National Association of School Psychologists (NASP). Boyle represented the first group of graduate students to be selected for participation as members of the committee. During her service, she was instrumental in creating and maintaining a crosswalk of NASP position statements.
Chelsea Connery '13 (ED), '14 MA, a current doctoral student, served on a recent UConn Science Salon panel, which was covered in this blog about "Throwing It All Away: America's Food Waste Epidemic."
Kathrine Grant '19 (ED), Isabella Horan '19 (ED), and Madeleine Rusk '19 (ED), along with another UConn student, are recipients of a Spring 2017 UConn IDEA Grant for their project "Peer Tutoring and Translation: Mentoring for Equitable Education." The team will create a tutoring and translation program pairing emergent bilingual students with bilingual peer mentors to foster growth in language and social connections.
Lara Hawley '17 (ED), '18 MA was named a Fulbright English Teaching Assistant Grant to South Africa. She is one of UConn's six student or alumni Fulbright awardees named this year.
Kelsey Iwanicki '17 (ED), '18 MA received the Outstanding Senior Women Academic Achievement Award from the UConn Women's Center. Dean Kersaint presented the award at the ceremony in May.
Alexandra Lamb, Sam Kamin, and Chelsea Connery '13 (ED), '14 MA presented their work at the Harvard Student Research Conference in April.
Josué Lopez and Michael Corral presented at the Critical Race Studies in Education Association's conference in May, hosted by Indiana University at Purdue; Erica Fernández supported their submission and attended the conference with them; Kimberly LeChasseur attended the conference as well.
Sasha Moseley-Douglas and Lisa Sepe facilitated a session at the New England Secondary School Consortium's School Redesign in Action Conference in Hartford, Conn., in March. The session was titled "Promoting High Achievement Through Teacher Collaboration Using Critical Race Theory and Harro's Cycle of Liberation." Erica Fernández supported their submission and attended the session; Anastasia Difidele-Dutton and Kimberly LeChasseur also attended the conference.
David Peling '10 6th Year, a current doctoral student, was appointed principal of Avon (Conn.) High School. He had been serving as principal of East Granby High School since 2012, which was recognized nationally for excellence, including being named one of Newsweek's Top 500 high schools in 2015.
Christina Plummer and Lisa Sepe presented their work at the Harvard Student Research Conference in April in Boston.
Daniel Volk '16 MA was appointed the newest member of the Professional Positions Committee of the National Association of School Psychologists (NASP). This group oversees the identification, development, and revision of position statements and resolutions. He will serve a two-year term beginning July 1.
Alumni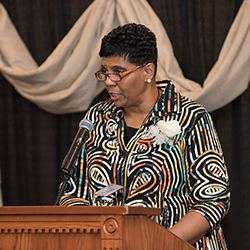 Gayle Allen-Greene '09 ELP retired from Bulkeley High School as principal, after a 37-year career in Hartford (Conn.) Public Schools. She began as a student-teacher at Bulkeley in 1980 and then taught physical education and coached girls basketball and softball at Hartford Public High before returning to Bulkeley two decades ago as an administrator.
Donald E. Briere '07 (ED), '08 MA, '12 Ph.D. was appointed the new director of education services for Hebron (Conn.) Public Schools. Briere has spent the past five years as the special education consultant for state schools with the Connecticut Department of Education's Bureau of Special Education, where he also worked on grants for personnel development, school climates, positive behavior support and research- based interventions.
Patricia L. Buell '99 6th year was named superintendent of Brooklyn Public (Conn.) Schools. She previously served as director of educational services for Brooklyn Public Schools, overseeing curriculum, technology, and special education. Prior to that, Buell was with Vernon Public Schools (Conn.) as the director of human resources.
William Conroy '06 (ED), '07 MA was a 2017 Hartford Teacher of the Year finalist. Conroy works with English language learners at McDonough Expeditionary Learning School in Hartford, Conn.
Kevin DeMille '13 (ED) was named assistant coach for George Washington University women's basketball.
Abigail Esposito '14 (ED), '15 MA received the UConn Early College Experience Rookie of the Year Award for excellence in first-year course instruction. She teaches an introduction to human rights course at Conard High School in West Hartford, Conn.
Former CBER student researcher Lindsay Fallon '09 MA, '11 6th Year, '13 Ph.D. was awarded an Institute of Education Sciences (IES) Early Career Development and Mentoring Competition grant, with George Sugai as her primary mentor, for her project "Validation of the Assessment of Culturally and Contextually Relevant Supports (ACCReS): Supporting Educators of Diverse Students with or at Risk for Disabilities."
Brett Gottheimer '09 MA, '11 6th Year is director of fine arts at Pinkerton Academy in Derry, N.H., where he is responsible for the art, music, drama, and dance departments, supervising 12 teachers.
Virginia Hoerle '06 6th Year has been named principal of Oliver Ellsworth School in Windsor, Conn. Hoerle has served as an educator in Windsor Public Schools for 18 years. She has spent her entire tenure at JFK Elementary School in Windsor. She started her career as a classroom teacher, serving for 15 years, first as a fourth-grade teacher, then fifth grade.
Carrie Wessman Huber '99 (ED), '00 MA has been appointed principal of Noah Wallace School in Farmington, Conn. She most recently served as principal of Redding Elementary School.  Huber won the 2016 Connecticut PTA Dawn Hochsprung Elementary School Principal of the Year Award, and previously worked as assistant principal of Redding Elementary for four years.
Lisa Hunter '16 6th Year has been appointed principal of Hazardville Memorial School in Enfield, Conn. Hunter served as the Pre-K STEAM Academy Coordinator during the 2016-17 school year. Prior to this administrative position, she was an educator for more than 15 years, serving the children of Ellington, Somers, and Enfield Public Schools as a primary teacher.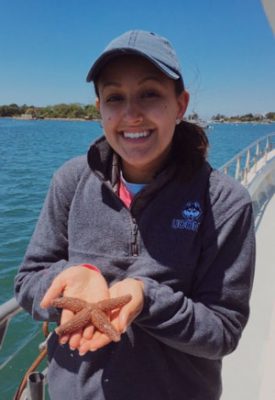 Ashley LaPane '16 (CLAS), '17 MA hosted a group of seventh-grade students for a weeklong trip in Cape Cod, where they learned about the science behind Cape Cod's land and marine life.
Brian Marshall '11 (CLAS), '12 MA was recognized as Teacher of the Year for the Greater Hartford Academy of the Arts Magnet Middle School, in Hartford, Conn.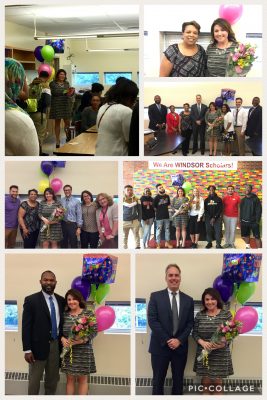 Former Neag School postdoc Sabina Rak Neugebauer, now assistant professor at Loyola University-Chicago, received the AERA Early Career Scholar Award from Division C this spring.
Luis Ramirez '95 (ED), '03 MSW was recognized as West Hartford's Teacher of the Year, for West Hartford Public Schools. Ramirez has been a school social worker since 2010 at Smith STEM School in West Hartford, Conn.
Kaitlin Roig DeBellis '05 (ED), '06 MA, founder of nonprofit Classes 4 Classes and former Sandy Hook teacher, was a participant of a special "Who Wants to Be a Millionaire" special Teacher Appreciation Week show.
Kevin Roldan '15 6th Year served as a consultant on the Blue Ribbon Commission on Reading for the City of New Haven, which released a report this May.
Adrienne Rowe '01 (CLAS), '03 MA, an alum of TCPCG, was recognized as 2017 Teacher of the Year at Dunwoody (Ga.) High School.
Kelly Shea '11 (CLAS), '12 MA won a grant from the Fund for Teachers, which she will use to visit New Zealand this summer to pursue self-designed professional learning focused on Maori storytelling. She is an English teacher at Manchester (Conn.) High School and is pursuing a second master's degree in gifted education.
Kathleen Simoneau '04 (ED), '05 MA was appointed principal of Connecticut IB Academy, in East Hartford, Conn. She currently serves as assistant principal and middle years program coordinator at the Connecticut IB Academy and Sunset Ridge School in East Hartford.
Jessica Szafran '04 (ED), '05 MA, '15 6th Year, was appointed assistant principal of Bolton Center School in Bolton, Conn. Previously she was a teacher for the Town of Suffield (Conn.) for more than 11 years.
Kristina Wallace '11 (CLAS), '12 MA, '17 6th Year, a school counselor for Windsor (Conn.) Public Schools, was selected as the district's Educator of the Year. Wallace has been a school counselor at Windsor High since 2014.
Jean A. Wihbey '02 Ph.D. was one of five finalists for the job of college president at Polk State College in Winter Haven, Fla. She is currently the provost and campus CEO at Palm Beach State College.
Cynthia Snyder Zingler '80 MA is director of family school and Community Partnerships for the Vernon (Conn.) Public Schools.
In Memoriam
Nicholas E. Battit '56
Katherine A. Berman '71
Judith E. Colli '77
Louise G. Doyen '64
Dunham Haley '52
Martha Hitchcock '58
Barbara A. Kidwell '75
Donald N. LaPointe `61
Judith A. Larson '70
Roy E. Lawrence '70
Catherine E. Loughlin '49
Ruth D. Mancini `51
Diane A. McMillian `72
Robert J. Mischler '50
Barbara O'Brien '09
Irving R. Panciera '54
Stanley P. Sorota '50
Marcel L. St. Sauveur `52
Joyce Wall '51
Ira H. Wasniewski '52
John C. White '65
Daniel C. Yance '93