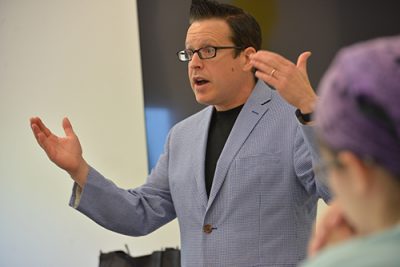 UConn's Office of First Year Programs and Learning Communities has tapped internationally recognized creativity expert and Neag School educational psychology professor Ronald Beghetto as the faculty director of UConn's Innovation House. Beghetto, a 2015 UConn faculty of the year awardee who focuses his research on creative thought and action in educational settings, began his new director role this past fall.
"This opportunity dovetailed really nicely with the things I'd been working on in my own research and work," says Beghetto, who joined the Neag School from the University of Oregon in 2014. "It provides an opportunity for me to put into practice some of the work that I've been thinking about in how to help young people respond productively to uncertainty, and develop ideas for how they might address problems and complex challenges, and then actually do something about it."
"I want the students to have an experience rapidly prototyping solutions, taking something from an idea into an actual product, and doing that in a fun and meaningful way."

— Professor Ronald Beghetto,
Faculty Director, Innovation House
According to David Ouimette, executive director of the Office of First Year Programs and Learning Communities, Innovation House provides a space where undergraduate students from any major can come together to think about and share ideas, and learn how to put ideas into action with the potential for creating real change.
Beghetto is a particularly good fit for the faculty director role, says Ouimette, given that his "research and accomplishments fall directly in line with what we are trying to accomplish in Innovation House." Beghetto is teaching first-semester students about the design process and leading them not only to fabricate solutions to problems using the Learning Community Innovation Zone makerspace, a key feature in the Peter J. Werth Residence Tower where the Innovation House is located, but also teaching them to pitch their ideas to various audiences.
"The goal is for students to foster a mindset of innovation and creativity starting in the first year that they take into the rest of their academic journey at UConn and beyond," says Ouimette.
Two other Neag School faculty members also serve as UConn Learning Community directors; Erik Hines, assistant professor of school counseling, has led ScHOLA²RS House since Fall 2016, and Jaci VanHeest, associate professor of educational psychology, director of the Public Health House since 2010, remains the longest-running learning community faculty director at the University.
With ScHOLA2RS House and the Innovation House students sharing a floor in NextGen Hall, Beghetto foresees many opportunities for collaboration between these as well as other learning communities at UConn, since innovation is "something that any of the houses could interact with."
The Year Ahead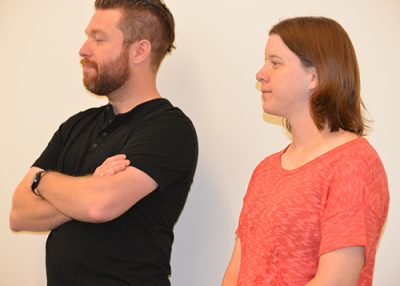 Over the course of the academic year, Innovation House students will be carrying out so-called legacy projects that involve identifying a problem, designing the solution, working with external partners, and implementing solutions.
"I want the students to have an experience rapidly prototyping solutions, taking something from an idea into an actual product, and doing that in a fun and meaningful way," says Beghetto. "They're going to be building that out, partnering with community organizations from around UConn, and then actually implementing a solution to a problem."
At the end of the year, there will be an exhibition night during which the students will share their progress.
"Some of the projects may not turn out," says Beghetto. "But what will definitely happen is that they will have learned something from the experience." It is precisely this kind of learning experience, he says, that students can then take with them not only into whatever field of study they want to pursue, but also into daily life.
"The top priority is to bring attention to the amazing students we bring to UConn each year and help build their capacity to fully engage in our community and beyond," says Ouimette. "Learning Communities provide a setting to develop a community of students who have a sense of belonging and purpose, and who feel challenged and supported as they enter the UConn community."
Learn more about UConn's Learning Community Program at lc.uconn.edu. For more information about the Innovation House, contact Ronald Beghetto at ronald.beghetto@uconn.edu. Watch a video about the Learning Community Kickoff, featuring fellow Neag School faculty member Jaci VanHeest.