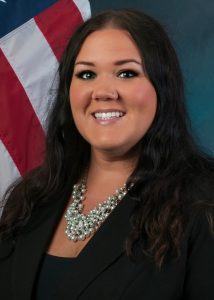 Thanks in part to the evaluation expertise of a doctoral student in the Neag School's measurement, evaluation, and assessment (MEA) program, a recently released report from the U.S. Government Accountability Office (GAO) revealed that about 1 percent of enrollments in federal health-insurance plans in 2015 were potentially improper or fraudulent.
The report, a federal audit of the Affordable Care Act, was requested by Congress and released last month by the GAO — a nonpartisan agency that serves to investigate how the federal government spends taxpayer dollars. The GAO research team analyzed the most current data available, pulling together databases from multiple federal sources. It was as an intern this past summer with the GAO's Forensic Audits and Investigative Services team in Washington, D.C., that Neag School Ph.D. candidate Kristen Juskiewicz assisted in executing the audit.
'A Step Above'
The work began with the GAO research team working to identify any applications to the Federal Health-Insurance Marketplace that demonstrated an inconsistency, and then pulling samples of applicants from that 1 percent to try to determine the reasons behind those inconsistencies. Using the research methods and evaluation skills she had acquired in the MEA program, Juskiewicz took on the task of analyzing this sample data to look for patterns or anomalies in how the Center for Medicaid and Medicare Services processed the applications.
"These inconsistencies may have been generated due to applicants missing required documents, or one of the federal systems, such as the Social Security Administration, not recognizing the entry provided," she says.
Juskiewicz also co-authored a number of internal reports, which served not only to document how the analysis was completed, but also to detail results and insights. "As an auditing agency, it is essential that teams at the GAO are meticulous in record-keeping and documentation," she says. In addition, she assisted in interviewing stakeholders about the application process and the sample data. Juskiewicz' analysis of the sample cases served as the basis for the final report.
"I believe every student should try to complete an internship because practical experience solidifies the academic knowledge you receive at UConn."

— Kristen Juskiewicz, doctoral candidate
Meanwhile, the GAO, she says, gave her the space she needed to apply her expertise to the project. "I was not told how to analyze the data, but rather asked to use my knowledge and skills to explore the data in the way I felt was best," she says. "The trust and responsibility given to me increased my confidence in my abilities. I believe every student should try to complete an internship because practical experience solidifies the academic knowledge you receive at UConn."
Juskiewicz credits her advisor, assistant professor Bianca Montrosse-Moorhead, as well as other Neag School faculty in the MEA program, with guiding her to take the right courses and giving her the skills she needed to be successful as an intern.
"Dr. Montrosse-Moorhead suggested I take a qualitative methods course to ensure I am well-rounded in my analytic abilities, since MEA is a quantitative-focused program," Juskiewicz says. "This has been overwhelmingly helpful in both my GAO internship, as well as my internship in Summer 2016 with the U.S. Army Public Health Center in the Public Health Assessment Directorate. In both of my internships thus far, I have found that my quantitative knowledge developed via the MEA program has ensured I am not only on par with those in the workforce, but often a step above. I credit the MEA professors with their ability to not only teach us the skills we need, but additionally in keeping up with current methodology and techniques, allowing us as students to be consistently on the cutting edge of research."
"I believe Kristen is a great example of how our MEA doctoral students are trained to combine evaluation methods, theory, and practice to answer important questions," says Montrosse-Moorhead.

Putting Knowledge to the Test
Prior to joining the Neag School's doctoral program, Juskiewicz first began to understand the crucial role of assessment in education during her time working as a high school science teacher at Chicago Public Schools.
"Working in a 'failing' high-needs school, we found ourselves in a constant state of assessment. From these assessments, a great deal of data was produced that we as teachers were meant to use to correctively teach or better teach our students," she says. "The problem was that we did not have the appropriate training to be able to investigate this data beyond descriptive statistics, such as means or standard deviations. We had a plethora of data that could show us trends and predictions — not to mention the insight it could give us into improving our students' learning — yet we could not access it with the skills we currently possessed."
It was at that point, she says, that she knew she wanted to obtain those skills, and discovered the MEA program at the Neag School. "I realized this program could offer me the skills necessary to utilize data efficiently," she says. "I knew UConn had a reputation for being a tier-1 research institute and felt the resources available here would be a good fit for me."
Now focused on completing her dissertation and graduating this year, Juskiewicz views this internship as central to her doctoral experience, providing her with "the opportunity to take the information I have learned over my time at UConn and apply it in a practical setting," she says. "My classes at UConn gave me the opportunity to attain a great deal of knowledge surrounding research methods, measurement, evaluation, and assessment, and this internship allowed me to put that knowledge to the test."
View the GAO's report here.